1. The Basics: What is a Roommate Agreement?
It is a legal and binding contract between two or more people who live together in the same space.
As an official written document, it clearly outlines responsibilities and expectations. By signing the document, each person understands the agreed upon rules and responsibilities.
Unlike a Lease Agreement, this contract is between the Tenants or Roommates, not between the Landlord and Tenants.
People do not need to be strangers in order to have a Roommate Agreement. In fact, friends may need a written agreement to make sure everyone is clear about what is expected so if there is a dispute, it doesn't turn into a fight.
Even if your roommate is family or a close friend, using a contract to establish clear guidelines will make sure relationships remain amicable.
As a reference, people call this document by other names:
Housemate Agreement
Roommate Contract
2. How to Write Your Own
Solid roommate contracts contain three main sections: the basic information about the roommates and the property, considerations of a legal or contractual nature, and basic behavioral stipulations.
Basic Information
Names of roommates
Residence address
Term of the lease
Rent (and how to divide amongst residents)
Security deposit
Utilities (and how they will be paid)
Parking
Legal Considerations
Whether rental insurance will be purchased
How damages will be rectified
Terms for early termination
Room assignments or living arrangement
Shared property
Shared costs
Behavioral Stipulations
Pets
Overnight guests
Parties / Entertaining
Chores and household duties
Cleanliness expectations
Noise level and quiet hours
Smoking and alcohol use
3. Why You Need One and How to Bring It Up
When you sign a Roommate Agreement, the law recognizes that two adults agreed to a certain set of rights and obligations. Unlike a verbal promise, a written agreement carries more weight and can be enforced. While a judge will enforce financial obligations like a roommate's responsibility to pay rent, you will not likely get the court to agree that they should vacuum the living room.
For example, many roommate contracts stipulate terms similar to the following:
A roommate's girlfriend or boyfriend cannot sleep over more than one night per week
Each person will contribute $10 a month for shared toilet paper and cleaning supplies
Ask each other for permission before having more than 3 friends over
Turn off the music and ask guests to leave after 10pm on weekdays
A housemate's little brother cannot sleep on the living room couch for more than a week
Many universities, including Northern Arizona University, Brandeis University, the University of Kentucky, and the University of Santa Cruz, encourage students to use Agreements for off-campus housing for a reason. Some towns and cities like the City of Boulder even offer suggestions for avoiding roommate disputes and provide a Community Mediation Service to help solve roommate problems.
When approaching a roommate about creating one, be sure to note the benefits to communication and clarity that a roommate contract promotes. While some roommates, especially close friends, might be skeptical of putting part of your relationship on paper, remind them it may go a long way in preserving your friendship in the long run.
This form also helps people solve little problems before they become big problems. If you were to neglect using a contract with your roommates, you may face a few of the following:
Lost money

Others pick pay more rent because one person moves out early without notice
Security deposit lost because of damage to the common areas

Lost time

Unexpected search for a replacement housemate
Hours of discussions about what should or should not have been done
Cleaning up after another person's mess or unwelcome gathering

Lost property

Damaged personal items borrowed without permission
Furniture in public areas broken by others' guests
4. Download a Free Roommate Agreement Template
---
Text Template – just copy and paste!
This Roommate Agreement (this "Agreement") is made as of ____/____/_____, by and between the roommates listed below (each a "Roommate" and collectively the "Roommates"). The Roommates are tenants at the premises located at (the "Premises"):
Street Address: ______________________________________________________
City: ________________________State: _______________________ Zip: _______
Term of Lease – From: _____/_____/___________ To: _____/_____/___________
| Roommate Name | Monthly Rent | Security Deposit | Room Occupied |
| --- | --- | --- | --- |
| | | | |
| | | | |
| | | | |
| | | | |
| | | | |
| | | | |
| | | | |
| | | | |
| | | | |
Security Deposit: The total security deposit under the Lease is __________. Each Roommate is responsible for his or her share of the security deposit as described above, and will receive his or her share of the security deposit minus any amount applied by the Landlord after the termination of the Lease.
Utilities: The rent includes __________________ as part of each payment. The utilities not included in the rent will be shared by the Roommates according to the following arrangement:
| Utility | Name on Bill | Payment Method (circle one) |
| --- | --- | --- |
| Electricity | | Even Split | Rotating | Specific Roommate(s): |
| Water | | Even Split | Rotating | Specific Roommate(s): |
| Gas | | Even Split | Rotating | Specific Roommate(s): |
| Garbage | | Even Split | Rotating | Specific Roommate(s): |
| Internet | | Even Split | Rotating | Specific Roommate(s): |
| Phone | | Even Split | Rotating | Specific Roommate(s): |
| Cable | | Even Split | Rotating | Specific Roommate(s): |
| Other | | Even Split | Rotating | Specific Roommate(s): |
Parking: The Roommates are entitled to park their vehicles on the Premises per the following instructions:
| Roommate | Make and Color of Vehicle | Parking Spot Location / Description |
| --- | --- | --- |
| | | |
| | | |
| | | |
| | | |
Legal Considerations:
Will the Roommates purchase Renters Insurance: No _______ Yes ______
Insurance Company: __________________ Signer: ________ Monthly Rate: ______
Damages: Each Roommate is responsible for any damage to the Premises caused by him or her including his or her guests. If there is damage that cannot be reasonably traced back to a particular Roommate, the cost of the damage will be shared equally by all the Roommates.
Early Termination: A Roommate may terminate this Agreement before the end of the lease term if he or she gives ______ months notice and assists in finding a replacement Roommate.
Shared Costs: The Roommates will evenly split all costs for items used by all the Roommates and placed in common areas, unless otherwise agreed upon.
Shared Property: All shared property will be paid for evenly, unless otherwise agreed upon. At the end of the lease term or when the Roommates terminate this Agreement, shared property will be split between the Roommates, or a Roommate may purchase shared property from the other Roommates.
Behavioral Stipulations:
Pets: Can pets be kept at the Premises: No ___________ Yes__________
It is the duty of the owner to care and provide for the pet. The owners and pets are as follows:
| Pet Name | Type | Owner / Roommate Responsible |
| --- | --- | --- |
| | | |
| | | |
| | | |
| | | |
Chores / Household Duties: Chores and duties will be discussed weekly / monthly (circle one), and individual responsibilities will be agreed upon at those times. Each Roommate must complete his or her chores to the full extent in a timely fashion.
Cleanliness Expectations: Each Roommate will keep his or her bedroom and bathroom, as well as the Common Area, including the grounds and all appliances, fixtures and furnishings, in clean, sanitary and good condition and repair. Each Roommate will maintain the cleanliness and neatness of the Common Area and share in the responsibility of cleaning the Common Area.
Overnight Guests: Guests are allowed: No _____ Yes ______ Only if previously discussed ______
Noise Level / Quiet Hours: The Roommates are expected to keep noise down to a reasonable level during the day. After ________PM and until _______ AM, noise should be kept to a minimum.
Parties / Entertaining: Each Roommate may have up to _____ friends over at a time. Any more than this amount should be discussed with all the Roommates at least _____ day(s) prior. Parties must be agreed upon by all the Roommates and planned at least _____ day(s) prior.
Smoking and Alcohol Use: The Roommates are allowed to smoke in the following areas: __________________________________________________________________________. Drinking alcohol is allowed between _____ AM/PM and _____ AM/PM. The Roommates are responsible for maintaining reasonable standards of behavior and level of noise.
Additional Terms:
Severability: If any provision of this Agreement is held to be invalid or unenforceable in whole or in part, the remaining provisions shall not be affected and shall continue to be valid and enforceable as though the invalid or unenforceable parts had not been included in this Agreement.
Governing Law:The terms of this Agreement shall be governed by and construed in accordance with the laws of the State of __________, not including its conflicts of law provisions.
Entire Agreement: This Agreement contains the entire understanding between the Roommates and supersedes and cancels all prior agreements of the parties, whether oral or written, with respect to such subject matter.
Amendments: This Agreement may be amended or modified only by a written agreement signed by all Roommates.
---
MS Word Template – Free to Download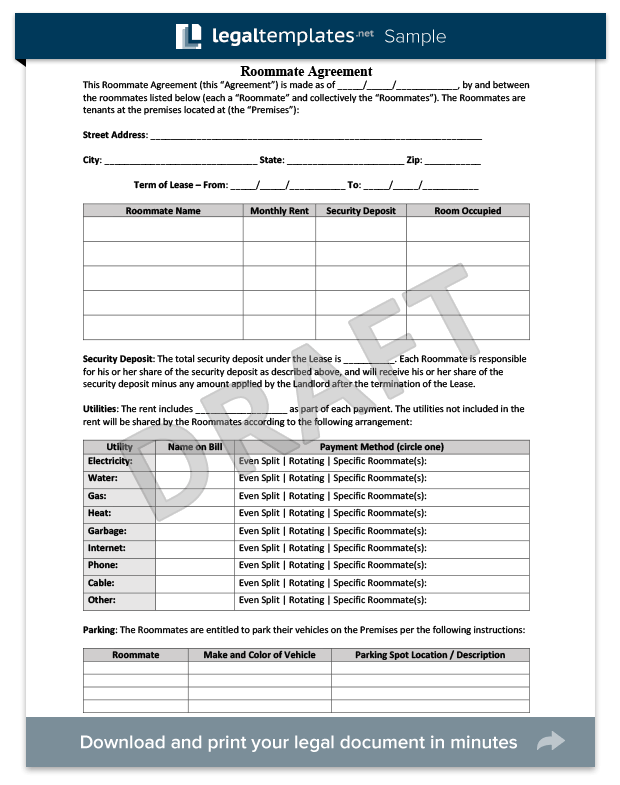 Our professionally drafted template helps you delineate property and expectations in a professional format; it is exhaustive, succinct, and precise.
Using it ensures that your property and relationships will be protected should you find yourself sharing a residence with friends or complete strangers.
Be as detailed as possible, and as roommates change, nullify former agreements and create fresh ones to address the change in circumstances.
Click here to download your free Roommate Agreement Template