Many businesses are moving more employees to "work from home" status. Not only has COVID-19 changed the landscape of how business gets done, increased digital and remote ability has made it easier to work outside of a traditional office. A work from home policy can help you create the policy you need.
If your business is going to allow employees to work from home, you should have policies in place to govern their actions and protect your business. In this article, you will learn how to make a work from home policy for your employees and give you the tools you need to create your own work from home guidelines.
What is a Work From Home Policy?
A work from home policy is a legal agreement between you and your employees that governs their responsibilities and expectations while working from home. It may define who is permitted to work from home, a process for requesting work at home, and set forth the approval process.
Whether work from home is optional or mandatory, it gives your business the power to ensure employees are successful while working at home. It protects their health and productivity, as well as your businesses' rights. The policy makes the expectations clear and documents your policies in case they are violated by an employee.
Work from home policies are also referred to as:
Telework policy
Remote work policy
Telecommuting policy
Remote employment agreement
When to Use a Work From Home Policy
You should use a work from home policy any time you want employees to work from home. These agreements set clear expectations and employee requirements while they work for you. They protect your business as well as your employees.
If you will have any employees work remotely, you should utilize an agreement. You can modify a work from home template to meet your company's unique needs without having to start an agreement from scratch.
How to Write a Work from Home Policy
Writing a work-from-home policy yourself saves you money and time. You can use our document builder, or work from home template, to help you create and modify a policy suited to your needs. Follow these steps when writing a work from home policy:
Step 1 – Outline the Objectives
Your work from home policy should clearly outline what it's setting out to accomplish. In most cases, this will be to provide guidelines and procedures for remote employees.
Step 2 – Scope
Detail the scope of the policy, whether it's for a permanent or temporary arrangement or both, and where the employee is permitted to work.
Step 3 – Who Can Work Remotely?
You need to outline who is eligible to work from home. Suit this to your business needs and goals, things to consider when deciding who can work from home could include:
Roles and job duties – Some roles can easily be performed from home, while others may require employees to be face-to-face with customers or onsite for maintenance work.
Software/equipment requirements – Some businesses require specific software or equipment for employees to work from home, in some cases that might not be feasible.
Tenure – Working from home could be an earned benefit or possible after a probation period if it's for new employees.
Security risks – Some jobs could be too vulnerable to cybersecurity risks when based from home.
Step 4 – Expectations
In this section, you'll want to clearly lay out the expectations of your employees working from home. State that remote employees must perform the same duties, assignments, and other tasks when working from home as they do when working in the office. You might also want to state that remote employees must be able to communicate and collaborate with the company and other employees during specific hours. You could also detail how many days (if not all) employees can work from home.
Your work from home policy should state when the employee is expected to work. This should include the days they must work and the times. If you wish to provide flexibility in hours, you can set other criteria for how and when work must be accomplished.
Step 5 – Security
Here you will want to highlight the importance of security, and that remote employees are expected to ensure the protection of proprietary company and customer information accessible from their remote workspace. Typically, this will include things like password management, locking filing cabinets, encryption, and any other measures required to keep information secure. You can also state whether employees should use a Virtual Private Network (VPN).
Step 6 – Equipment
Will you provide equipment to your employees so they can work from home? Detail what office supplies or furnishings you may provide to remote employees; you can also include whether the business will contribute to the cost of working from home, such as electricity or internet access. You will also want to include information on how equipment should be returned if employment ends.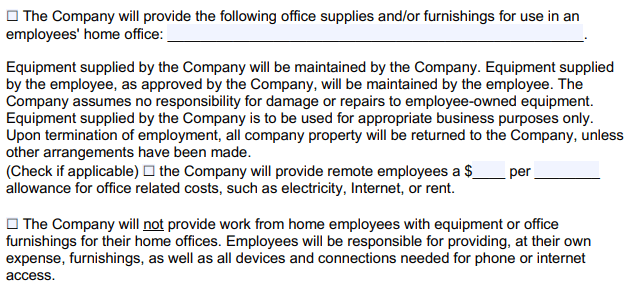 Step 7 – Procedure
Outline the company approval process for working from home. Do employees need to seek permission to work from home, or can any arrangements be made for employees on family or medical leave? Informal arrangements may not be covered by your work from home policy.
This section could also cover hourly, non-exempt employees that are still required to track their hours. Since they are at home, you should create a procedure for remote workers to track their hours and submit them to a supervisor.
You can also create attendance and availability standards for their work. Instead of having to track down employees to get their input, they should be available when you need them. You can dictate when remote workers are available.
Work From Home Policy Sample
This work from home policy sample will show you how a template can help you create your own agreement.
Tips to Consider When Writing a Work From Home Policy
When you are writing a work from home policy, you want to make sure you create a comprehensive agreement that fully outlines your expectations of remote employees. These tips can help you create an effective agreement:
Include remote monitoring: Remote monitoring software lets you track your employees that are working remotely. This includes their communications, working time, and other usage habits that are helpful to employee supervision. If you decide to use any, you should include any remote monitoring you will use in your policy.
Create a sick and vacation policy: Just because they are working from home, it does not mean that employees lack vacation or sick time. You should account for how to track this time off in the agreement.
Consider unique expectations: Every job is different. You should consider the unique requirements of a particular job when drafting a remote work policy. This might include requirements to attend an in-person training or even utilize specific technology when working remotely.
Create enforcement mechanisms: You cannot just have policies in place; you need to be ready to enforce them. The agreement should outline the effect of a breach of the at-home work agreement.
Work From Home Policy FAQs
What makes a Work From Home Policy effective?
A work from home policy is most effective when drafted carefully and thoughtfully. A template agreement is especially helpful in getting started, but the ability to modify it for your unique needs makes it especially useful.
How do you create a Work From Home Policy?
You can create a work from home policy with Legal Templates using a template. We offer template agreements you can use or build your own agreement with our template builder.
What to include in a Work From Home Policy?
A good work from home policy should cover the following sections:
Purpose
Scope
Who can work remotely
Expectations
Security
Equipment
Procedure

Why is a Work From Home Policy important?
Work from home policies make your expectations clear. This protects you and your workers. At home work agreements protect your business but give your employees flexibility as well. The desire to work at home is increasing substantially, especially during and after the COVID-19 era.
Other benefits include:
Ensuring quality remote work
Creating a culture of clear expectations
Using remote workers to reduce office and facilities costs