Forget about trying to write your business plan from scratch. Ask anyone who has tried to write their business plan without assistance, and they will be sure to admit how grueling the process can be.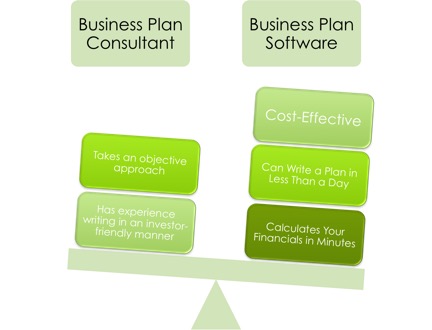 For new entrepreneurs, there are two options for writing a business plan. Either they can hire a professional consultant, or subscribe to business plan software.
There are advantages to both options, so deciding whether to hire a plan writer or to use software is largely dependent on your needs of your industry. However, when considering the disadvantages of bplan writers, you may find that business plan software is more suitable for new entrepreneurs.
Below are several reasons why you should reevaluate hiring a business plan expert and how planning applications can help alleviate the issues that come with contracting a consultant.
Reason #1: Professionally written business plans aren't cheap
One of the biggest obstacles to starting a company is obtaining enough capital to make the necessary purchases and cover initial operating costs.
"Hiring a business plan consultant can quickly eat up valuable startup capital that would be better spent on business operations."
The going rate for a freelance professional writer can reach upwards of $50/hour. Ouch! That's most likely a great deal more than you plan to pay your own employees. Yet, that hourly rate will seem like a Black Friday discount compared to the invoice you will receive from a consulting firm. A professionally written plan from a consulting firm can put your company over $1000 in the hole.
Now we know what you are thinking. Aren't I writing a plan to get my business funded and not deeper in debt?
The Business Plan Software Solution: Instead of investing hundreds of dollars and your future on a stranger, a subscription to a software site can cost you as little as thirty bucks. That's over 20 times cheaper than a professional writer!
Reason #2: Experts use business plan software, too
Let us tell you a secret that consultants don't want you to know:
"Most business plan experts actually have subscriptions to business plan software sites. Shhhhhhh!"
Don't be fooled, professionals aren't sitting up late at night with a pencil and pad crunching your numbers. Many aren't even designing their own excel tables and graphs. For them, the most cost-effective way of writing plans is to use an application to calculate the financials for them.
The Business Plan Software Solution: Why pay someone else to input numbers into an easy-to-use business plan program for you? Planning software is designed for even the most mathematically challenged entrepreneur. No longer do complicated financials have to prevent new entrepreneurs from writing these documents on their own.
Reason #3: Precious time will be wasted
Hiring a writer can risk wasting valuable time. On average, a professional writer finishes their first draft in about 10 days. For a well-crafted business plan, ten days is a reasonable amount of time to wait.
"Yet, more often than not you will find that the document needs to be edited because the writer overlooked a key vision or value point that you were trying to establish in your plan."
The editing stage can add days and even weeks to the process. Unnecessary time is also wasted through the back and forth exchanges of emails and phone calls. Additionally, don't forget that the writer's attention may also be focused elsewhere on their other client's plans.
The Business Plan Software Solution: Using an application allows people to finish their plans within their own timeframe. If a user has all the required research, the writing the process can be cut down to less than a day, in turn, allowing you to grow your business faster.
Reason #4: Doing your own market research is quite valuable
It's true that some business plan writers are experts at performing market research, but you will find that actually doing the research yourself is extremely important to properly operate your company.
Conducting surveys, testing your product/service with potential customers, and exploring your competition are all important ways that an entrepreneur can improve their growth strategy.
Doing your own research allows you to evaluate the market and see first-hand just how well your idea will perform against your competition.
The Business Plan Software Solution: Remember that you, the owner, and not the writer are responsible for the success of your product/service. The business plan consultant doesn't have nearly as much stake in the success of your company as you do. You can be certain that writers won't accompany you to meetings or answer tough questions from investors.
That's why it is imperative that the owner fully understands their strategy and the hurdles they must overcome to realize their dream. Using an application helps to guide users in way that even the least business-savvy entrepreneurs can understand. Keep in mind that many of the research tools that professionals use are no secret, and are available to everyone online.
At the end of the day, the outcome of a company lies solely on the owner and not the writer. Most new entrepreneurs invest their entire savings and risk their livelihood on the success of their small business. So why put their fate in the hands of a stranger?
Business plan software is a valuable asset to entrepreneurs in that it allows them to iron out all the details of their strategy in a manner that helps them to interpret their customer segments and competitive edge. Most importantly, using a business plan application can help organize your thoughts and build confidence in your idea. If you are interested in how software can help you create a marketable strategy for your idea , then take a tour of Legal Template's business plan guides and templates, and check out our sample business plan library to see the finished product.