For a property owner attempting to transition their home into a rental unit, understanding exactly how to rent a house can be a difficult subject to navigate.
There are a bevy of rules and regulations to sift through if you're considering turning your home into a rental property.
Becoming a landlord and renting out your house is a great way to provide an extra flow of revenue, particularly if you're trying to pay down debt or holding out to sell once a soft housing market bounces back.
Table of Contents
Determine Pricing
Despite what you feel your newfound rental property is worth, prospective tenants will only be willing to pay the current fair market value of the home. There are number of ways to calculate this.
Start by assessing the rental prices of apartments and homes in your area.

Flip through the classified ads of your local newspaper and ask around.

Call up property management companies that facilitate properties near you.

Local real estate agents are also a good source of information regarding property values.
Consider having your home appraised in order to figure out exactly what the unique aspects of your home are worth.
If you've made any substantial improvements to the property or added valuable amenities, such as a pool or garage expansion, all of that will allow you to raise the cost of rent significantly.
Attempting to rent your house by yourself is a massive undertaking.
Start a conversation with property managers in your town, and determine whether or not it would be in your benefit to alleviate some of the stress that comes with renting your house.
Of course, there will be fees associated with hiring a property management company, and those added costs will need to be factored into your rental asking price.
Landlord Insurance
Take a hard look at the terms and conditions of your home insurance.
Oftentimes, standard home insurance does not allow for the property to be used as a rental space.
You'll likely have to purchase specific landlord insurance.
Depending on which state your home is in, there are various laws that regulate whether or not landlord insurance is required when renting out a house.
Security Deposit
Once you've determined exactly how much the market will allow you to charge for rent, then you can begin calculating the security deposit.
A security deposit is a payment made by a tenant before moving into a rental property, and typically covers the cost of repairs once a tenant moves out.
Each state has their own legislation in place regarding how much a landlord is able to request for a security deposit.
Twenty-four states have no regulations on the maximum amount a landlord can request for a security deposit.
However, tenants will only ever pay what the market can bear, so a reasonable amount generally will never exceed one month's rent.
Once a security deposit has been acquired, you must then figure out where to actually hold the money.
Nearly every state forbids landlords from commingling security deposits with personal funds.
In order to protect yourself and your tenants, it's in your best interest to open a separate bank account for the purpose of holding security deposits.
State-by-state Security Deposit Regulations
List the Property
You'll never rent your home if no one even knows it's on the market. Long gone are the days of posting a sign up in the yard and hoping for the best.
There's a bit more legwork involved in listing a rental property today.
Classified ads are a tried and true method, but how many people do you know that still purchase a physical newspaper? Probably not very many.
You're unlikely to generate many quality leads with paper advertisements. The internet is your best option.
Craigslist – Billed as a online classified advertising platform, this is perhaps the most well known site listed. Often the first place renters will check when looking for a home.
Zillow – Aimed at providing a full-service search system designed for buying, selling, and renting your home.  
Bear in mind, because of how wide-reaching these sites are, you should be diligent during the application process.
Finding a Tenant
Now that you've listed your home and calculated the rental price of your home, the next item on your docket is finding a tenant.
Actually getting someone to rent your home is easier said than done.
You'll need to have a plan in place if you're attempting to rent out your house on your own.
When you begin meeting with potential renters, you'll need a way to screen them.
Start by having them fill out a rental application. They'll need to provide:
A history of their last few residences

An employment history

The contact information of any references
Any prospective tenant unwilling to answer basic questions outlined on a rental application should be an immediate red flag.
This document also provides you with the personal details necessary to perform a background check on the tenant.
It's standard practice to require a non-refundable application fee which will be used to process the background check.
Make sure to cross-check all references as well as their stated job history.
It's not uncommon for potential tenants to try and scam landlords by using family, friends, or even themselves to pose as a reference.
Showing the Property
The property is listed and the first wave of phone calls are starting to come in – now what?
Naturally, tenants are going to want to view the house for rent. It's time to show your home.
Set a time that works best for both you and the tenant.
If you plan on showing the property individually, you'll want to schedule viewings on a first come, first serve basis.
Remember that you're essentially marketing your home, so the house should be clean and move-in ready.
An open house is also a simple way to show your property if time is a factor.
With an open house, you can set a blocked timeframe that works best for you and allows interested parties to show up without the need to schedule viewings.
Consider this option where individual viewings would take up too much of your time, particularly if you do not live near the house that you're renting.
Processing the Rental Application
After walking through the home, give the tenant some time to fill out the rental application.
At that point, you'll ask them to hand over the application fee and you can begin processing their background check and credit check.
Make copies of their identification cards such as their driver's license or social security card.
Even if this information is listed on their rental application, it may not be possible to verify their credit or request a background check without proof of their identification.
Ensure the prospective tenant meets the income requirements by requesting their most recent paystubs. Typically, you'll want them to provide proof of income over the course of the last month.
Paystubs also ensure that the tenant is gainfully employed at the location stated on their rental application.
The federal government has rules and regulations regarding equal housing to all members of society, and you may be subject to prosecution if you discriminate in the rental of your home.
With that being said, there are legal and acceptable reasons to disqualify a potential tenant:
Residential or employment references report previous undesirable conduct by the tenant in question

Background check reveals prior evictions

Bad credit history, including too much outstanding debt

Repeatedly late rental payments

You decide against renting to all smokers and/or pet owners

Insufficient income

Convicted of a violent crime or manufacturing/distributing narcotics
Drafting the Lease Agreement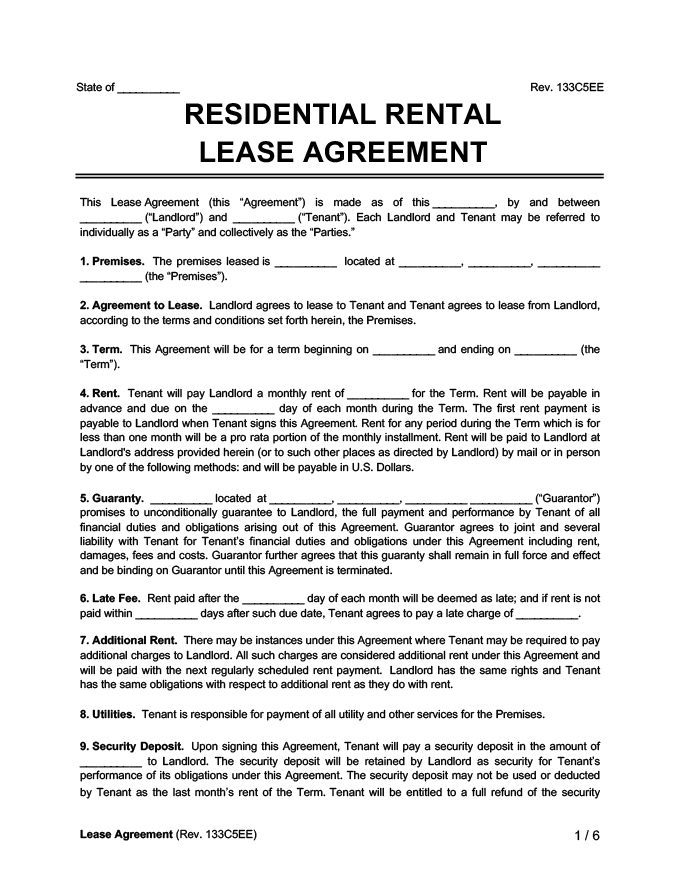 You'll have to draw up a lease agreement before you can begin renting out your house.
This document lays out all the various terms of the rental such as when rental payments are due, what responsibilities are expected of the landlord, and how long the tenant agrees to stay at the residence.
Be completely thorough when drafting the lease agreement.
It is a rental contract and will help protect yourself in the event of a dispute between you and your tenant.
Since you'll be renting your own private property, it's important to consider the duration of the lease agreement.
Yearly
The standard term for a lease agreement. If you plan on renting a house indefinitely, yearly lease agreements should suffice.
Monthly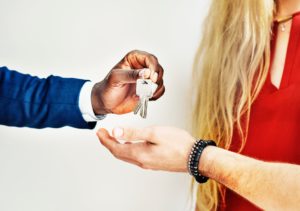 If you are unsure when you may wish to reclaim the property for personal use, outline a month-to-month term in the lease agreement.
State laws protect tenants from being evicted without substantial notice, and a monthly lease agreement will ensure that you can move back into your home within 30-60 days.
After signing the lease agreement, but before you hand over the keys, you'll want to run through a conditional report of the home.
Walk through the house with your new tenant and document any currently existing issues with the property.
Make sure you inspect the following aspect of every room in the home:
Floors

Walls and Ceiling

Doors and Locks

Cabinets

Appliances

Plumbing

Lighting

Windows

Smoke Alarm
You won't officially become a landlord until you collect that first rent payment.
Unlike security deposits in most states, rental payments are able to be deposited directly into a personal account, should you so choose.
As a rental property owner, you can utilize this newfound source of income as a means to do more of what you've always wanted.