Landlords and tenants use a Lease Termination Letter to end a lease agreement early or confirm that an expiring lease term will not renew. Either party in a lease can fill out this document and present it to the other.
What is a Lease Termination Letter?
If you need to end your lease early, most lease agreements require you to give written notice within a certain number of days.
Even if your lease does not explicitly require written notice, using a lease termination letter can protect you in the event of a later dispute.
A landlord or tenant will often present a lease termination letter to the other party at the end of a lease term to ensure no confusion on when the property will be vacant.
Additionally, landlords can use this document if they plan to increase the rent and the current tenant does not want to renew under the new terms.
Depending on your situation, you might want to consider the following types of termination letters:
Early lease termination letter – Use this document when you wish to get out of a lease earlier than the current term end date.
Late rent notice – This is a written letter from the landlord to the tenant informing the latter that rent is past due and should be paid immediately.
Eviction notice – If a tenant violates a term or condition in the lease agreement, the landlord should send an eviction notice telling the tenant to fix the issue or vacate the property within a certain number of days (you may be able to better screen tenants and avoid eviction proceedings by having prospective renters fill out a complete Rental Application like the one we offer at Legal Templates.
Also, you may want to try talking to the other party in your lease to work problems out. But regardless, we recommend creating a termination letter to avoid misunderstandings.
How to Send a Lease Termination Notice
A lease termination notice should be in writing even if you are close with your landlord. If you are wondering how to send it, you should check your lease agreement first.
A clear written letter with relevant details about the original lease is critical when sending an early lease termination letter.
Download our free lease termination letter template to make sure you include all necessary information.
Do I Need to Write a Lease Termination Letter?
Some rental agreements require a notice period to end the landlord-tenant relationship.
If you want to terminate your contract early, use a lease termination letter to officially communicate that you need to end the agreement.
Some annual rental agreements will automatically renew unless the tenant gives one or two months' notice.
Advance warning gives the landlord time to find another renter and provides the tenant enough time to find a new home.
What Happens If I Don't?
If you do not write and deliver a lease termination to your landlord, you could pay penalties and even end up in court! Here are some of the possible consequences of not using a lease termination letter:
Consequences for Landlord
Legal fees or financial penalties
The lease may extend automatically
Attending court proceedings
Consequences for Tenant
Loss of security deposit
Payment of rent owed for the remainder of the lease
Legal action from the landlord for rent owed
Bad credit for up to seven years if a judge issues a credit judgment
Lease Termination Letter Sample (PDF & Word)
Download and print the following free blank lease termination template to get started on your letter.
Lease Termination Letter Example
In the following lease termination letter example, the landlord informs the tenant that the lease will not renew at the end of the lease term.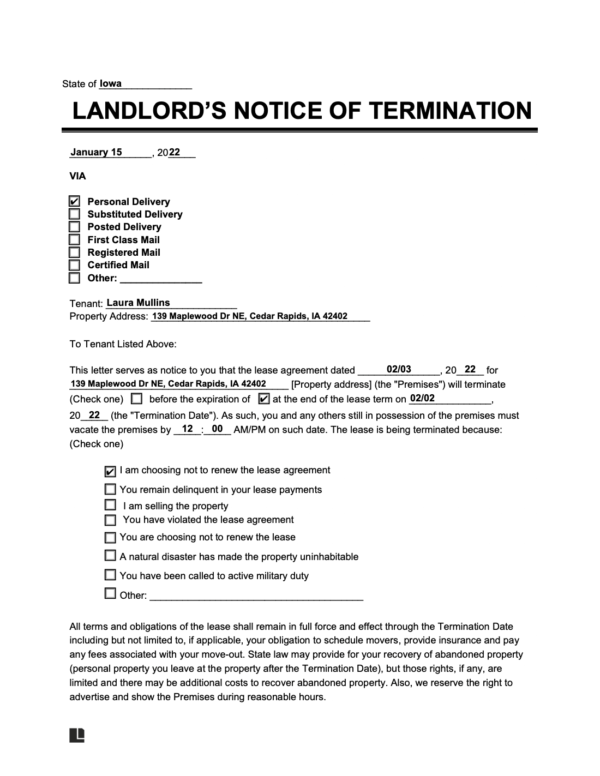 To find out more about whether or not this document is appropriate for ending your lease, check out our Lease Termination Letter Guide.
Use our comprehensive lease termination letter template and document builder to create a customized form and ensure you include all the necessary information in your form. This document builder generates state-specific forms.
How to Write (Fill Out) a Lease Termination Letter
The notice terminating the lease needs to be as clear and exact as possible. It is also essential to look at all the local landlord-tenant laws to ensure the lease termination adheres to these laws.
A lease termination process may vary in complexity and steps, depending on the lease agreement you use.
Parties who want to deliver a simple lease termination letter to another should follow these steps:
Step 1 – Check the terms on the lease agreement
Before you start your lease termination, look at the type of rental agreement you have and the information included in it. You will find the landlord's and tenant's obligations and rights in your Lease Agreement.
Here are some typical leases you may work with:
Standard Lease – This is the most popular rental contract and a landlord usually creates it for a fixed period, typically around one year. You can send a lease termination letter 30, 60, or 90 days in advance if you use this type of contract.
Month-to-Month Lease – The most straightforward rental agreement, the month-to-month tenancy automatically renews every month. The lease renewal (also known as a rollover) continues until either party provides 30 days' notice. Unless stated in this lease agreement, you do not have to give a lease termination notice on the day rent is due. A midterm notice is usually preferable and it ends your lease in the middle of the following month.
Sublease Agreement – A sublease agreement is a lease agreement between a tenant (sublessor) and a new tenant (sublessee). The parties named in this contract become bound to the sublease terms, similar to a standard lease.
Step 2 – Name the parties involved
A termination letter that a landlord writes to a tenant needs to name the parties involved and their addresses.
First, write down:
Landlord Information: Name of the party who owns the premises and that person's current address
Tenant Name: The party who rents the property and pays the landlord
Step 3 – Reference the original rental agreement
Below is an example of an original agreement signed between the landlord and the tenant when they first leased the property.
In this section of the form, write when the landlord and tenant signed the original lease/rental agreement and when the lease will terminate.
Step 4 – Fill in the vacate date
Write in the date when the tenant should vacate the premises. This date can be either (1) before the expiration of or (2) at the end of the lease term.
Step 5 – Reason for termination
The reason for termination is an essential section in the letter where you stipulate why you want to terminate.
Legal issues can arise through wrongful termination, so it is best to include a reason in your notice to document your decision.
Step 6 – Include a forwarding address
Write where to forward mail, future notices, or the security deposit.

Step 7 – Proof of Service (Optional)
You will need a signed Affidavit of Service if you are not the person serving the termination letter.
The person serving the notice hands the signed letter to the intended recipient, the landlord or the tenant. This affidavit serves as evidence that the party received the notice on a specific date.
Tips for Writing a Lease Termination Letter
Here are a few general rules to follow when writing your lease termination letter:
Proofread for errors. Check dates and spelling to make sure the information is accurate.
Keep it clear. Include a precise reason for your termination. For example, leases generally allow a tenant to leave early if the premises are not habitable and the landlord has not made necessary repairs.
Check the lease for where and how to deliver your letter. Leases often tell you where to give notice and sometimes even specify how to deliver your letter.
Do not sit on it. Once you know you need to terminate your lease early, write and send your lease termination letter as soon as possible. If you want to terminate early, it is better to give the other party as much notice as possible.
Legal Templates offers state-specific lease termination letters that you can use to end a lease in your state. These forms are helpful because they address the specific laws and requirements of each state.
For example, you can see our Indiana Lease Termination Letter for state-specific information on Indiana. This state-specific form helps you created a completed document that takes into account Indiana landlord-tenant rights.
Lease Termination Letter FAQs
How do you write a 30-day notice to move out?
To write a 30-day notice to move out, include the following:
The date of the notice
The intended move-out date
The reason for moving out and where to send future notices (forwarding address)
Key information about the lease, including landlord and tenant information
Make sure the date on the notice (postmarked or delivered date) is at least 30 days before the move-out date.
How do I write a 60-day lease termination letter?
When writing a 60-day lease termination letter, include the date of the notice, the date the lease will end, landlord and tenant contact information, the key terms of the original lease, and the reason for termination.
Make sure the date on the termination letter is at least 60 days before the move-out date.