A limited liability company (LLC) is a type of business structure that combines the benefits of a corporation but with the tax benefits of a sole proprietorship or partnership. LLCs minimize the personal legal accountability of their members — especially in the event of litigation. It also protects the members' personal assets from the collection, creating a separate property from the LLC.
A business should have an LLC Operating Agreement to receive these benefits and protections. These agreements organize the LLC and set forth essential responsibilities and obligations. Legal Templates can help you create your free LLC Operating Agreement to get your business started the right way.
LLC Operating Agreement – By State
Find your state-specific LLC Operating Agreement below.
What Is an LLC Operating Agreement?
An LLC Operating Agreement is a critical legal document that outlines the ownership and member duties of an LLC. The agreement sets out the financial and working relations that suit the specific needs of the business owners. From daily operations to what would happen if a member needs to leave the business, an operating agreement is crucial to your company and should be created as soon as you form your LLC.
An LLC Operating Agreement also includes details such as:
Member names and personal details
Management responsibilities
Roles of officers
Rules for operating
Ownership rights
Capital investment information
Rules for interpretation and venue
Profit distribution rules
Process in the event of death, disability, and dissolution
Most states do not specifically require an Operating Agreement to create an LLC. However, you are afforded fewer protections without one, and a court could find that your business is not a properly formed LLC. This could result in personal liability for the LLC's members.
Do I Need an Operating Agreement for an LLC?
Individuals looking for more control over how their companies are operated day-to-day and managed on a long-term and strategic level should invest in an LLC Operating Agreement.
A written LLC Operating Agreement protects a company's limited liability status by proving that the LLC is a separate legal entity. Without written documentation of an LLC Operating Agreement, a company may appear to be a sole proprietorship or partnership for tax and lawful purposes.
Banks, lenders, investors, and professionals will often ask for an LLC Operating Agreement before allowing a company to open a business checking account, secure financing, receive investment money, or obtain proper legal and tax help.
Your state's default LLC rules will apply if you do not have an Operating Agreement. For example, suppose you do not detail what happens when a company member leaves or passes away. In that case, the state may automatically dissolve your limited liability company based on its laws.
If you want something different than your state's de facto laws, an LLC Operating Agreement allows you to retain control and flexibility on how the company should operate. LLC members own a percentage of the company, not shares of a corporation. However, state default rules often assume that each owner has an equal share of the company, even though they may have contributed different amounts of money, property, or time.
An LLC Operating Agreement allows you to:
Specify distributive shares: For example, 65% ownership entitles you to 65% of profits and losses
Make special allocations: For instance, 50/50 ownership, but you are allocated 65% of gains and losses
Most joint ventures established in the US are formed as LLCs for tax purposes. If you want to create your LLC as a joint venture, you might also need a joint venture agreement.
Here is a chart of some of the consequences an LLC and its members may face if there is no written LLC Operating Agreement.
Individual Member
Company

Loss of Time
All members must vote on both big and small company decisions
Subject to state default laws that may change or be amended without notice
Loss of Money
Taxed as an individual business owner instead of as an LLC member
Taxed as a sole proprietorship or partnership instead of as a company
Uncertainty
Unclear whether an individual is liable as a member

Face unlimited liability for the company's debts and obligations

Face unlimited liability for the company's debts and obligations

Business activities are interrupted if a member leaves and the company cannot purchase their ownership interest

What Should Be Included in an LLC Operating Agreement?
An LLC Operating Agreement should include essential details about the business's daily operations. It should generally include details about:
Who owns the company based on contributions like property, money, and time
What will occur if a member passes away or wishes to leave the LLC
Where the company's principal place of business will be located
Why only specific individuals are permitted to contract on behalf of the LLC
When and how often members will meet to discuss company affairs
How profits and losses shall be distributed among LLC members
In addition to these crucial details, an adequately drafted LLC Operating Agreement should include other valuable details like:
Company formation details
Capital contributions
Compensation of members or officers
Duties of the management team
Bookkeeping and accounting practices
Transfers and buyout information
How To Write an LLC Operating Agreement
Here's a step-by-step on writing an LLC Operating Agreement with a free LLC Operating Agreement template.
Step 1 – Name the Parties
An LLC Operating Agreement should detail the name of each member of the LLC. It should include their legal name, not informal designations or "nicknames." This legally identifies who is an owner of the LLC, so a proper legal assignment of the parties is essential. The initial section of your agreement should look like this:
Step 2 – Introductory Provisions

The introductory provisions set forth important summary details of the LLC Operating Agreement. It includes the company's name, its principal place of business, and its purpose. It will also include information on the company's registered agent and that person's address. This section should also include information on:
The company's commencement date and term
Names and addresses of the members attached as an exhibit
The LLC's fiscal year information
Step 3 – Membership Interests and Voting

The following section will identify important information about the members' ownership interests and voting rights.
LLCs can structure ownership rights and voting rights together or separately. This depends on how you want voting rights to work within your new company.
It will contain detailed information about voting and whether voting rights may be transferred between members. This section should also address how new members may be added and their voting rights upon becoming a member. Creating clear rules in this section may prevent significant conflict in the future.
Step 4 – Management

If the LLC is manager-managed, this section should detail which LLC member is the manager, the manager's term, and how a manager is voted into their position. It should also outline the manager's duties and their rights to enter into an agreement on behalf of the LLC. If applicable, it should also include any additional compensation for being a manager.
The management section will outline the manager's duty to devote reasonable effort, time, and energy into managing the company as the members deem fair and appropriate. It should include reimbursement procedures if the manager incurs reasonable expenses on behalf of the company.
Step 5 – Capital Contributions

Capital contributions are the amount of property, services, or money that each member gives in the formation of the LLC and what they may be asked to give in the future. The LLC Operating Agreement should outline the members' contributions and how they relate to their respective ownership interests. Certain agreements may grant ownership interests without a monetary capital contribution. When this is the case, the value of the member's contribution should be clearly stated in the agreement.
Lastly, the section should include information on if and when the return of capital contributions may occur. Outlining this information now is key to properly forming your new LLC.
Step 6 – Allocation of Profits and Losses

The LLC Operating Agreement should account for how net profits or net losses will be determined and how they will be distributed between the members. This is typically based on ownership percentage or different ownership brackets. An LLC Operating Agreement template provides you the flexibility to create an allocation scheme that fits your company's needs. It will also discuss when distributions will be made and any prerequisite conditions necessary before distributions will occur.
Step 7 – Compensation

The compensation section should outline how the organization will account for its expenses and whether individual members may be reimbursed for their expenditures. It will also address the salary of any member or officer within the company. The compensation section may also outline how voting will occur to determine these issues.
Step 8 – Bookkeeping, Records, and Reporting

This section of the LLC Operating Agreement should include essential details about:
Accounting: Generally accepted accounting principles (GAAP) and how they will be used to keep track of the company's accounts
Annual Report: A report of the company's financial condition each year
Auditing: How requests by a member for auditing may be requested and how they will be performed
Records: How the company will maintain its records and the rights of members or officers to review those records
Taxes: How the LLC elects to be treated for federal and state taxation purposes
Tax Matters Partner: The agreement will list a member as the representative to the IRS for any tax matters
Valuation: How an independent accounting firm may conduct a fair market value assessment of the LLC when needed
Step 9 – Dissolution and Liquidation

This section outlines how and when the LLC will cease to operate. It outlines who decides to dissolve the LLC, voting rights, and any automatic dissolution conditions like death or bankruptcy. It will also detail the specific procedures for liquidating company assets, payment of obligations, and full accounting related to winding up the business. A well-drafted form agreement then outlines how remaining liabilities or assets are distributed to members of the LLC.
Company dissolution and liquidation is often contentious time for a company. With clearly listed details in this section, you can seek to avoid any legal disputes on how the company should be dissolved.
Step 10 – Indemnification Provisions

Indemnification provisions protect individual members from liability in several circumstances. It holds that the individual member should not be responsible for damages related to good faith actions on behalf of the company. These provisions also require the company to repay the individual member if they should sustain any expense or injury on behalf of the company, absent fraud, gross negligence, or willful or wanton misconduct.
Indemnification sections also typically include insurance information. This section permits the LLC to purchase and maintain insurance for the company, its members, employees, and property.
Step 11 – Confidential Information

A confidentiality section outlines any information that shall not be made public, including:
Trade secrets
Capital contributions
Proprietary information
Personal or financial details
Intellectual property
These secrets often represent a substantial value to the company and require protection. This section will outline how this information must be protected, by whom, and possible penalties for a breach. It can also set forth confidentiality exceptions for situations that require disclosure.
Example of an LLC Operating Agreement
This sample LLC Operating Agreement details an agreement between two members of the LLC. The two members, "Kenneth A Wenger" and "Hattie J Stamps," agree on how the LLC will be run. Topics included are membership rights, allocation of profits and losses, what to do with salaries and expenses, and others.
Free LLC Operating Agreement Template (PDF & Word)
With this free sample LLC Operating Agreement, you can build your operating agreement by filling in the blank sections. This template allows you to create an agreement that fits your company's unique needs.
LLC Operating Agreeement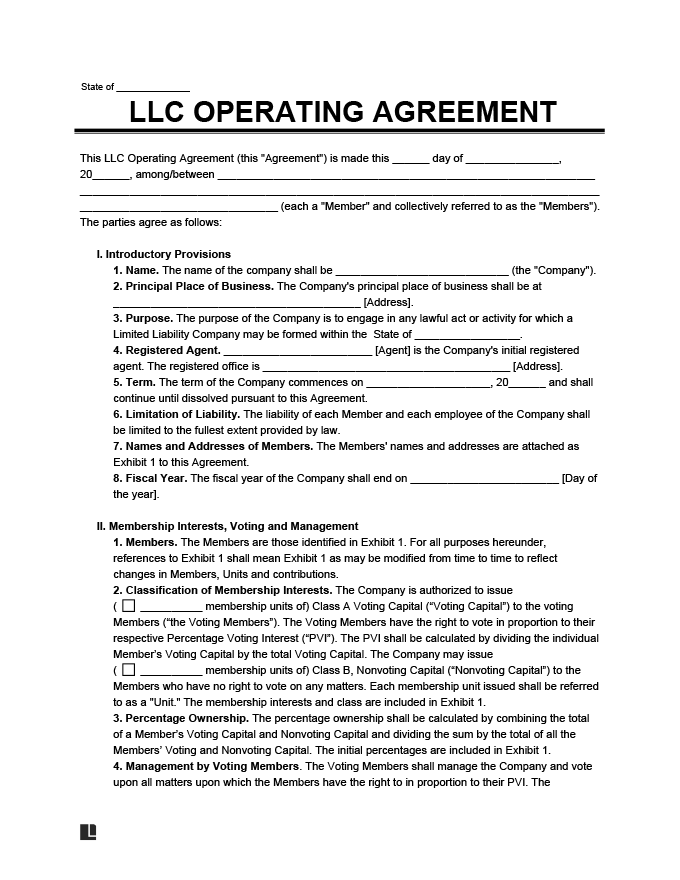 LLC Operating Agreement Laws by State
Frequently Asked Questions
What Is the Purpose of an LLC?
The purpose of an LLC is to protect the individual members from liability by protecting their assets. If the LLC is sued, the individual members and their assets should not be directly liable. An LLC also combines the formation benefits of a corporation and the tax benefits of a sole proprietorship.
Can I Create My Own Operating Agreement for My LLC?
You can create your Operating Agreement for your LLC. Using a template form builder, you can quickly create an LLC Operating Agreement to create a binding legal document. While most states do not specifically require these agreements, they are an essential asset in protecting each member's rights and the health of the LLC.
After creating your form agreement, it may be best to have an attorney review the finished product. This helps ensure it is enforceable in your particular state.
What if an LLC Has No Operating Agreement?
If an LLC has no Operating Agreement, the LLC is not valid, and the members are not shielded from personal liability. Certain states, like Delaware or New York, require an Operating Agreement.
Even for states that don't require one, they are key evidence that an LLC is formed and the company is not a sole proprietorship or partnership in disguise. Without an Operating Agreement, disputes between members will be subject to a state's de facto LLC laws, which may not operate in your favor.
Do All Members of an LLC Have to Sign the Operating Agreement?
Yes, all members of an LLC have to sign the Operating Agreement. Members must sign the agreement to be bound to it. If a member doesn't sign, they may not be legally obligated to follow the same rules as the rest. A dedicated section for each member's signature is included in the above template.
Is an LLC Agreement the Same as an Operating Agreement?
An LLC agreement is the same as an LLC Operating Agreement, and they are often used as interchangeable terms. Some people, instead, say LLC agreement when referring to the Articles of Organization. The Articles of Organization are a separate but important part of forming the LLC with the state — making it a recognized legal entity.
Do I Need a Business Plan If I Have An LLC Operating Agreement?
Although you may not need a Business Plan, LLC Operating Agreements and Business Plans are important legal documents. There are some overlaps between the two documents, but they have different uses. A Business Plan lays out how a business will achieve its goals and objectives and is a useful internal document and vital for securing investment and funding. An LLC Operating Agreement, on the other hand, outlines how the business will be run, such as daily operations and member duties.
What State Should I Make My LLC Operating Agreement For?
You can usually choose to form your company in any state; however, check your state laws and/or professional requirements to determine if the state you have chosen to form your business in or the specific type of business you are operating has a bona fide office requirement or other condition for doing business in the state that you have chosen. You do not need to make an LLC Operating Agreement for every state that you do business in.