Table of Contents
1. The Basics: What is a Purchase Agreement?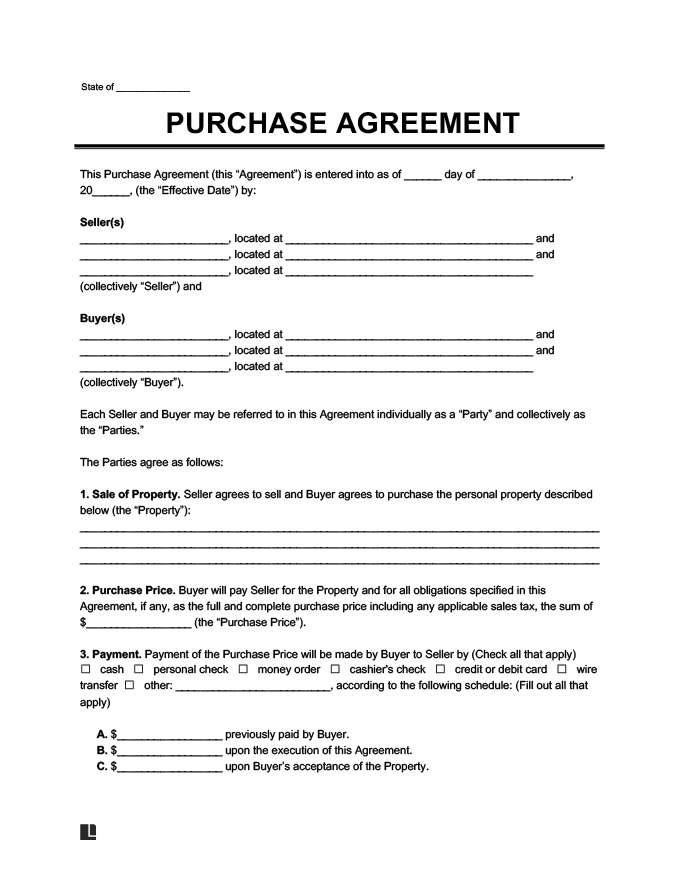 A Purchase Agreement is a legal document between two parties, the Seller who wishes to sell a piece of personal property and the Buyer who wants to buy that property. The Agreement describes the terms and conditions of the sale and ensures that both parties will follow through on their promises regarding that sale.
It should identify the following basic elements:
Seller: the person who has the personal property and wants to sell it
Buyer: the person who will become the new owner
Personal Property: a detailed description of the property
Purchase Price: how much the Buyer will be paying for it
Payment: how and when the Seller will be paid for it
What is the difference between a Purchase Agreement and a Bill of Sale?
A Purchase Agreement is signed before any property or money is exchanged. It is an agreement between the parties to enter into a future transaction and documents the details of what that transaction will be.
A Bill of Sale is signed during or after the exchange of money and property. It documents the transfer of ownership from the Seller to the Buyer, and acts like a receipt to the transaction.
As a reference, this document known by other names:
Agreement to Sell Personal Property
Sale and Purchase Agreement
Contract for Sale of Personal Property
This document can cover a wide range of personal property being sold, from jewelry or an iPhone to a car or a Monet.
Purchase Agreement PDF Sample
The sample purchase agreement below details an agreement between the seller, 'Michelle B Davis', and the buyer, 'Larry L Rose.' Michelle B Davis agrees to sell a panda plushy to Larry L Rose according to the specified conditions.
Purchase Agreement

2. When a Purchase Agreement is Needed
If you are either selling or purchasing any personal property, you should consider documenting your transaction in a Personal Property Sales Contract. A written Contract will allow both parties to carefully consider and describe the details regarding the sale, and confirms each party's understanding of how the transaction will take place.
It is also important to keep a record of the property that you sell for tax and accounting purposes. Selling property may have an impact on your tax return. The Internal Revenue Service (IRS) requires you to report all miscellaneous income, including income from the "barter and exchange of goods".  A tax lawyer or certified accountant can give you more information about how the sale of property may impact your tax return.
Some states require that a sales and use tax be added to the purchase price of personal property being sold. Be sure to include who will be responsible for any such taxes in your Purchase and Sale Agreement.
3. The Consequences of Not Using a This Document
Once you've found someone to buy the used Stephen Curry mouthguard you found near the bench at the Golden State Warriors game or you've finally found someone selling the mint green vintage Ford Mustang you've been dreaming of, you will want to make sure that nothing goes wrong with the sale. If you don't have a Purchase and Sale Agreement, the Buyer might mistakenly think he or she is getting a brand new mouth guard or the Seller might suddenly want more money for the car.
A simple Purchase and Sale Agreement could help prevent some of these consequences:
| SELLER | BUYER |
| --- | --- |
| 1. Lost time | 1. Lost time |
| Appearing in court to clarify ownership and title | Appearing in court to clarify ownership and title |
| Lawsuit to get full purchase price | Lawsuit over purchase price |
| Difficult to clear your name | Title transfer more difficult |
| 2. Lost money | 2. Lost money |
| Unexpected "gift" of property | Seller did not have legal title |
| Liable for fees and violations | Unfair seizure of illegal item |
| Did not get paid on time | Had to pay more money to get item |
| Penalties for improper sale | Purchased a faulty item or "lemon" car |
| 3. Personal safety | 3. Personal safety |
| Disgruntled purchaser expected the item to be in perfect condition | Faulty or defective car or item is a threat to public safety and your well being |
4. The Most Common Uses for This Document
Here are just a few things a Buyer or Seller might purchase or sell using a this Agreement:
Car or truck
Motorcycle
Bicycle
Furniture
Appliances
Smartphone
Computer
Diamond ring
Designer gown
Sports equipment
Concert tickets
Piano
Websites such as Craigslist, Ebay, Poshmark and other online marketplaces have made it easier to connect buyers and sellers of personal property.
5. What Should be Included
A simple Purchase Agreement should generally have at least the following:
     Who are the Seller and the Buyer
     What is the item being sold
     Where are the Seller and Buyer located
     When will the item be delivered
     How much is the Buyer paying for the item
Here are some other details a Purchase Agreement might include:
Governing Law: the state's laws that will govern the Agreement
Payment Plan: any down payment or installments and when they are due
Representations: the Seller owns the item, but otherwise is selling it "as is"
Taxes: the Buyer is responsible for paying any sales and use tax