A Rental Application is a document landlords and property managers use to screen prospective tenants before they sign a lease agreement and move into a rental property, including a room, home, or apartment.
A well-written rental application helps a property owner assess whether or not a tenant is trustworthy and responsible.
Rental Application – By State
Rental Application Sample
Below, you can find what a residential rental application typically looks like.
How to Find Good Tenants
Set Expectations Clearly
An effective way to identify the most qualified tenants is to set your expectations in advance and in the rental list. Start your job by setting predetermined minimum criteria for your prospective tenants, such as smoking situation, number of pets, if any, and rental property rules.
Start Advertising
To increase the chance of getting good tenants, use online rental platforms. There are a variety of platforms so that you can reach many potential tenants. If you point out all points of a rental unit, both positive and negative, your potential tenant pool gets more qualified.
Use a Rental Application
Through a rental application, you can collect all the information you need to make a preliminary decision. You can easily manage applicants and save time so that you can perform background checks.
Rental Application Fee Laws by State
With obtaining a filled-out application, landlords and property managers may charge a non-refundable rental application fee to cover the cost of background (including criminal history), credit checks, and a rental history inquiry.
State
Maximum App Fee ($)
Laws
Alabama
No limit
No statute
Alaska
No limit
Landlord-Tenant Handbook
Arizona
No limit
ARS 33-1321(B)
Arkansas
No limit
No statute
California
54.7
Cal. Civ. Code § 1950.6
Colorado
No limit
Colo. Rev. Stat. § 38-12-903
Connecticut
No limit
No statute
Delaware
10% of the monthly rent or $50.00
DE Code § 7020
Florida
No limit
No statute
Georgia
No limit
No statute
Hawaii
No limit
No statute
Idaho
No limit
No statute
Illinois
No limit
No statute
Indiana
No limit
No statute
Iowa
No limit
No statute
Kansas
No limit
No statute
Kentucky
No limit
No statute
Louisiana
No limit
No statute
Maine
No limit
No statute
Maryland
No limit
Md. Code, Real. Prop. § 8-213
Massachusetts
Landlords may NOT charge (only brokers and agents can charge)
MA G.L. c 186 § 15B(b)
Michigan
No limit
No statute
Minnesota
Not more than the actual cost of screening
Minn. Sat. § 504B.173
Mississippi
No limit
No statute
Missouri
No limit
No statute
Montana
No limit
No statute
Nebraska
No limit
No statute
Nevada
No limit
No statute
New Hampshire
No limit
No statute
New Jersey
No limit
No statute
New Mexico
No limit
No statute
New York
Cost of background check or $20, whichever is less
NY Real Prop. L. § 238-a
North Carolina
No limit
No statute
North Dakota
No limit
No statute
Ohio
No limit
No statute
Oklahoma
No limit
No statute
Oregon
Not more than the actual cost of screening or the customary amount charged by tenant screening companies
Or. Rev. Stat. § 90.295
Pennsylvania
No limit
No statute
Rhode Island
No limit
No statute
South Carolina
No limit
No statute
South Dakota
No limit
No statute
Tennessee
No limit
No statute
Texas
No limit
No statute
Utah
No limit
No statute
Vermont
Landlord or a landlord's agent cannot charge an application fee.
Vt. Stat. tit. 9 § 4456a
Virginia
up to $50.00 (may charge a separate application deposit that must be refunded within 20 days to any tenants denied the rental)
Va. Code § 55.1-1203(C)
Washington
Not more than the actual cost of screening
RCW § 59.18.257
Washington D.C.
No limit
No statute
West Virginia
No limit
W. Va. Code § 37-6A-1(2)
Wisconsin
up to $20
ATCP § 134.05
Wyoming
No limit
No statute
Run a Comprehensive Screening and Employment Verification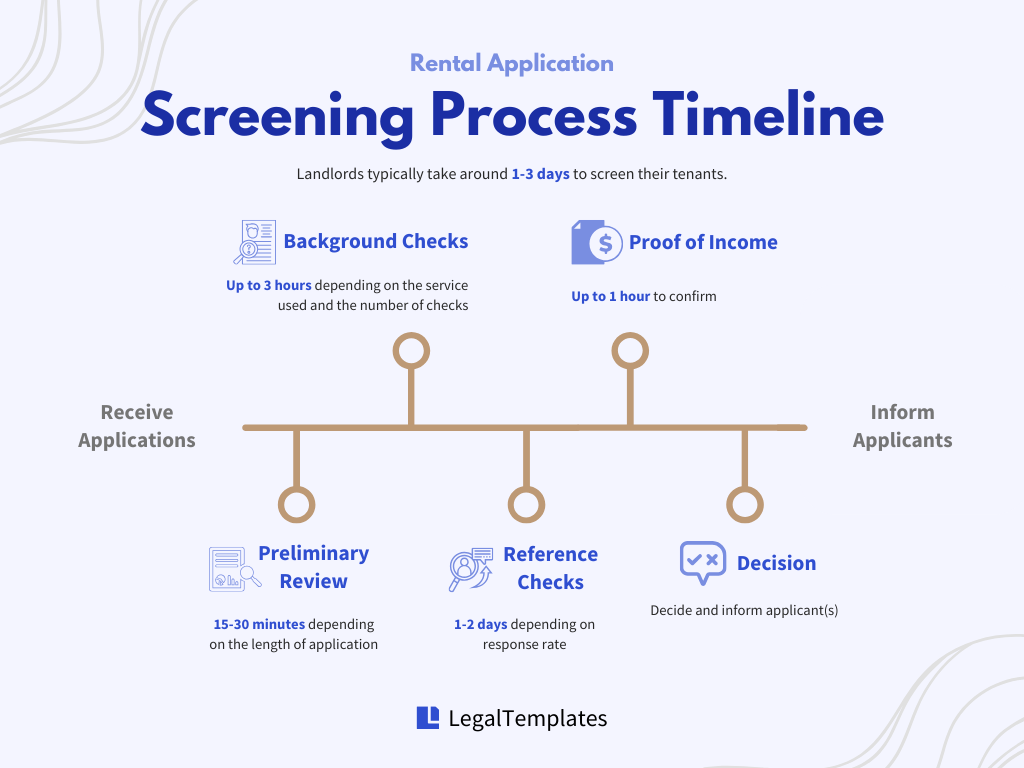 Screening is one of the most crucial steps to finding good tenants. Check their credit, criminal, and eviction history. Thanks to these reports, you can learn the applicant's ability and willingness to pay their rent on time. Also, they help you minimize losses by avoiding a tenant with a bad rental history and maintaining a safe neighborhood.
Federal and State Fair Housing Laws
Talk to Their Previous Landlords
As a part of tenant screening, you can contact previous landlords and personal references. They can inform you what kind of tenant an applicant is. So you can get more insights about the tenant that the reports couldn't give.
Sign a Lease Agreement
To ensure legal protection, set terms and conditions for tenants and sign a lease agreement.
Send a Welcome Letter
To make a great start and maintain a mutually respectful relationship, send a welcome letter including key things, such as move-in details, contact information, reporting maintenance issues, neighborhood guidance, and more.
How to Approve or Decline a Rental Application
Once you run checks like credit reports (and general and criminal) background reports and choose applicants based on your residential rental applications, inform your new tenants that you accepted their application by sending a Rental Application Approval Letter.
Also, send rental application rejection letters to other pending applicants.
Do your due diligence and protect yourself by asking prospective tenants to fill out a simple property application.
Also, ensure you file the completed application forms in a secure location – especially if you have asked candidates to provide their Social Security numbers or other personal information.
What Happens After Approving Rental Applications?
After approving rental applications, it is time to prepare the lease agreements for your new tenants.
When beginning this process, property owners should familiarize themselves with the following:
Landlord-tenant rights and responsibilities (as governed by state)

State rental laws

Security deposit regulations (landlords typically collect security deposits upon signing lease agreements)
Frequently Asked Questions
When should I use a tenant application form?
As a landlord, you benefit from using a rental application form if you are:
A first-time landlord concerned about finding a suitable tenant
A veteran landlord with bad luck with previous renters
In a popular location or building that will attract many renters
Concerned about the financial resources of an applicant
Screening for more serious tenants who are willing to move in soon

What is a credit reference on a rental application?
A credit reference on a rental application is a person, organization, or business with which an applicant has had a financial relationship.
Obtaining credit references should be part of your normal tenant screening process, in tandem with running a rental application credit check.
The credit references on a rental application will likely provide valuable information about a prospective tenant's rent payment habits.
Reviewing an applicant's credit references gives excellent insight into the likelihood of a landlord receiving rent on time.
Examples of good credit references on a residential rental application include:
Banks
Utility companies
Previous landlords
Local businesses that offered a rent payment plan
Medical and dental offices
What if I don't use a residential rental application?
If you do not use a residential rental application for tenant screening and research, you could cost yourself time and money.
After a potential renter fills out your tenant application, you should take the time to review it closely.
Always contact the applicant's current and previous employers and landlords, and run credit and background checks.
How long does a rental application take?
Generally, approving a rental application takes 24 to 72 hours.
But, because many landlords want to check various personal and financial histories, and databases like those companies offering background checks have access to, this process could be longer.
Landlords should try to streamline their tenant screening process by using online legal forms when possible and hiring third-party companies to run essential checks.
Minimizing the time spent collecting and processing applicant data can lead to better initial experiences with tenants and more captured rental income.
Can I rent without a job?
Yes, you can rent a property if you are unemployed, even if some landlords might be reluctant to approve you. To boost your chances, ensure you have references from previous landlords, can pay more upfront, or have a guarantor to co-sign your lease agreement.
What do landlords look for in a tenant?
If you want to rent an apartment, be prepared to disclose your credit, eviction history, income, and criminal background. Tenants that earn three times the rent amount and usually pay their bills on time have a higher chance of getting accepted.