Table of Content
1. The Definition: What is an NDA?
A Non-Disclosure Agreement is a written contract that officially recognizes a legally binding relationship between two parties — a Disclosing Party and a Receiving Party.
Both the Disclosing Party and Receiving Party mutually understand that certain information is sensitive, technical, or nonpublic and is valuable for commercial or other purposes.
Further, the two parties promise that they will not use or disclose the protected information with anyone else as they discuss and explore the possibility of entering into a business relationship with each other. If you are drafting an NDA, make sure to read up on these 3 Ideals vs. Reality Checks All Entrepreneurs Need to Know.
Non-Disclosure Agreement PDF Sample
The sample non-disclosure agreement below details an agreement between 'The BIG Company' and an incoming employee, 'David Moore.' David Moore agrees not disclose any information regarding The BIG Company's marketing strategies, customer relationships, designs, marketing documentation and reports, and business plans for the future.
Non-disclosure-agreement-sample

A simple NDA Form will identify the following basic elements:
The "Effective Date": when the promise of privacy starts
The "Transaction": the potential business relationship being explored
The "Confidential Information": private, secret, sensitive, or valuable data
The "Disclosing Party": the individual or entity sharing information
The "Receiving Party": the individual or entity receiving information
The "Representatives": other people (i.e. directors, officers, employees, agents or advisors) who may share, receive, or protect information
For a full briefing, please view our a complete list of items and NDA clauses that could be included.
As a reference, people refer to this document by other names:
1. Confidentiality Agreement (CA)
2. Proprietary Information Agreement (PIA)
3. Secrecy Agreement (SA)
2. The 4 Types of NDAs – Free Template Downloads
1. Standard Nondisclosure Agreement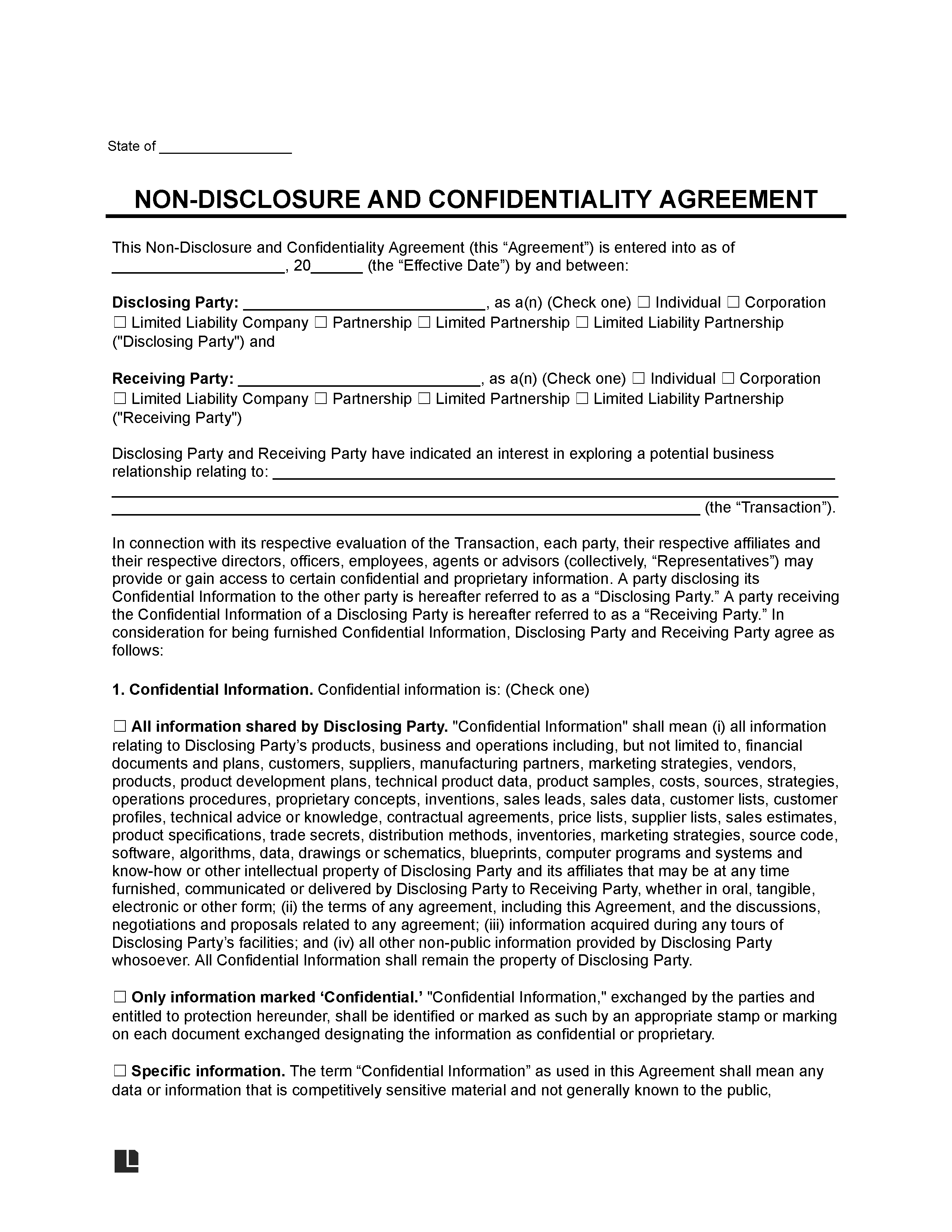 The NDA contract on the left is the traditional version of a nondisclosure agreement. While the templates below are designed for specific situations, this general template is flexible in that it can cover almost any situation when a company or person may need to protect their secrets.
Download our standard template if you are looking for a comprehensive agreement that can be applied to a wide range of situations. If you need a more specific agreement for a particular situation, check out the other downloadable templates below.
Download your free Standard Agreement Template
2. Inventor Agreement
This type of agreement can be used by inventors to protect their unpatented inventions. Inventors my find themselves in situations where they need to discuss their project with an interested party. In this case, it's important that the inventor can ensure that this third party will not relay any information after the meeting.
Our downloadable inventor agreement on the left is a mutual nondisclosure agreement that protects the information of both a company and the inventor. This document outlines what is considered 'Confidential Information' for both parties, including designs, schematics, and business operations.
Download your free Inventor Secrecy Agreement Template
3. Employee Non-Disclosure
The employee version of this agreement is used to notify a company's employees that they are not to discuss certain business information outside of work. In order for businesses to protect their valuable information, this document helps employees acknowledge that discussing any sensitive information is a breach of their contract.
The template on the left points out that information such as supplier lists, advertising initiatives, and sales data are considered 'confidential.'
Download your free Employee Confidentiality Agreement Template
4. Interview NDA
It's possible that in some interviews it is necessary to reveal sensitive information. In these cases, companies should consider having their interviewees sign an agreement before the job interview.
Since the candidates that don't get hired won't sign an employee agreement like the one above, this document will ensure that rejected applicants are aware that they are not to discuss confidential information with third parties after the interview.
Download your free Interview Confidentiality Agreement Template
3. When Do You Need an NDA Form?
Non-Disclosure Agreements are commonly used when one or both parties has valuable, confidential or sensitive information like trade secrets, customer lists, or proprietary know-how. In order to turn a great idea into cash flow, both parties consciously choose to share confidential information to explore a possible collaboration or business relationship. There are two kinds of styles used to protect confidential information:
Two Types
| Unilateral or One-Way NDA | Bilateral or Mutual NDA |
| --- | --- |
| Only one party is disclosing valuable information | Both parties are disclosing valuable information |
| Only one party promises to protect the information | Both parties promise to protect the information |
| Used by an inventor and potential investor | Used in a joint venture or merger |
5 Things to Consider Before Signing an NDA
If you are unsure about what to do if you are asked to sign an NDA, consider these 5 things. Please view our infographic
The document's scope: Understand the main questions the NDA is asking you to do. What type of information are you required to keep confidential? What steps must you take to keep it confidential? How long will the NDA last for? These are all things to consider.
Look for broad language: Be wary of broad language that doesn't relate to information you already have personal or public knowledge of, otherwise you are handcuffing yourself and opening yourself up for greater liability.
Liquidated damages: If you see a liquidated damages provision, run. A liquidated damages provision ensures if you breach the NDA, the company or employer will be entitled to a specific amount of damages without ever having to prove you caused actual damage to them.
The consequences of breaching it: Look to see if there are any unusually harsh or unfair punishments should you breach the NDA. If the punishment is disproportionate to the breach, hold off on signing.
You can negotiate: You can always ask to modify the document if you find something you think is unjust or out of place. It can't hurt to ask, and companies are more likely to allow changes when the NDA is last-minute.
4. The Consequences of Not Using One
The biggest fear is that someone else may make money off of your once-in-a-lifetime idea or confidential information, as evidenced in these following real life examples. For example, these three social media giants suffered considerable consequences after failing to legally secure and protect their idea from the get-go.
3 Real Life Examples of NDA Disasters
Twitter: Twitter's co-founder, Noah Glass, failed to secure NDAs protecting initial core designs and walked away essentially penniless after being forced out by former CEO Evan Clark Williams.
Pinterest: Who was the original source of the website model for Pinterest? Angel investor Ben Cohen was accused of stealing the original idea from a previous business and pitching it to Pinterest CEO Ben Silbermann. An air-tight NDA could have prevented this dispute.
Facebook: The Winklevoss twins accused Facebook founder Mark Zuckerberg of stealing their business model and brand after working on their software "UConnect." If they have asked their UConnect employees to sign an NDA, they would have likely had sufficient evidence to prove their allegations of "idea theft" by Zuckerberg.
Startup culture and entrepreneurship in the U.S. is on the rise. Along with tales of success, come tales of heartbreak. Check out these three monumental startup disasters here to get a better understanding of things to consider and avoid when entering into a startup.
As a legally enforceable agreement, this document can help alleviate genuine concerns that someone may leak your confidential information or use that valuable information for their own economic advantage. Check out these real life examples where NDAs have helped save the day by protecting valuable confidential information from being circulated.
3 Real Life Examples of NDA Benefits
Hotmail: Hotmail founder, Sabeer Bhatia's collection over 400 NDAs in a two-year span is believed to have been a critical step in providing Hotmail with a six-month head start and a competitive edge in the high-tech market, leading to a $400 million dollar payday for Bhatia.
Coca-Cola: Coca-Cola possesses one of the world's most famous and sought after trade secrets, the recipe for Coke. The recipe is only known by two employees at the same time, and is guarded in an Atlanta bank vault. Both employees have signed extensive NDAs to safeguard the recipe and their identities, ensuring Coke maintains its monopoly in the soft drinks market.
50 Shades of Grey: Ok, so it's not real life. But the Seattle entrepreneur Christian Grey, from everyone's favorite erotic romance novel, protected his sexual trysts and secretive lifestyle by having Ana, his college-aged consort, sign an NDA Form preventing her from speaking about any aspect of the relationship. His NDA surely prevented this young entrepreneur from financial sabotage and worry.
Possible Scenario: The Stolen Idea
Problems Caused by Not Using One
Disclosing Party

Receiving Party

Lost opportunity cost for:
1. Money
2. Fame or name recognition
3. Future viable business
Penalties for unpermitted uses:
1. Money
2. Loss of reputation
3. Court order to stop business
Expensive lawyer fees to:
1. Engage in a legal battle
2. Seek remedies for unlawful use or disclosure of protected information
3. Sue for trade secret misappropriation
Expensive lawyer fees to:
1. Engage in legal battle
2. Respond to a lawsuit for unlawful disclosure of protected information
3. Respond to alleged trade secret misappropriation
Mental anguish due to:
1. Having your idea stolen and monetized by another
Mental anguish due to:
1. Being embroiled in a drawn out lawsuit
Sometimes the law also requires information remain a "secret" in order to qualify for a patent. A written documentation can prove valuable in showing that the inventor reasonably tried to preserve the "secrecy" requirement.
The Most Common Relationships 
| Possible Disclosing Parties | Possible Receiving Parties |
| --- | --- |
| Inventor | Investor |
| Startup | Acquiring Company |
| Employer | Employee |
| Entrepreneur | Venture Capitalists (VCs) |
Create Your Free Non-Disclosure Agreement in minutes.
5. What Should be Included in the Scope of the NDA
A simple confidentiality agreement should generally have at least the following:

1. Who is on the hook? (the "Parties")
The Disclosing Party, either a person or a company, usually has valuable information that they want to share with the Receiving Party in order to explore a potentially fruitful business relationship (i.e. the "Transaction").
Both parties should sign and date the document for it become a legally binding document.


2. What is Protected? (the "Confidential Information")
Any data or information that is private, secret, sensitive, or valuable will be protected.
Confidential information can include:
classified government information
unpublished patent applications
financial information
marketing materials
tangible and intangible information
written and verbal representations and communications
business practices and/or strategies
vendor lists
customer lists
prototypes or samples
drawings, designs, documents
software
hardware configurations
inventions
Oral information can be tricky. Generally, oral information is deemed Confidential Information provided it is confirmed in writing within a specific timeframe after being disclosed.
Exclusions define what kind of information is NOT protected by the agreement and include:
publicly known or available information (i.e. Google or USPTO website)
non-confidential information shared by someone else besides the Disclosing Party (i.e. a third party) to the Receiving Party
information that can be shared with permission from the Disclosing Party
information independently developed by the Receiving Party
information the Receiving Party must share because of a lawsuit

3. What is the Duration? (the "Effective Date" and "Disclosure Period")
The agreement should also spell out when the promises to protect information begins (the "Effective Date") and the duration the protected information must not be shared with others (the "Disclosure Period").
Usually the parties agree to when the term of the agreement will end (the "Termination" provision). For example, the Agreement could terminate whenever:
the Agreement expires
the Transaction is completed; or
a specific amount of time has passed.


4. Where the Agreement Applies? (the "Jurisdiction")
If confidential information is leaked or inappropriately used by one party and a disagreement grows into a lawsuit, the parties should agree that the laws of one state will apply. In other words, both parties consent to appear in a specific state.
It is important to know that some states like California encourage employees to be entrepreneurial, so the laws there disfavor non-compete clauses (also known as a "covenant not to compete" or CNC) and employer agreements that restrict an employee's mobility after leaving one company.


5. What other details should be included in a Confidentiality Agreement?
Disclaimer: the protected information is provided "as is" and is not necessarily accurate or complete
No License: the Agreement does not give either party any patent, copyright, or other right to the information provided
Non-Disclosure: the Receiving Party promises to not let others know that

the Disclosing Party has shared or used Confidential Information
a Transaction is being discussed or negotiated
a Transaction has taken place, including the details of the relationship

Obligations: the Receiving Party and its Representatives promise to

not share or use the protected information with others
protect the security and confidentiality of the protected information
prevent any unauthorized access, use, or disclosure of information
reasonably safeguard the information's confidentiality ("need to know")
return or destroy any documents after the Agreement ends
tell the Disclosing Party asap if the protected info is disclosed or lost

No Obligation: either party may:

reject any proposals related to the business relationship
walk away from negotiations at any time and for any or no reason

Remedies: if either party breaks their promise to one another

no amount of money may be enough to make it ever "right" again
injured party may ask the court to order the other party to (not) do something (i.e. specific performance, injunction, or equitable relief)
the injured party will go after both money and non-money damages
whoever is in the wrong will need to pay for attorney fees

Non-Solicitation: either party may prevent the other from soliciting or offering employment to the other party's employees or from diverting business away from the other party
Notice: if at any time one party needs to tell the other something important (i.e. their computers were hacked and the Confidential Information was stolen or someone has sued them in court), then such notices should be sent to a certain person, email address, or mailing address.
You may also require that such notices be delivered by a certain method:
1. Delivery in person
2. Overnight courier service
3. Certified or registered mail
4. Postage prepaid
5. Return receipt requested
6. FAQ
Click on any question to expand the answer.
General Questions
A. This agreement is a legal document in which one party (called the Disclosing Party) provides certain confidential or sensitive information and data to another party (called the Receiving Party) and the Receiving Party agrees to not disclose that confidential information. The goal is to protect both of the parties who are engaging in the business relationship.
A. You can specify the length of time that both parties will have the business relationship. The agreement will state that the business relationship of both parties will end on the earlier of: after the time you specify has passed, or when the "Transaction" (the business specified in the agreement) is finished.
A. Non-Disclosure and Confidentiality Agreements are governed by state law. When choosing the governing law, it's best to choose the state that the parties are operating in.
Disclosing Party Questions
A. The disclosing party has confidential information and will be providing it to the receiving party. The disclosing party can be an individual, a company, or an entity. The confidentiality or non-disclosure agreement protects the disclosing party's confidential information, specifies the purpose of the confidential information, and spells out how long confidentiality must be maintained.
A. The abbreviated name will be used to reference the party throughout the document. For example, "John" can be the abbreviated name for "John Doe", or "ABC" for "ABC Company".
The disclosing party can either be an individual (person) or an entity (company). Examples of an entity include a corporation, LLC, or partnership. If the party is an entity rather than an individual, then a representative must sign on behalf of the company.
Receiving Party Questions
A. The receiving party is the individual or entity that is receiving the confidential information from the disclosing party. As part of the agreement, the receiving party has the responsibility and obligation to not share the disclosing party's confidential information.
A. The abbreviated name will be used to reference the party throughout the document. For example, "John" can be the abbreviated name for "John Doe", or "ABC" for "ABC Company".
A. The receiving party can either be an individual (person) or an entity (company). Examples of an entity include a corporation, LLC, or partnership. If the party is an entity rather than an individual, then a representative must sign on behalf of the company.