An employee non-disclosure agreement (NDA), or employee confidentiality agreement as it's also known, is common in business today, especially in industries where there might be proprietary information or trade secrets. There are different types of confidentiality agreements for various business purposes. Here, we'll discuss the employee non-disclosure agreement.
A company often asks employees with advanced knowledge of their confidential information to sign an NDA. Some companies make this agreement standard for all employees. This means that the employee agrees not to use or make public information learned while working through the company.
This contract specifies the type of information which cannot be disclosed. This allows employees a better understanding of the information it would be detrimental to share. Trade secrets are protected, but employees might not realize that mailing lists and other client information are also protected.
Before issuing an employment offer letter, many companies require their candidates to provide an employment verification letter with supporting proof of income documents.
What is an Employee Non-Disclosure Agreement?
An employee non-disclosure agreement is a contractual agreement between an employee and an employer to protect sensitive information. Employers typically use an employee NDA as part of the onboarding process for new employees to protect trade secrets and business practices before they start working for the company.
An employee non-disclosure agreement clearly details that an employee may not disclose your trade secrets without permission.
When Do I Need an Employee Non-Disclosure Agreement?
It's ideal to have an employee NDA signed upon hiring a new employee. In many cases, it is contained within a standard employment contract.
These contracts are enforceable because they meet set criteria:
Terms of Contract: The terms of the contract are laid out so that the employee can clearly see what standards they are agreeing to uphold.
Agreement of Contract: The employee clearly agrees to the terms of the contract.
Payment or Considerations: Some form of value must be exchanged to make a contract binding. In the case of hiring a new employee, the position and salary serve as the consideration.
Some companies may not have all employees sign an NDA. In this case, the employee confidentiality agreement might be drawn up to be signed by employees when they are promoted to a position where one is deemed necessary. Payment should still be attached to these agreements, even when a current employee is asked to sign. Payment might include a raise or some form of bonus.
Consequences of Not Having an Employee Non-Disclosure Agreement
The consequences of not having an employee NDA can vary. It often depends on the type of industry and business model. It was once standard that businesses expected their employees to behave ethically. Believing in someone's good nature might be more congenial in your personal life, but it's not an effective strategy to protect your business.
If an employee is not bound by this contract, they can use information they've learned through your company in a variety of ways that can damage your reputation or impair your ability to compete in the marketplace.
Some consequences might include:
Using Proprietary Knowledge to Gain Employment Elsewhere:
Many employees change jobs frequently. Without an NDA, your employee can use proprietary knowledge of your company to secure employment with a competitor. This also means your competition will have inside knowledge of your company.
Opening Their Own Enterprise Using Your Information:
An employee could open their own business, taking customers and connections they've met through your business with them. They may even hire away some of your own employees.
Using Client Information:
An employee could take client information, such as mailing lists, and use them in their future ventures. This might put you at risk legally or damage your relationship with clients.
Making Public Information That Damages Your Ability to Compete:
An employee could make intimate knowledge of your company public, through interviews or social media—although you should try to cover this in your social media policy. This might include information that would damage your marketing position.
Most Common Uses for an Employee NDA Form
In its basic form, an employee confidentiality agreement lets the employee know that they can't discuss information learned through your business outside of the office. There are clauses that can be included in your NDA to make it more robust to protect your interests.
Some common considerations when drawing up this contract for employees to sign include:
Setting the Parameters on the Type of Information: Your NDA can spell out exactly which types of information an employee should not expose outside of their work with your company. This section can be very detailed to verify that employees understand – one issue for employees is that they sometimes don't realize how much information is included. This section can also be broadly written to allow for future types of data.
Protects New Developments: If your company is working on a patent or other sensitive information, such as a publication through another entity, disclosure can effectively damage your ability to secure the deal. Having this contract in place can help you mitigate those circumstances and save your ability to continue with the patent or other type of development.
You might also include a Non-Compete clause in your NDA. This clause would list a time frame where current employees could not enter into direct competition with your company. Commonly, you would include a 1- or 2-year period where past employees could not work for a direct competitor through direct hire or contract. They also could not open their own company in direct competition with your own.
What Should Be Included in an NDA Agreement for Employees
Your Employee NDA should include the following information:
The Parties: The contract should specify the company and the employee entering into the contract.
Information: The information which is protected by the NDA should be well defined.
Time Frame: The duration that the contract is enforceable needs to be spelled out.
Non-Compete Clause: This clause specifies an amount of time in which the employee cannot directly compete with your company after terminating the relationship.
Non-Solicitation Clause: This clause dictates that employees cannot be solicited away from the company for another enterprise.
Remedies: This section indicates remedies in the event that the contract is breached.
Notice: Because you're dealing with proprietary information, you should include a section indicating how notice should be made if the employee discovers a breach in information, e.g. if the employee's computer was hacked.
It is important to note that courts are reluctant to enforce broad non-compete clauses in employment contracts. To increase the likelihood that it can be enforced, your non-compete clause should be very narrow and as specific as possible in regards to position, industry, and region.
An employee non-disclosure agreement works to protect your interests while clearly laying out the type of privacy your company information needs. These are becoming more and more standard in business and many employees routinely sign them as a term of employment.
Employee Non-Disclosure Agreement Sample
Below you can see what a standard employee non-disclosure agreement looks like:
Employee Non-Disclosure Agreement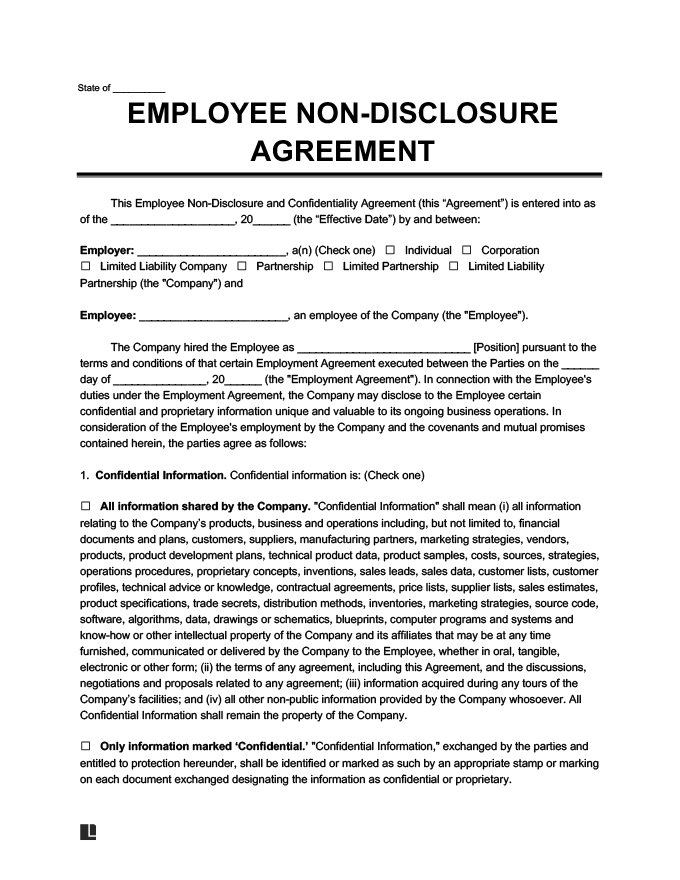 Employee NDA FAQs
Why should you use an Employee Non-Disclosure Agreement?
Many times there are legal consequences for employee disclosure of trade secrets and other confidential information, even without an NDA in place. However, if your employee has signed an NDA you have additional legal actions available that may be easier to pursue, like an action for breach of contract for violating the non-disclosure agreement. The NDA can also serve as a guide for the employee to outline expectations in regard to what information should be protected and how to protect that information so that you can adequately manage employee expectations and hopefully avoid a serious breach or future legal action.
When are non-disclosure agreements signed by employees enforceable?
When non-disclosure agreements signed by employers are enforceable depends on the state your company is in. Rules vary from state to state when it comes to employee NDA, but most agreements may be enforceable if they're drafted and executed correctly. Also, in order for the non-disclosure to be legally valid, there must be some form of consideration involved, like the employee being employed by the employer in exchange for the employee's agreement under the NDA not to disclose confidential company information.
When are non-disclosure agreements signed by employees unenforceable?
This varies from state to state but employee NDAs can be unenforceable for a number of reasons, such as:
The language is too broad – If the employee NDA is too broad or restrictive, the courts could deem it unenforceable, particularly if it's not limited in duration or scope.
The information is public knowledge – if the information a company is trying to protect is widely disclosed or public knowledge, then it's unlikely the NDA will hold up in court.
The NDA is protecting something illegal – If the agreement is requiring the employee to do something illegal, such as remaining silent about some illegal activity, the NDA won't be enforceable.