Table of Contents
1. Requirements by State Map – Download a Free State-Specific Template
By clicking your state in the map below, you will either:
Directly download your state-specific template
Directly download our generic template, if a state-specific one is not needed
Be directed to your state's DMV website, if there are specific and complex requirements
Auto Bill of Sale Requirements by State – Click Your State to Download
BoS Required

BoS NOT Required

BoS required, with conditions

BoS NOT required, with conditions

BoS requirements vary by county
Bill of Sale PDF Sample
The sample bill of sale below details an agreement between the seller, 'Jon C Dooley', and the buyer, 'Sarah D Baumann.' Sarah D Baumann agrees to buy a Toyota Corolla from Jon C Dooley for $25,000 USD under the conditions specified.
Automobile Bill of Sale

2. The Definition: What is an Auto Bill of Sale, and Do You Need One?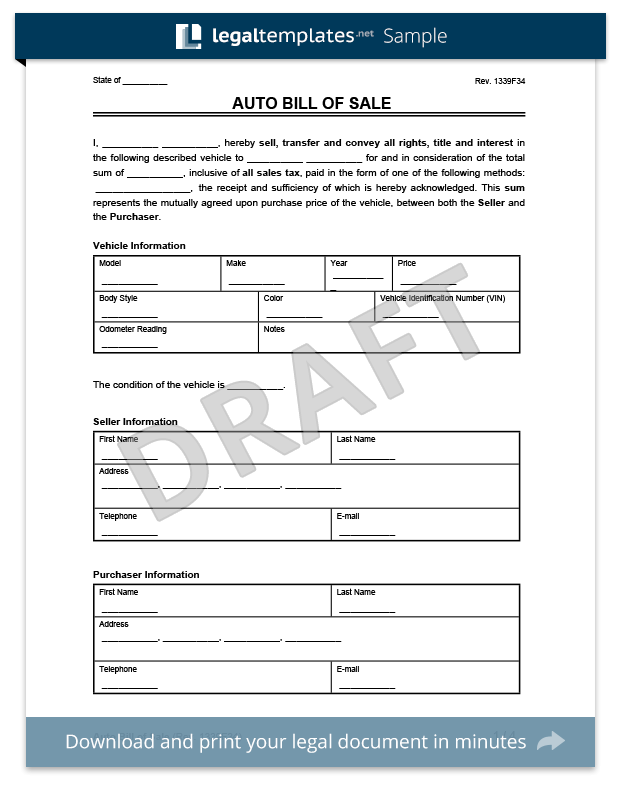 This is a legal document that memorializes the sale of a car, motorcycle, or other vehicle between two parties — a seller and a purchaser.
In exchange for a certain amount of money, the seller agrees to transfer ownership of an automobile to the purchaser.
Does the Car Buyer Need One?
Technically it's up to the car seller to provide the bill of sale. However, being prepared with one never hurts, as the transaction may be impossible if you are living in certain states. We recommend always having a document prepared for a major transaction like this, even if you live in a state where it is not required.
Does the Car Seller Need One?
Requirements differ between states. In some states, you do not need a Bill of Sale to sell your car. In others, you need a signed, dated, and on occasion notarized bill in order to successfully transfer your title.
We highly recommend that you, as the seller, complete one regardless of state requirements. Without an auto bill of sale to complete a proper title transfer, the seller may continue to be on the hook for any fees, fines, violations, or criminal shenanigans the new owner (i.e. the "purchaser") incurs while using the item.
In less extreme situations, if you sold your car to someone off of Craigslist without an auto bill of sale and title transfer, you may still be on the hook for future speeding tickets that should actually be sent to the new owner.
We provide a generic template that is free for you to download.
The bill of sale alone DOES NOT prove ownership. You must transfer the title of the vehicle to completely protect yourself from legal liabilities upon selling your vehicle. In fact, some title transfers are accompanied by a Release of Liability waiver to finalize the transfer.
What should be included?
Depending on the type of auto being sold or transferred, the description should include necessary identifying details. For example, an care bill of sale may include the following details:
Make
Model
Color
Vehicle identification number (VIN)
Model year
Year of manufacture
Type of body (2-door, truck, van, etc.)
Number of cylinders (V6, V8, V12, etc.)
Odometer reading (mileage)
License plate number (if your state allows plates to be transferred)
As a reference, people often call this document by other names.
Auto Purchase Agreement
Car Contract
Car Purchase Agreement
DMV Bill of Sale
Vehicle Sale Receipt
In addition to cars and motor vehicles, this document may also be used for a wide variety of other vehicles, including:
| Water | Aircraft | Mobile Homes* | Trailer | Recreational |
| --- | --- | --- | --- | --- |
| Boat or Yacht | Airplane | Motorhomes | Boat Motor and Trailer | All Terrain Vehicle (ATV) |
| Jet Ski | Helicopter | Recreational Vehicle (RV) | Horse Trailer | 3 Wheeler |
| | | | Travel Trailer | 4 Wheeler |
| | | | Utility Trailer | Snowmobile |
* Mobile homes are treated as personal property by the IRS in a 2008 memo when sold as retail and placed on rental property like a trailer park or mobile home park and community
Conditional vs. Absolute Bills of Sale – Two Different Ways to Pay
1. "Conditional"
A conditional bill of sale transfers ownership of the item to the purchaser only after they have paid all money owed to the seller.
For example, the document is first used to record that both the seller and purchaser agree to transfer ownership of an item like a car if certain conditions are fulfilled. Then, a promissory note is used to record how the purchaser will pay the seller over time.
2. "Absolute"
An absolute bill of sale proves a transaction took place and that ownership has been completely transferred to the purchaser without any restrictions.
In contrast to the "conditional" template, this is used when the purchaser is able to pay the entire amount for an item immediately. Furthermore, the seller no longer has ownership claims to the item.
3. General Bill of Sale: Selling Other Items
If you're looking to buy or sell general items that are not cars, boats, horses, or firearms, a generic template will suffice.
Both parties simply need to fill in the document and sign their names to make the transaction legally binding.
Download a Generic Template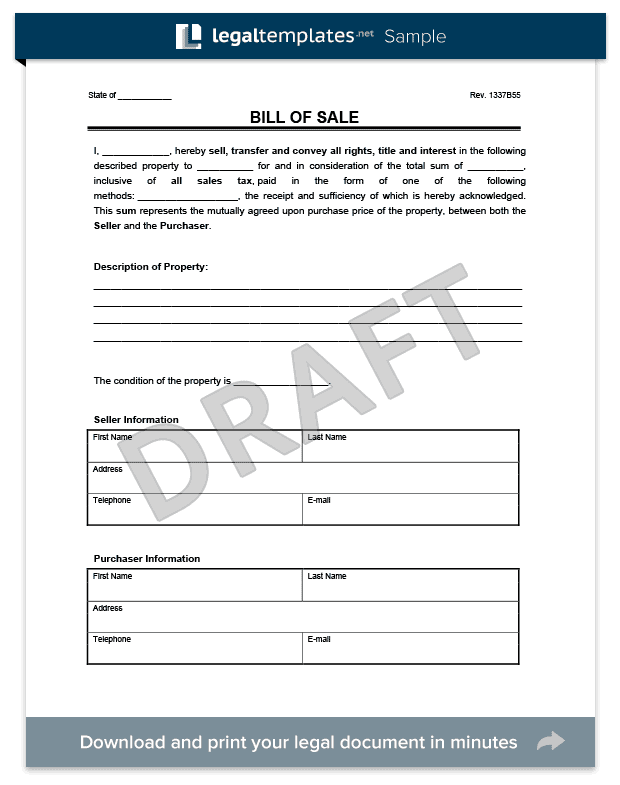 Our generic template is perfect for buying or selling general items.
It has all of the necessary sections and clauses to act as a proof of sale/purchase.
You are free to download our simple template via the orange button below.
We recommend using our document creator to ensure that there are no errors, and we provide helpful tips along the way.
Click here to download your free Generic Bill of Sale Template
How to Write a Bill of Sale – What Should be Included?
This document serves as proof of purchase and will include the following elements:
the item truly belonged to the Seller

1. Parties to the Sale – "Seller" and "Purchaser"

It is critical to provide information about who is buying ("Purchaser" or "Grantee"), and who is selling the item ("Seller" or "Grantor").
Include the following information:
Names and Addresses of Seller and Purchaser
Signatures of Seller and Purchaser

2. Description of the Item(s) or Property
Give a detailed description of the item to ensure that it is identifiable to anyone reading the bill of sale in the event of a dispute.
Include the following information:
3. Condition of the Item – "Warranty"
A detailed description of the item's condition will help to prevent a disagreement if the purchaser is unhappy with the quality, function, or general condition of the item.
Include the following information:
"Sold As Is" unless you have agreed to something else
Certified that the Seller is the legal owner
4. Details of the Sale – "Payment Terms"
Details about the sale will help keep your records organized and prevent misunderstandings.
Include the following information:
Date of Purchase
Sale Price
Payment Arrangement (i.e. paid in full, initial down payment, or installments)
5. Delivery of the Items
How you intend you deliver or receive the item is easy to overlook, but should also be included in the document.
Include the following information:
Available immediately
Pick up at a later time from a specific address
Delivery at a later time (additional charge for delivery may apply)
4. Related Sales Documents: Click to View
Still not what you're looking for? View all of our legal forms here.