A service agreement is a contract that outlines the agreed-upon services and compensation between two parties. It helps prevent misinterpretation and establishes a clear understanding of obligations and responsibilities.
No person or business does everything 100% on its own. Everything from having trash hauled away to getting a lawn mowed comes down to an agreement between two parties, and it's best to have that in writing. The general jargon is all the same, with the specific services, prices, and parties being the main variants.
By Type
What Is a Service Agreement?
A service agreement is a formal document used to expressly state the expectations and terms of a contract between the parties involved. The general gist is that Party A agrees to provide the services in question to Party B in exchange for a form of payment.
Often, these are services in exchange for money, but it is also possible to barter services in exchange for services and/or other goods.
For example, a home may opt to employ a full-time nanny. This nanny's contract would offer nanny services to the home in exchange for a set amount of pay. However, the payment may be lower if the home provides a live-in option for the nanny due to the offset living expenses. All expectations of both parties would be detailed in the service agreement.
Unlike with purchase orders or agreements, you create a continual relationship between the parties as long as the services are contracted. These may be written to expire after a set amount of time has elapsed, after the completion of a project, or left open indefinitely.
Service agreements are sometimes mistaken as contractor or sales contracts with or sales contracts, which have different uses.
When to Use
Every time a task requires using someone for their services or when your services are being requested for a project, there needs to be a service agreement in place.
Though many jurisdictions may allow for oral agreements, the inability to prove who said what makes most of them functionally useless in a court of law. Only agreements that can be verified can be enforced.
A service agreement benefits all parties – not just the one party seeking services (or the one offering them). They help to clarify precisely what is expected to happen and what is not expected so that all parties are on the same page.
Why Use a Service Agreement?
There are many benefits of using a service agreement, including:
Prevents Misunderstandings
In the case of a dispute, a service agreement is a document that can be referenced. At the very least, it lists the services that will be provided, the time frame in which they will be provided, and compensation details.
Having everything written down and signed by both parties means everyone knows what's expected. In serious disputes, the service agreement should cover the action that should be taken, such as court litigation or binding arbitration.
It Saves Money and Time
A service agreement as a service provider ensures that payment details are clearly outlined, providing the buyer knows exactly what they need to pay and when. This helps prevent confusion and saves you from missing out on any money you owe.
The time spent creating and discussing the document will be significantly less than the time spent sorting out any misunderstandings that could occur without one.
Protects Both Parties
A service agreement protects both the service provider and the service receiver. The expectations of the parties will be outlined, including what should happen in case of a dispute and any deadlines for the service or payment.
How to Write
The main parts of any contract (offer, consideration, acceptance) are all featured in a service agreement:
Step 1 – Date and Parties
A contract template usually starts with language determining the agreement's beginning date. You will then introduce each party, clarifying which party is performing the service and which is retaining the service.
Step 2 – Outline the Services Being Offered
The document will then explain the services offered for this particular agreement. ANY and ALL services that are reasonably anticipated should be covered.
This helps lay out the responsibilities of the party providing the services, also clarifying what is not to be expected (This is the offer portion of the contract).
Step 3 – Compensation/Purchase Price
The next section of the service agreement will discuss compensation/purchase price. While it is most commonly money, it does not have to be limited to cash.
Services may be offered in exchange for services, as well. It is also possible to provide complimentary services, with the agreement detailing limitations and cutoff dates.
Step 4 – Payment
In this section, outline how payment will be made. You can also include details about previously paid amounts, down payments, or if the service will be paid in installments.
Step 5 – Right of Inspection
If required, you can include a right of inspection section. Here, you can clearly state whether there's no right to inspection or if the buyer can examine the final product or service. You can also include options after an inspection, requesting revisions, or terminating the contract.
Step 6 – Assignment
In this section, you can detail whether the involved parties require permission to assign a third party.
Step 7 – Governing State
Here, you should include what state the agreement shall be governed by. State labor laws may differ, so it's essential to specify the governing state – typically where the work occurs or where the service provider lives.
Step 8 – Disputes
Detail how any disputes will be dealt with. Generally, the options for resolving any issues are:
Court litigation
Binding arbitration
Mediation
Mediation, then binding arbitration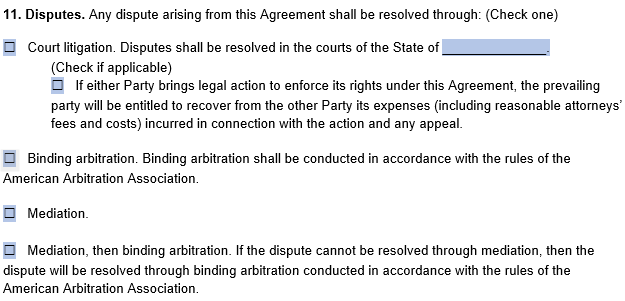 Step 9 – Additional Considerations
The document can also include additional considerations, usually following the items outlined above. This can include details of force majeure, limitation of liability, how billing is expected to be performed, and how the services end.
The service agreement can detail that this is a significant one-time project that will turn into an ongoing lawn service project. Alternatively, the parties can enter into separate contracts for the two different duties. For example, to perform a one-time landscaping job for a renovated property that will turn into weekly visits to maintain the lawn and the landscape.
Step 10 – Signatures
All agreements end with signatures from all parties involved (This is the acceptance section of a contract).
Service Agreement Sample
Below, you can download a free printable service agreement template in PDF or Word format:
Frequently Asked Questions
What to include in a service agreement?
In a service agreement, you should include the following:
Date entered;
Names of parties;
Services expected;
Compensation;
Extra details; and
Signatures.

Can you write your service agreement?
Yes, you can write your service agreement. It is only suggested to do so if you are familiar with service agreements and their construction.
Does a service agreement need to be written down?
A verbal agreement may sound enough, but you must write a service agreement. A written and signed service agreement protects both parties and can be used in court if necessary.
How do I terminate a service agreement?
A service agreement may be terminated for several reasons, like most contracts. If any party breaches the conditions of the service contract, then it can be terminated.
If either party sends a notice of contract termination to the other party within the agreed notice period, it can also be terminated.