A lease agreement (or rental agreement) is a document that explains the terms under which a tenant rents a residential or commercial property from a landlord.
Lease agreements are legally-binding contracts that explain the obligations and rights of both the tenant and landlord. Even if you're just renting out a room in your house to a friend or family member, you need a lease agreement for legal protection in case you encounter problems with your tenants.
Find your free printable rental/lease agreement by type below and use it to rent out a property.
Table of Contents
Residential Lease Agreement Sample Forms [For Landlords]
Sample Sublease Agreement Forms [For Tenants]
Sample Commercial/Other Lease Agreement Forms
You can further support your original lease agreement by modifying the terms with a lease amendment. Additionally, you can end an existing lease with a lease termination letter, or extend a rental for another term with a lease renewal.
Frequently Asked Questions
Sample Residential Lease Agreement [& Forms by State]
The following standard residential lease agreement works for all states except California, Florida, and Washington, DC.
Standard Residential Lease Agreement
To see a completed residential lease agreement, view our filled-out rental lease example.
Or, find your state-specific residential lease agreement below.
How to Write (Fill Out) a Lease/Rental Agreement
Here's how to write a lease by filling out our free lease agreement template:
1. Name the parties
A simple rental agreement form needs to name the parties signing the lease and where they live. First, you should write down:
the landlord or property management company and their current address
the tenant or tenants and their current address

An example of where to write the Tenant and Landlord names in our lease template.
2. Describe the premises
The "premises" are simply the exact address and type of property being rented, such as an apartment, house, or condominium.
3. Define the term of the lease
The "term" is the length of time a tenant will rent the listed property. A standard lease agreement should detail exactly when the lease term begins and ends.
Furthermore, a lease can either be fixed-term or month-to-month.
A fixed-term rental lease means the agreement is set for a predetermined, or fixed, period of time. This type of lease expires on the end date listed in the agreement (usually up to 6 months, 1 year, or 2 years from the start date).
A month-to-month rental lease means the agreement is for a one month period with no defined end date. It continues on a per month basis until either the landlord or tenant terminates the agreement.
4. Set how much rent is owed
A lease agreement must explicitly list the monthly rental amount, and outline what the consequences are if the rent is late.
It's up to the landlord to decide how much to charge for rent, but the cost is usually comparable to other properties within the same area.
In addition, standard rent control laws may limit the amount that you're able to charge for rent. Check your local rent control ordinance to ensure that your lease agreement is compliant with those regulations.
5. Assign a security deposit amount
A security deposit is a set amount of money usually collected at the beginning of the lease. Landlords have the right to collect a security deposit from their tenants, but what that money can be used for is strictly determined by the security deposit laws of your state.

6. Finalize the lease
Once you finish discussing the details with your tenant, remember to:
Print – print at least two copies of the rental lease for you and the other party
Sign – sign and date the lease agreement form (both the tenant(s) and landlord)
Save – file a hard copy of the signed document in a safe place and consider scanning an electronic copy for extra safekeeping.
Legal Information & Guides for Landlords
Whether you're an experienced or first-time landlord, you can use these resources and guides to understand in simple terms what the law says about leases and rental contracts:
How to Lease a Residential Property [Step by Step]
Follow the steps below to easily rent out your property:
1. Show your rental unit to tenants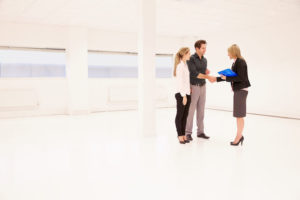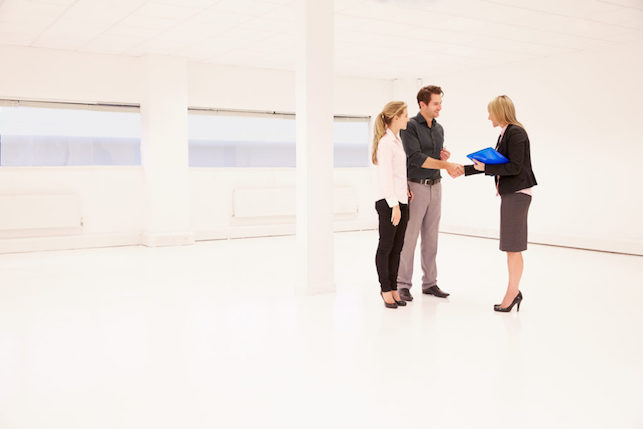 The first step in renting out a house or an apartment is to allow people to view the property. If a tenant likes the property and wants to move in, they will make a verbal offer regarding the monthly rent.
Hosting viewings can be inconvenient if you have multiple properties, so many landlords hire a property management company to show their rental units to potential tenants.
2. Give the tenant a rental application form to fill out
Once you agree on the rent price, the tenant needs to fill out a rental application. This form helps the tenant show that they are trustworthy, and includes information such as their:
Name
Current address
Place of employment
Income level
Rental references
The tenant can confirm their workplace using an employment verification letter. This document is also an easy way for renters to show proof of income.
Typically, landlords require a small, nonrefundable fee from the tenant in order to process the rental application.
3. Run a background and credit check
After reviewing the tenant's application, you should run a background check (and/or a credit check). Tenant screening like this can help you avoid scams and problem tenants. The cost is usually paid for by the tenant.
A background check shows if the applicant has a prior criminal history, and a credit check confirms whether the applicant has good or bad credit. Bad credit may be a sign of poor financial planning, which could result in missed rent payments.
Although these checks help you avoid dealing with bad tenants, you shouldn't base your decision to rent the property solely on the results. Many states have strict guidelines on tenant discrimination. Refusing tenancy because of minor criminal offenses or bad credit may be justifiably considered a violation of federal anti-discrimination law.
4. Check the tenant's references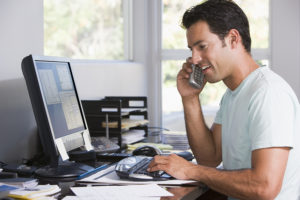 Next, you need to check the references that the tenant included in their rental application form mentioned in step 2 above.
You should contact the references and ask questions such as:
Did the applicant pay their rent and utilities on time?
Were there any noise complaints at the tenant's previous apartment?
Have the police ever been called to the tenant's last rental unit?
Would you consider renting to this person again?
Rental references are usually current or previous landlords, and can give you insight into the tenant's character and behavior.
5. Create a lease agreement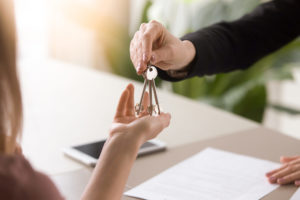 Once you're happy to rent out your property to a tenant, you need to create a lease/rental agreement in the correct format.
You make a lease agreement by writing it yourself from scratch, filling in a blank lease agreement template that includes all the necessary clauses, or using a lease agreement builder to create a lease specific to your property.
Remember to include:
After you've created the lease contract and gone over everything with your new tenant, both parties sign the agreement. You may need to calculate prorated rent depending on when the tenant moves in.
6. Hand over the keys
Once the lease agreement is completed and signed, give the tenant the keys so they can move in to the property.
To finish the process, a final walkthrough of the unit should be done alongside the tenant. Bring a rental inspection checklist with you, and document the condition of the property before the tenant moves in.
Common Lease Agreement Disclosures and Addendums
Because each rental property is different and laws vary by state, your lease agreement may require additional disclosures and addendums. These documents, attached separately to your lease agreement, inform new or current tenants about issues with your property and their rights.
Download the most common disclosures and addendums below in MS Word (.docx) or Adobe PDF format:
Landlord and Tenant Laws by State
Federal law recognizes that landlords and tenants have individual legal rights and obligations. Find out what the law in your state says about your rights using the table below, or check the following specific laws for your property:
State Laws on Landlord's Access to Rental Property
Tenants have the right to privacy when they rent a property. However, there may be situations when a landlord needs to access the property, such as for maintenance or inspections.
Nearly every state requires a landlord to give advance notice to their tenants before they access a rental unit. Use the table below to check how much notice you need to give in your state, and check the relevant law:
Security Deposit Laws
Each state regulates the maximum amount of money a landlord can collect from a tenant as a security deposit. Some states also require landlords to return security deposits to their tenants within a certain amount of time (potentially with interest).
Usually, a landlord can deduct the following costs from the tenant's security deposit:
Unpaid rent
Cleaning costs
Key replacement costs
Cost to repair damages above ordinary wear and tear
Any other amount legally allowable under the lease
Use the table below to see the maximum security deposit limit in your state, whether it needs to be held in a separate account, and how much time you have to refund it after the lease ends:
Eviction Laws
If a tenant is causing problems or not paying rent, the landlord can evict them from the property using an eviction notice.
Use the table below to find out which type of notice you need to provide, and which laws apply:
Rental/Lease Agreement Glossary
Here are some useful definitions for the legal language commonly used in lease and rental agreement forms:
Access: the right to enter a property.
Accidents: manmade or naturally occurring events that may damage a property (fire, flood, earthquake, etc.).
Alterations: modifications made to a property.
Appliances: common home equipment like a refrigerator or dishwasher.
Assignment: the transfer of interest in a lease.
Attorney Fees: a payment made to a lawyer.
Condemnation: the government seizure of private property for a public purpose such as the construction of a highway.
Default: when a breach of contract occurs and persists such as not paying rent or violating other terms of a rental lease agreement.
Furniture: common home equipment such as couches, tables, beds, etc.
Guarantor / Co-Signer: someone that is held accountable for paying rent if the tenant is unable to do so.
Guests: short-term occupants of a rental property.
Joint and several liability: where two or more people are independently held accountable for damages, regardless of who is at fault.
Late Rent Fee: an additional, reasonable sum of money paid by a tenant after making a rent payment past the due date listed in the lease agreement.
Noise Policy: a provision of a lease agreement outlining "quiet hours" in the apartment building, condominium, or neighborhood.
Notice: a written announcement of some fact or observation.
Option to Purchase: the tenant's right to purchase a piece of rental property at a later date.
Parking: designated spaces where the tenant can keep their vehicles.
Pet Policy: the permission or restriction of a tenant's ability to have an animal in a rental property.
Property Maintenance: the process of preserving a rental unit and who is responsible for doing so. Such as cutting the grass, taking out the garbage, or unclogging the kitchen and bathroom drains.
Renewal: a tenant's option to continue the lease.
Renter's Insurance: a paid policy which protects personal belongings against theft or damage.
Severability: a clause of a lease stating that if one part of the agreement is invalid for any reason, the rest of the lease is still enforceable.
Smoking Policy: the permission or restriction of a tenant's ability to smoke inside a rental property.
Sublet: a temporary housing arrangement between a current tenant and a new tenant to rent all or part of the currently leased property. The subletting period must be for less than the lease term.
Successor: someone who takes over the obligations of a lease from a tenant or landlord.
Utilities: a public or private service supplying electricity, water, gas, or trash collection to a property.
Waterbed: a water-filled furnishing used to sleep and not typically permitted in most rental properties