A Texas Lease Agreement is a binding document between a landlord and a tenant, written in accordance with Texas's landlord-tenant laws. The landlord agrees to rent all (or a portion of) their property to a tenant for a fee, and the tenant agrees to the lease agreement's terms and conditions.
1. What to Include in a TX Residential Lease Agreement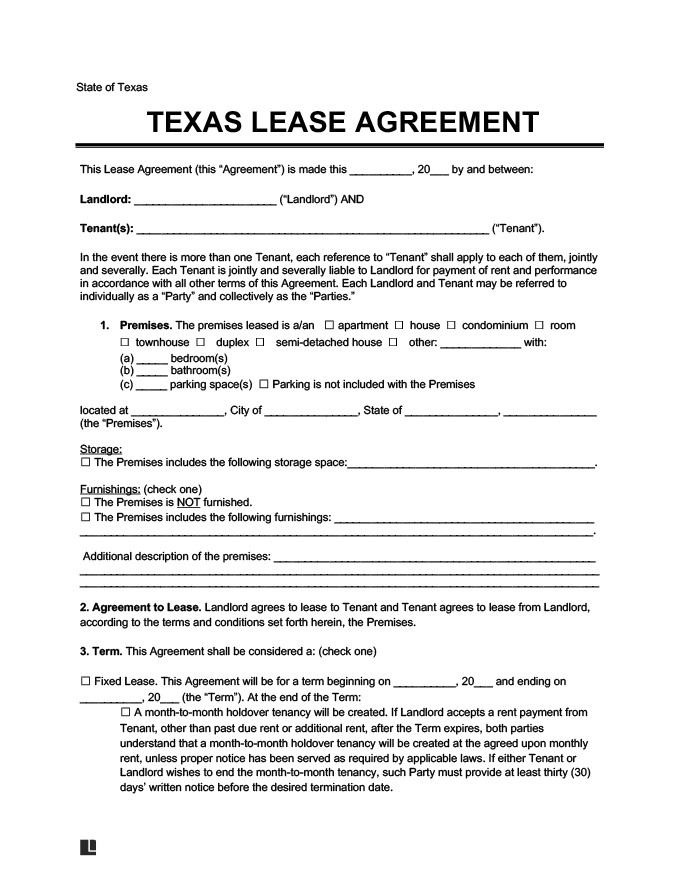 Landlords in all states, including Texas, are required by Federal law to include essential elements in their lease agreements, specifically:
Tenant/Landlord Details: names and current addresses of both the tenant and landlord
Premises: the address of the premises
Pets: allowances and prohibitions
Health Hazards: any known health hazards or risks
Rent Specifics: the amount of rent and security deposit due, payment methods, and more
States will differ in certain aspects of leasing and rental requirements. Familiarize yourself with Texas's landlord-tenant laws to protect your legal and financial rights.
Sample PDF
Wondering how to fill in your Texas lease agreement, and what it should look like when it's completed? You can view our fake Texas residential lease agreement sample PDF, which outlines the terms between "Landlord" Frieda Thomas and "Tenant" Eric Heller. He agrees to rent a condominium in Austin for $900.00 per month for a fixed term beginning on June 16, 2017 and ending on November 16, 2017.
2. Texas Landlord and Tenant Laws
Texas imposes specific and distinct requirements for landlords and tenants when executing a Lease/Rental Agreement. For example, Texas Statute provides for the following:
Security Deposit:
There's no limit as to the amount a landlord may request as security deposit from a tenant. (No statute)
A landlord must return a tenant's security deposit within thirty days (30) of the end of the lease or within sixty (60) days in cases of commercial leases. (Tex. Prop. Code Ann § § 92.103 (Residential)), (Tex. Prop. Code Ann § § 93.005  (Commercial))
Landlord Right of Entry:
A landlord need not give a timeframe of notice before entering the tenant's property, although it is highly recommended. (Tex. Prop. Code Ann § § 92.0081)
Additionally, Texas law requires:
Failure to repair material defects:
A landlord must provide information in the agreement identifying the remedies available for the tenant, should the landlord fail to repair a material defect in the property. (Tex. Prop. Code Ann § § 92.056)
Domestic Violence:
The right for domestic violence victims to break a lease, after following specified procedures, without future rent obligations. (Tex. Prop. Code Ann § § 92.016)