Table of Contents
1. The Basics: What is a Release of Liability or Waiver Form?
A Release of Liability Form or Waiver of Liability Agreement is a legal document between two parties — the Releasor or person promising not to sue — and the Releasee or person or company who is potentially liable. By signing this form, the Releasor acknowledges that he or she understands the risks and claims involved and agrees to not sue the Releasee for past or future injuries or damages.
This form is alternatively used when an accident like a car wreck or property damage has already occurred. Instead of going through an expensive lawsuit, both parties agree to settle the dispute out of court.
A simple liability form will identify the following basic elements:
Releasor: person who promises not to sue or take any legal action against the owner or organizer of the event or activity being attended
Releasee: owner or organizer of the event or activity who is at risk of being sued
Effective Date: when the agreement shall take effect
Event: description of event, activity, or circumstances being held
Consideration: the amount of money, promised (in)action, or something of legal value given in return for signing the document
Governing Law: any disagreements will be resolved using the laws of one state
This form can be used to document a person's consent to be photographed, filmed, or recorded in a public event or activity. A separate Photo Release Form can also be used.
As a reference, people call this document by other names:
Conditional and Unconditional Waiver Form
General Waiver
Legal Release
Liability Waiver Form
Waiver of Liability Agreement
Release of Liability Form PDF Sample
The sample release of liability form below details an agreement between the releasor, 'Josh J Tarvar', and the releasee, 'Cynthia S Townsend.' Josh J Tarvar agrees to release Cynthia S Townsend from any claims arising from the termination of a contractual relationship between the two.
Release_Waiver Agreement

2.The 6 Types of Release of Liability Forms – Free Template Downloads
A Release or Waiver is often needed either before or after an incident occurs. Organizations or people may be concerned about being taken to court by someone who accidentally gets injured while attending an event or activity they will be sponsoring. Alternatively, this form is used when an accident like a car wreck or property damage has already occurred. Instead of going through an expensive lawsuit, both parties agree to settle the dispute out of court.
Check out the 6 different types of Liability Waiver Templates below and download the one that applies to your situation.
1. General Release
A General Release is often used when one person is broadly giving up all known and unknown claims against another party. This document can cover broad claims that are filed in the most common dispute cases. While this version is the most basic of the six, it flexible and comprehensive enough to handle most situations.
If you need a waiver for a specific situation, then you should consider taking a look at our other templates below.
Download your free General Liability Waiver Template
2. Mutual Release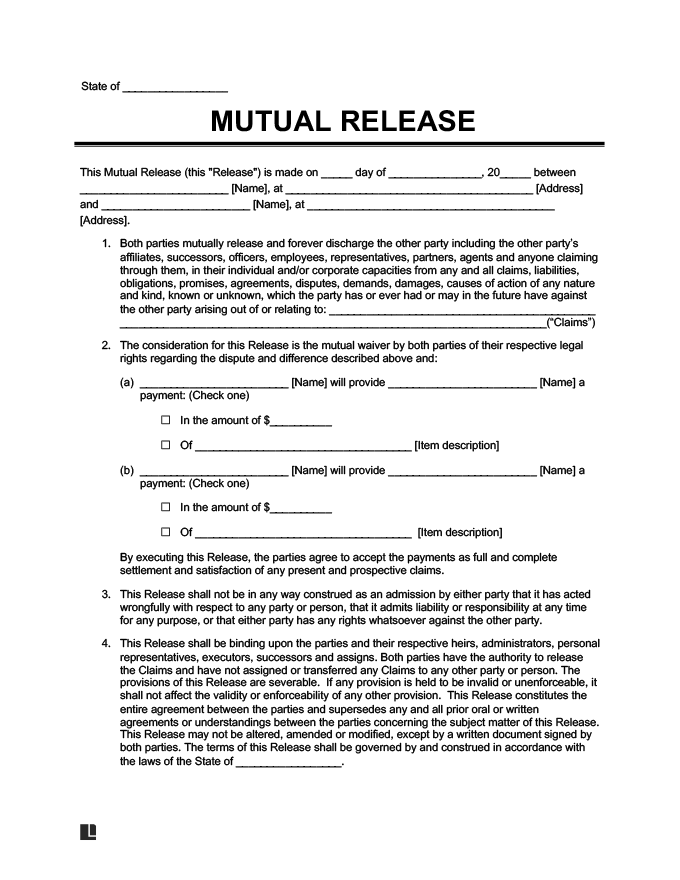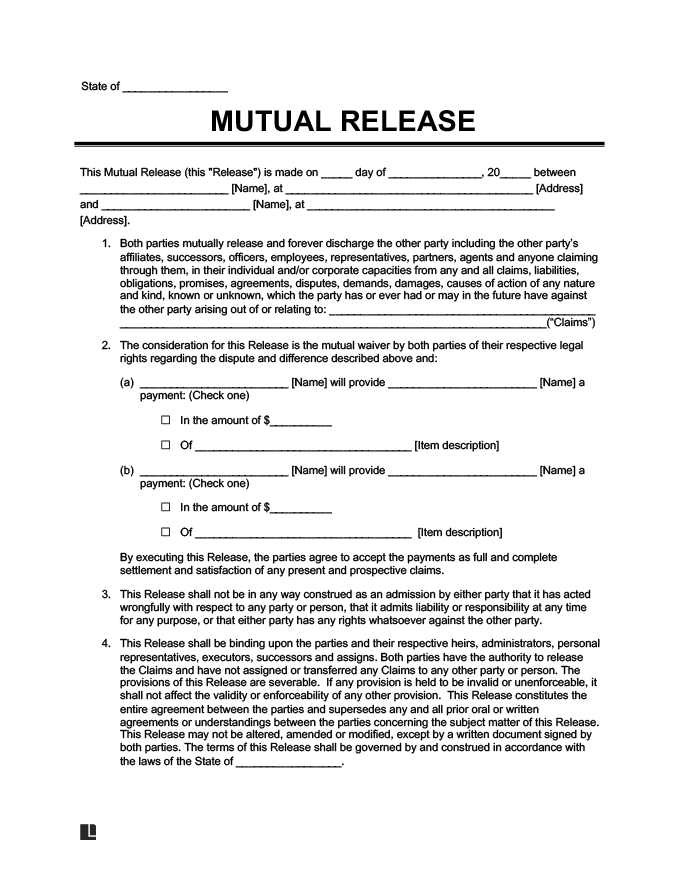 Unlike the general form above, a Mutual Release is used when both parties give up all past and future claims against one another.
In most cases the dispute is over a broken contract in which the two parties believe the other is at fault.
Instead of getting involved in a long and pricey legal process, the two parties can use this form to agree to walk away from the contract on their own terms.
Download your free Mutual Liability Waiver Template
3. Automobile Accident Release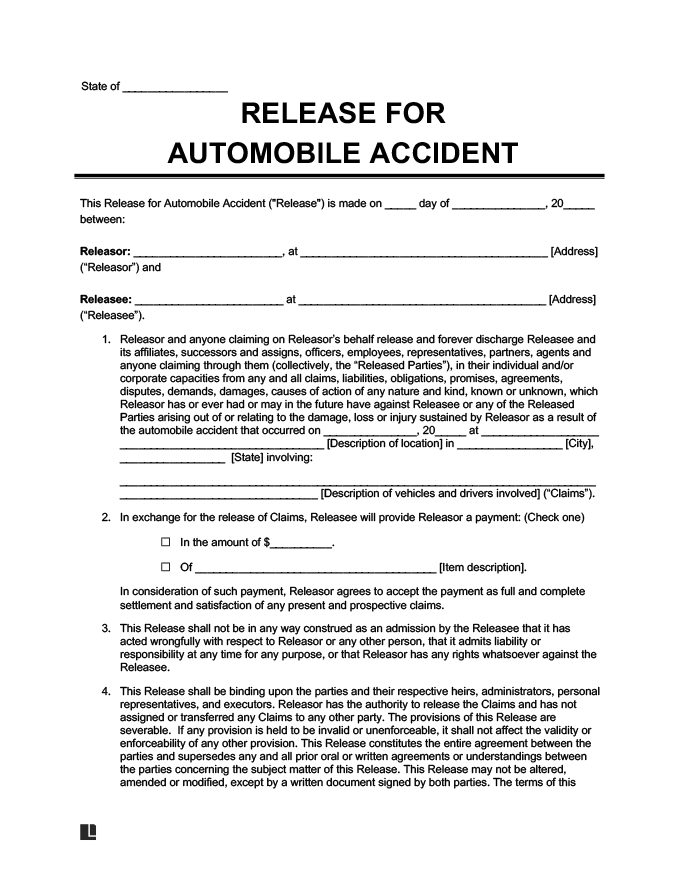 In the case of a car accidents, the parties involved in a traffic collision can decide to use this form to agree not sue one another.
The party that was injured or received damage to their vehicle can decide to waive liability from future compensation for the accident in return for an agreed upon payment from the party that caused the accident. Again, both parties are able to avoid the hassle of going to court.
Download your free Auto Accident Liability Waiver Template
4. Waiver for Damage to Property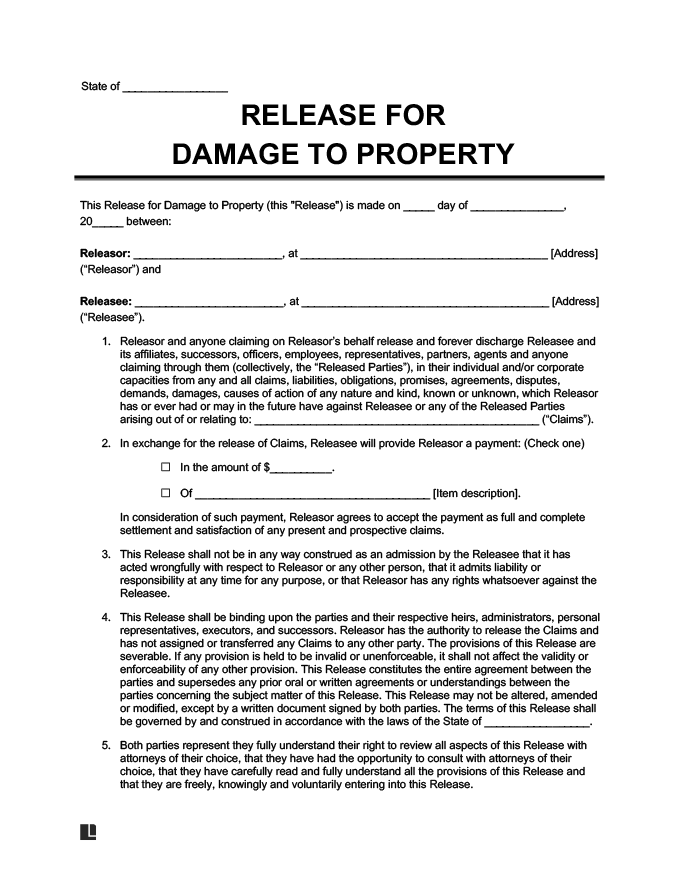 The document on the left is used when real property (i.e. land or building) or personal property (i.e. jewelry or movable possession) is harmed and the parties settle the dispute out of court.
Before you compensate someone for property damages that you caused, make sure that you use this document so that the property owner cannot ask you for more money down the road.
Download your free Property Damage Liability Waiver Template
5. Release for Personal Injury
This waiver of liability can be used for cases of personal injury in which a person is injured or harmed and agrees not to sue in exchange for a certain amount of money or value.
Personal injury can be considered both physical or psychological.
One example of when this document could be used is if the releasee's dog rans into the releasor's yard and bit them in the arm.
Download your free Personal Injury Waiver of Liability Template
6. Waiver for Participation in an Event or Activity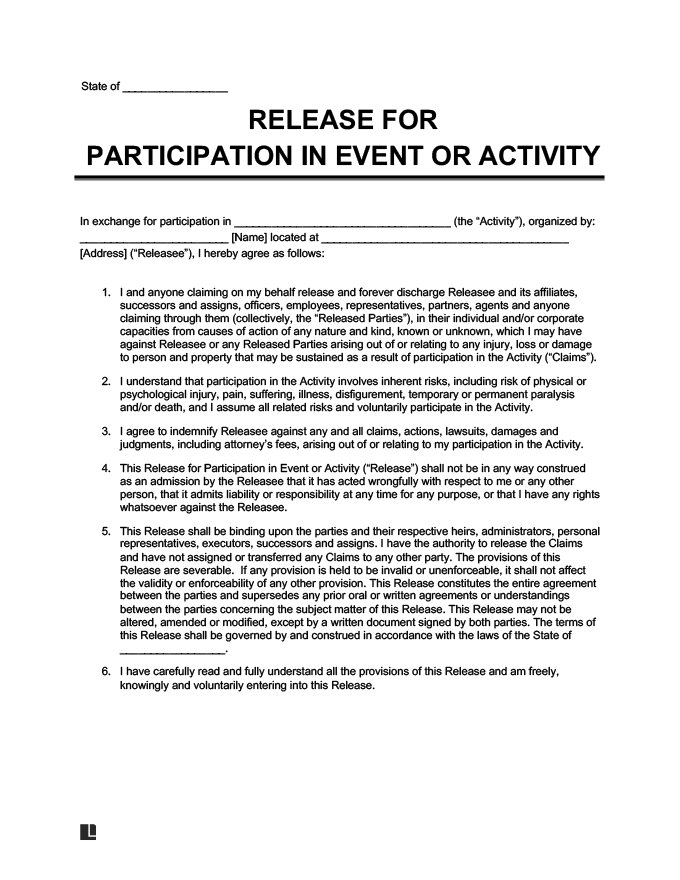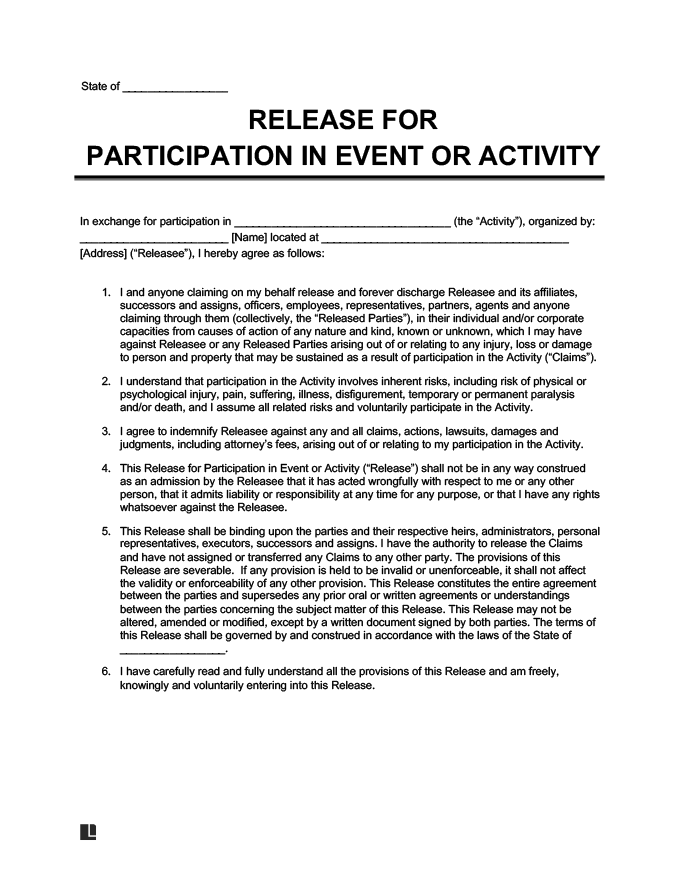 This last document is frequently used by event and entertainment companies that require their customers to give up all future claims against the organizer or owner for personal injuries that may occur.
It is common to sign these forms when participating in activities such as paintball, sports leagues, and other athletic events.
However, keep in mind that a liability form usually does not cover accidents or injuries caused by negligence or the failure to exercise reasonable care over a situation.
Download your free Event Waiver of Liability Template
3. Waiver of Liability When Selling a Car

Depending on the state you live in, you may need a waiver of liability when selling your car. When you sell your car, until the title and registration is transferred you are liable for any accidents or injuries caused by the buyer. Therefore, most states require you to notify them within a certain amount of days after selling your car.
To ensure their liability is waived, residents of California who sell their car are required to fill out a Notice of Transfer and Release of Liability Form. The Department of Transportation in Idaho requires its residents to fill out a Notice of Release of Liability. Find out if your state requires a waiver form to sell your car, here.
4. The Consequences of Not Using This Form
What happens if you don't use this form?
Without a written Waiver, everyone faces the possibility of being summoned to court or dragging out a disagreement over who owes what.
Here are just a few of the possible consequences that this form can prevent:
Releasor

Releasee

Lost Time


extended argument involving attorneys in the courtroom instead of a fast settlement

Lost Time


time spent fighting legal battles instead of building business

Lost Money


unpaid medical bills or cost to fix the property damage

Lost Money


legal fees to defend lawsuits and pay for damages caused

Mental Anguish


prolonged problem hanging over your head

Mental Anguish


fear of organizing another event in the future
Create Your Free Release Form in 5 min.
Select your state to get started.
5. The Most Common Liability Situations
These are some of the most common situations in which a waiver form may be used:

| Releasor | Releasee |
| --- | --- |
| General Release | General Release |
| Employee | Employer |
| Vendor or supplier | Business owner |
| Mutual Release | Mutual Release |
| Business partner | Business partner |
| Buyer in a voided contract | Seller in a voided contract |
| Car Accident | Car Accident |
| Driver or Passenger in a Car Accident | Driver or Passenger in a Car Accident |
| Damage to Property | Damage to Property |
| Client | Service Provider |
| Damaged living room | Construction company |
| Yard destroyed | Landscaping business |
| Event or Activity | Event or Activity |
| Participants | Event Organizer |
| Marathon runner | Marathon sponsor |
| BASE jumper | |
| Chili pepper enthusiast | |
| | |
| Extreme Sports Enthusiast | Extreme Sports Business |
| First time skydiver | Skydiving company |
| Recreational bungee jumper | Bungee jumping business |
| Amateur rock climber | Rock climbing gym |
| Snowboarder or skier | Ski & snowboard rental |
| Paintball participant | Paintball facility |
| | Wingsuit instruction facilities |
| Heli-Skier | |
| Scuba diver | Scuba diving operation |
| Volunteer | Nonprofit |
| Personal Injury | Personal Injury |
| Dog bite victim | Dog owner |
| Customer who slipped in a store | Store owner |
6. What Should be Included?
A simple Liability Form should generally address the following basics:
Who promises to not pursue any legal action against another party
What amount of money or action (including being able to participate in the activity) will be given in exchange for the promise
When the document takes effect, usually before the activity occurs
How neither party admits they acted wrongfully by signing the Waiver
A Waiver Form can address incidents that have already occurred in the past or may happen in the future given the inherent riskiness of the activity.
A Liability Form may also include one of these additional provisions:
Assumption of Risk: the participant understands that the activities are inherently hazardous and dangerous yet agree to assume the risk of being injured or harmed
Insurance: the individual is responsible for their own medical, health, or life insurance
Medical Treatment: the person will not sue even if they are further injured by any medical treatment given during an emergency at the event
Modifications: any changes to the document must be in writing
No Admission: signing the document does not mean either party admits wrongdoing
Parent or Guardian Signature: a minor under the age of 18 is legally unable to sign a contract, and should have a parent or guardian co-sign the agreement (although in certain states, a parent or guardian cannot waive a minor's legal rights to sue for negligence)
Photographic Release: the participant agrees that images or recordings can be used in connection with the event attended
Right to Attorney: everyone understands that they have the chance to consult with an attorney about the document and are otherwise signing it voluntarily
Severable: the rest of the document is valid even if one part of the agreement is not
Witness or Notary: the signature of a third person who acknowledges the form was truly signed by both parties is optional