Table of Contents
1. Download a Free Medical Records Release Form
Click here to download your free MS Word document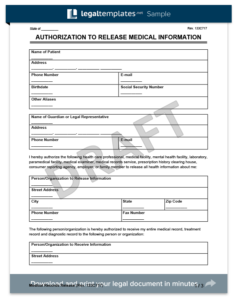 2. The Basics: What is a Medical Records Release Form?
A medical records release is a written authorization for health providers to release information to the patient as well as someone other than the patient. The federal Health Insurance Portability and Accountability Act of 1996 (HIPAA) and state laws mandate that health providers not disclose a patient's information without a valid authorization except in limited circumstances as required or permitted by law.
A simple release form will identify the following basic elements:
Who will disclose the information and who will receive the information
What information will be disclosed
Where information may be disclosed and re-disclosed by the recipient
When the authorization will expire
Why the information is being disclosed
How a patient may authorize and revoke disclosure of information
Your release is not valid unless it contains ALL of the required elements and statements required by the HIPAA privacy rule.
As a reference, a Release is known by other names:
Medical Authorization
Authorization to Disclose Health Information
HIPAA Release
HIPAA Authorization
Your form should specify that it complies with HIPAA.
Medical Records Release Form PDF Sample
The sample medical records release form below details an agreement among the patient, 'Thomas E Beckman', the person who will releasing the information, 'Jeane R Gano', and the person who will be receiving the information, 'Mark T Landis.' Thomas E Beckman authorizes Jeane R Gano to release his medical information to Mark T Landis because Thomas E Beckman is changing doctors.
Medical Records Release

3. When is This Form Needed?
Patient records are the health provider's primary business records, but they are also confidential records of information in which disclosure is partially controlled by the patient.
You need this form when releasing information NOT related to the following:
Patient's Medical Treatment
Payment for Medical Treatment
Healthcare Operations
In addition, health providers have a right to charge for the "reasonable costs" of copying patient records. Many providers want payment before they will release records. Health IT provides an overview of state law and detail the maximum fees doctors and hospitals may charge patients for copies of records here.
Contact the health provider to find out how much the copying charges will be, if any, and include payment with the signed records release. According to a 2005 article published in PubMed Central, "reasonable costs" for copying records range widely from $2 to $55 for short records of 15 pages and upwards of $15 to $585 for longer records of 500 pages.
4. The Consequences of Not Using This Form
Health providers have a duty to ensure that information is released only to properly authorized individuals and organizations. The overarching consequence of not using a release is that the health provider will not release the information. Patients have a right to sue any person who unlawfully releases their information without consent. As a result, health providers will not release any information without a valid records release.
When in doubt about whether a records release is needed, get one signed because it will expedite the release of information.
5. Common Release Situations
A patient's information is often requested for the following purposes:

Insurance: Insurance companies use information to underwrite life and health insurance policies, pay bodily injury claims, and pay workers compensation claims.
Continued treatment: When a patient is referred to a specialist or moves and switches health providers, the new provider will want to review the patient's history.
Legal: In personal injury cases, records provide proof of physical injuries, help calculate damages, and determine the cause of injuries or, in a medical malpractice case, to determine whether the health provider exercised reasonable care.
Employer: In the workplace, employers conduct pre-employment exams and lab tests that relate to specific job requirements, use medical information to determine job fitness, and document sick leave.
Research: Clinical trials and medical studies use identifiable information to conduct research.
Medicinal Marijuana: Your doctor will likely record a need for medicinal marijuana in your records. If a dispensary needs additional proof, this form may need to be provided.
HIPAA also protects your doctor's recommendation for medicinal marijuana as private information. The California Department of Public Health, for example, provides a Written Documentation of Patient's Records for its Medicinal Marijuana Program. States like Oregon have been battling efforts to keep the records of their medicinal marijuana patients private. In 2013, for example, a federal search warrant forced the state-run Oregon Medical Marijuana Program to hand over private records of medicinal marijuana, according to the Seattlepi.
6. What Should be Included?
To be valid, a simple records release must include at least the following:
Authorized Request: The names or other specific identification of the person authorized to make the requested disclosure.
Recipient: The names or other specific identification of the recipient of the information.
Specific Information: A description of the information to be used or disclosed, identifying the information in a specific and meaningful manner.
Risk of Disclosure: A statement of the potential risk that information will be re-disclosed by the recipient and no longer protected.
Expiration: Expiration date or expiration event that relates to the patient or to the purpose of the use or disclosure.
Revocation: A statement of the patient's right to revoke the authorization.
Purpose: A description of each purpose of the requested use or disclosure.
Refusal to Sign: Whether treatment, payment, enrollment, or eligibility of benefits can be conditioned on the authorization and consequences of refusing to sign the release.
Date and Signature: If the patient's authorized representative signs the release, a description of the authorized representative's authority to act for the patient must also be provided.