Affidavits are used to legally swear that any written statement or fact is true. You can use an affidavit for many reasons, such as to swear someone was born, to state an item was given as a gift, or as evidence in court.
Since affidavits are taken very seriously, do not sign one unless the information you are swearing to is, in fact, true.
Affidavits Explained
What is an Affidavit?
An affidavit is a sworn legal document swearing to the authenticity of a statement or fact. When you write an affidavit and sign it, you're swearing under the law that the information contained in the form is true.
Affidavits are signed voluntarily and under oath, in the presence of witnesses, and notarized by a public official. Meeting these requirements make affidavits legally binding — meaning the signer risks penalty of perjury if they lie.
Since there are many types of affidavits — all used for a variety of purposes — it's important to understand what an affidavit is, and in what situations you might need to use one.
An example of a time you would need an affidavit is when you want to show your relation to a deceased party when settling their estate. Another affidavit example scenario would be to prove your financial status during divorce proceedings.
Affidavits typically have these three main components:
Commencement: a commencement identifies the party attesting to the statement or fact, also known as the "affiant," and swears the information contained in the document is true.
Attestation: a clause at the end of the form affirming the location, parties, and date of signing. This may also be referred to as the "jurat."
Signature: both the signature of the author as well as all present witnesses.
For your reference, a general affidavit may also be referred to as an:
Affidavit Letter
Affidavit Form
Sworn Affidavit
Statement Under Oath
Notarized Statement
Sworn Statement
Failing to understand the complete scope of the information you're attesting to could result in perjury charges.
Difference Between an Affidavit and Sworn Declaration
You should acquaint yourself with the differences between an affidavit and a sworn declaration before signing either.
Both serve similar purposes and are viewed in a similar light by courts. However, in general, the main difference is that a sworn declaration is faster to process than an affidavit.
Also known as the "other statement," depositions are recorded by a court reporter and used alongside declarations and affidavits to record witness statements.
When is an Affidavit Used?
At its simplest, an affidavit is used when a party wants to swear to the veracity of a statement or set of facts.
You will need to use one when:
You're a party to a legal proceeding or contract, and are required, or have been asked, to make a statement of fact under oath about first hand knowledge, experience, or observation.
You need someone to swear to a statement of fact under oath.
Think of an affidavit as out-of-court written testimony swearing you are telling "the whole truth, and nothing but the truth."
Affidavits are commonly used in pre-trial interrogatories (formal questions exchanged between parties involved in a lawsuit).
How do I Make an Affidavit?
If you need to make an affidavit, there are three main ways to do so.
1. Use our builder
Our simple affidavit builder will take you through all the necessary steps to make an affidavit that will stand up in court — just bring the completed form to a notary before signing.
2. Type it yourself
Affidavits may be handwritten or typed. Typing an affidavit is generally preferred as it will keep your affidavit well organized and easily readable. Keep in mind, all affidavits must be notarized with a notary public or other public official witnessing you sign it — regardless of whether the affidavit was written or typed.
If you made a minor mistake, such as a typo, you won't have to make a new affidavit. Simply take it to a lawyer or notary public to correct any minor mistakes. Critical errors, such as incorrect facts, likely require you to make a new affidavit explaining why you needed to alter the original.
3. Hire a lawyer
If you aren't completely confident making an affidavit on your own, hiring a lawyer is the next best choice. A lawyer will help minimize errors on your affidavit, and they'll be familiar with the intricacies of your state and local affidavit laws.
All states have their own guidelines for revoking or amending an affidavit. Familiarize yourself with your state's rules to be certain you're following the law.
Who Can Sign or Notarize an Affidavit?
All affidavits must be signed in front of a notary public or other official authorized by law.
The notary public must first notarize the affidavit, signifying that they attest to the authenticity of the affiant's presence and signature. They then stamp and seal the document to be filed with the appropriate agency.
There is no age requirement for an affiant when signing an affidavit. As long as an affiant is "of sound mind," and old enough to understand the significance of the oath and affirmation of facts, they may sign it.
Affidavits are legally binding. Once the document is signed, the affiant may be charged with perjury if the affidavit is found to contain false statements of fact.
How to File an Affidavit
Knowing how to file an affidavit depends entirely on the exact purpose of the affidavit. Affidavits are used by a variety of government agencies, legal offices, and businesses, so you need information on those organizations in order to file your affidavit.
If you have any questions about how to file an affidavit, be sure to ask a lawyer or the notary public validating your form when you visit.
Affidavits are voluntarily created documents. No one can force you or another party to sign or make an affidavit.
Lying on an Affidavit
Lying on an affidavit is a serious offense — one that could land you in court. Even unintentionally swearing to a mistaken fact can have severe repercussions.
Penalty of perjury: when swearing on an affidavit, you declare under the law that the information contained within the affidavit is true (to the best of your knowledge). Perjury can lead to mandatory community service, fines, or even jail time.
Unreliable evidence: by lying on an affidavit, you risk having your statements deemed unreliable and inadmissible as evidence in court. False statements of fact could ultimately lead to a drawn out legal process, with opposing parties questioning you as to why the perjured affidavit exists.
Diminished moral character: affidavits are used to swear to the truth. When your lie is discovered, or it becomes clear you omitted part of the truth, your character is immediately called into question. With your now documented untrustworthy behavior, you risk compromising any legal settlements, decisions, or other rulings.
Financial sanctions: in cases where an affidavit attests to financial matters, courts may impose a wide array of financial sanctions due to your deceitfulness. For instance, a court may decide to redistribute your assets in a way you don't want, or award more money to the non-offending party than they would have otherwise.
Affidavit Examples (Free Templates)
There are a variety of reasons why you might need to use an affidavit, and some are quite specific. Learn more about each affidavit type listed below, and download a free, customizable template of any form you need.
Small Estate Affidavit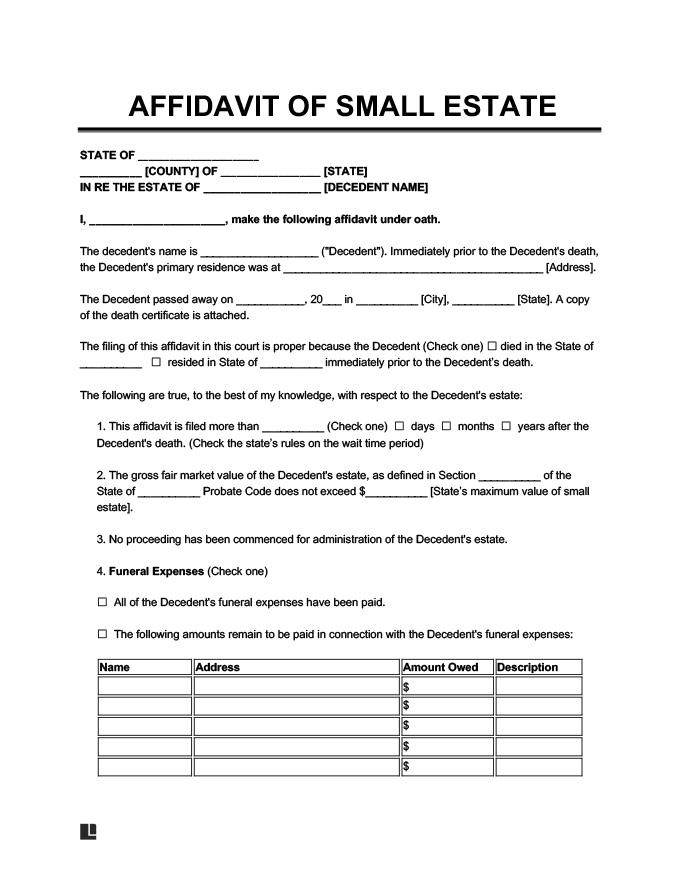 A small estate affidavit certifies a deceased person's estate is below a certain value, and is used for the purpose of quickly distributing their property to beneficiaries.
Download:
Note: Depending on the state law, real property and/or motor vehicles cannot be transferred using a small-estate affidavit. Also, all states have a limit on the total value of assets (maximum allowance) which if exceeded cannot be transferred using a small-estate affidavit.
---
Affidavit of Heirship
An affidavit of heirship identifies the surviving family of a deceased person who died intestate (without a valid will).
Download: Word (.docx) or Adobe PDF
---
Affidavit of Residence
An affidavit of residence is used to verify someone's legal address.
Download: Word (.docx) or Adobe PDF
---
Affidavit of Service
An affidavit of service is used to attest to the delivery of important documents by a process server, including the date, time, and manner the documents were served to the recipient.
Download: Word (.docx) or Adobe PDF
---
Affidavit of Domicile
An affidavit of domicile verifies the primary place of residence of a deceased person, in order to effectively transfer stock ownership and other securities.
Download: Word (.docx) or Adobe PDF
---
Financial Affidavit
A financial affidavit affirms the financial information detailed in the document is reflective of the signer's financial affairs, and gives a court or other party an accurate look into their finances — allowing them to make specific legal decisions regarding party finances.
Download: Word (.docx) or Adobe PDF
---
Affidavit of Death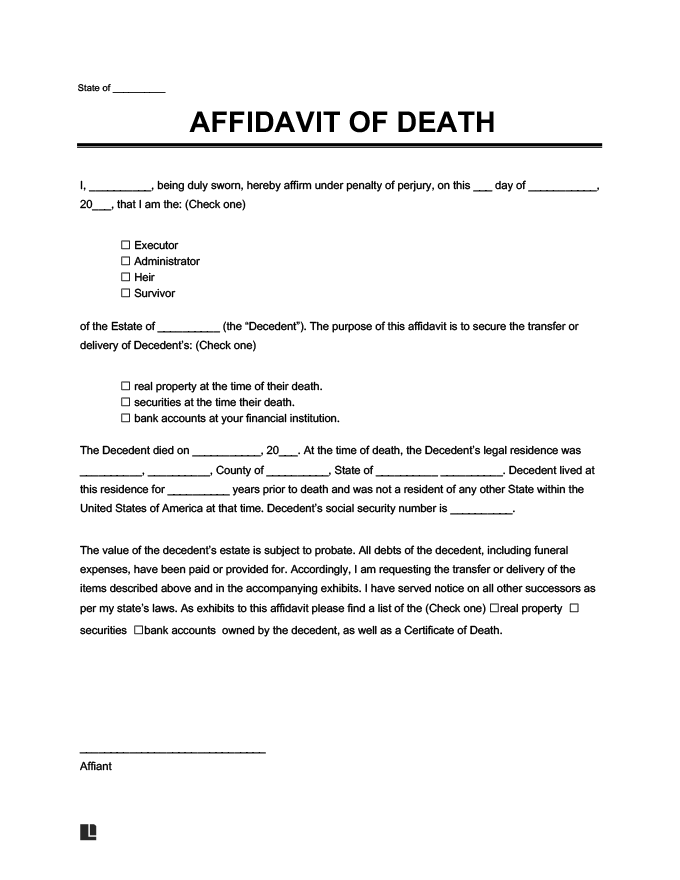 An affidavit of death is used by a third party with personal knowledge of a person's death, affirming the person has died.
Download: Word (.docx) or Adobe PDF
---
Affidavit of Title
An affidavit of title states that a property seller has a true title to the property. Additionally, it guarantees the property isn't being sold to someone else, has no liens against it, and the seller isn't undergoing bankruptcy.
Download: Word (.docx) or Adobe PDF
---
Affidavit of Identity
An affidavit of identity pledges that the person signing the affidavit swears they are who they say they are.
Download: Word (.docx) or Adobe PDF
---
Gift Affidavit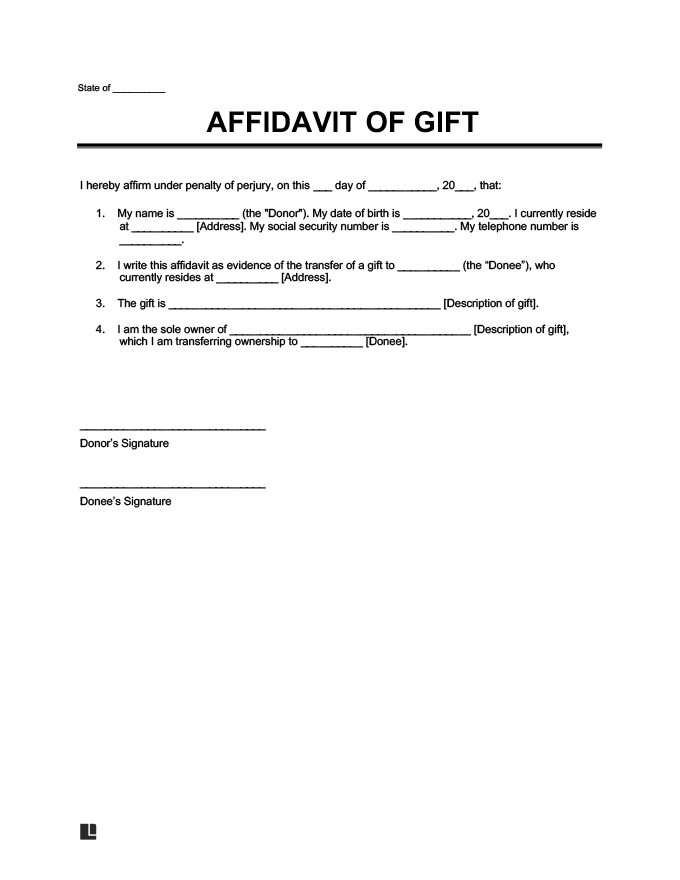 A gift affidavit formally records the transfer of a gift of significant value, and clearly documents the giver's willful donation — distinguishing it from a loan or sale.
Download:
---
General Affidavit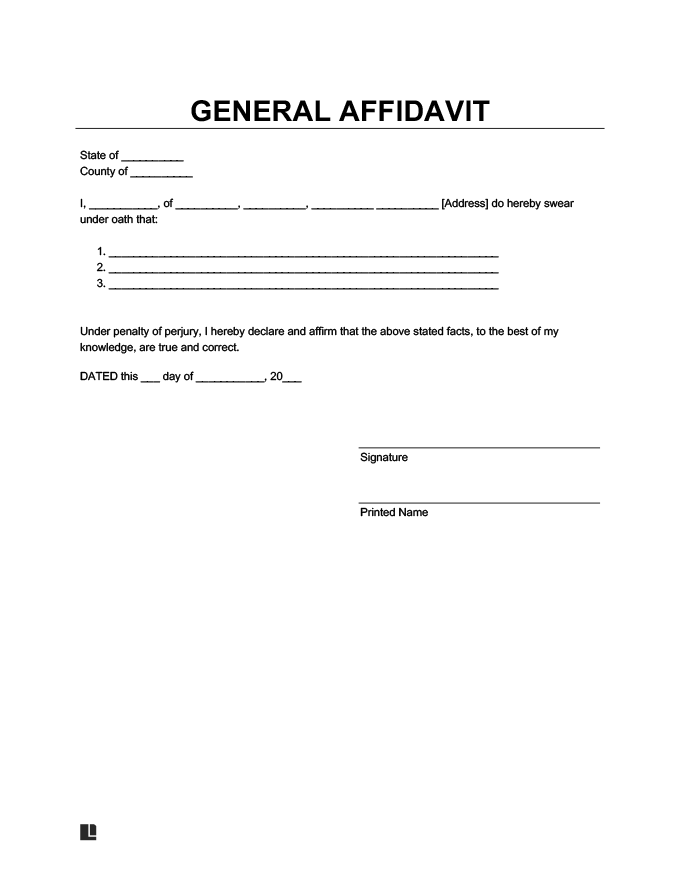 If none of the above affidavits meet your needs, you can download and modify this general affidavit to suit your requirements.
Download: Word (.docx) or Adobe PDF
---
Attaching supporting documents that verify your assertion of facts is an effective way to give the court a clearer picture of the facts you're attesting to.
You'll likely be asked to sign an affidavit at some point in your life. Acquainting yourself with possible scenarios when you might need an affidavit will help better protect your legal rights and future.