An Employment Verification Letter is a document confirming an individual's current or past employment status and details, often used to validate income or employment history for loan applications, lease agreements, or other verification purposes.
The scope of an employment verification letter is to verify the following:
Individual's position/title.
Duration of employment.
Salary or compensation details.
(Occasionally) Job performance or standing within the company.
Landlords and others renting real estate often use employment verification to ensure potential tenants have a job and the income to afford rent payments.
What is an Employment Verification Letter?
An Employment Verification Letter, or proof of income, verifies a previous or current employee's salary, employment history, and job responsibilities.
A verification letter is also a common third-party prerequisite to verify that an individual has the income to make monthly payments for a significant expenditure — whether for a Rental Application, mortgage, or loan.
Verifying parties typically submit this document in business letter format with their name, job title and contact information, current date, and income or employment verification.
Who Needs an Employment Verification Letter?
Many people, businesses, and organizations want to know about your past work experience, salary details, and employment status before they enter into a relationship with you.
Landlords – During the hiring process, a prospective employer may request an employment letter from a candidate's previous employer to confirm the employment details provided by the candidate.
Mortgage Lenders – They request it to assess the applicant's income stability and ability to repay the loan when individuals apply for loans, mortgages, or other financial products.
Prospective Employers: During the hiring process, a prospective employer may request a letter from a candidate's previous employer to confirm the employment details provided by the candidate.
State and federal government agencies: It is needed if you apply for a job at one of the many state and federal government agencies to verify income and employment status for determining eligibility.
An employment letter may also be needed in immigration, work permits, or visa processes to assess an individual's employment status and income.
How to Verify Employment
Obtaining proof of income letter is often the bank's last step before approving a loan. Additionally, it is commonly the landlord's final step before handing the keys to a tenant.
Companies sending offer letters to candidates typically request proof of income as the last step.
To protect against false claims, third parties often require employees to substantiate their Employment Verification Letter with at least two proof of income documents.
The following documents are standard pieces of proof of income produced in addition to the letter:
Paystubs
Tax returns (1040)
Wage and tax statements (W-2)
Social Security proof of income / Benefits Verification Letter
A Workers' compensation letter
Bank statements
Anyone requesting an employment letter should allow the verifier at least two business days to complete the request.
Proof of Income for Self-Employed Individuals
No one can provide employment verification except yourself if you work for yourself.
So, can you write a verification letter for self-employment on your behalf?
The answer is "yes." Write a verification letter and use the following accepted documentation to prove your income:
IRS Form 1099 Miscellaneous Income – used by freelancers and independent contractors to record any job that paid $600 or more

Tax returns

Bank statements
How to Write an Employment Verification Letter
Follow the steps below to write an Employment Verification Letter using a visual template. If you need to write this letter quickly or want an easy-to-follow guide, use our document builder.
Step 1 – Employer details
Write down the Employer's details. Write the name (or company) of the employer verifying the employment. Also, provide the address.

Step 2 – Enter the Requesting Party Details
Party Requesting Employment – The party requesting employment verification, such as a bank or landlord. Provide the requester's name and address. If the requester is unknown, leave this blank.
Contact Person – Write the name of the contact person for the party requesting verification. If the requester is unknown, use "To Whom It May Concern" to address the letter.

Step 3 – Fill in Verification Details
4. Name of Employed. Enter the name of the person the employer is verifying employment for.
5. Employment Details. This section provides employment details, including company name, job title, employment start date, and company address.
6. Salary and Bonus Information. This section provides the employee's salary and bonus, if any. The employer can include supporting documents with this letter (remember that there are state and local laws regarding salary disclosure, and some require employee authorization).
Step 4 – Employer's Contact Information
7. Write Full Employer Contact Details. This is the employer's information – full name, title, phone number, and email address. The title, phone number, and email address are optional.
Step 5 – Get Notary Acknowledgement
8. Notary Public Acknowledgement. The section for notary public acknowledgment is optional.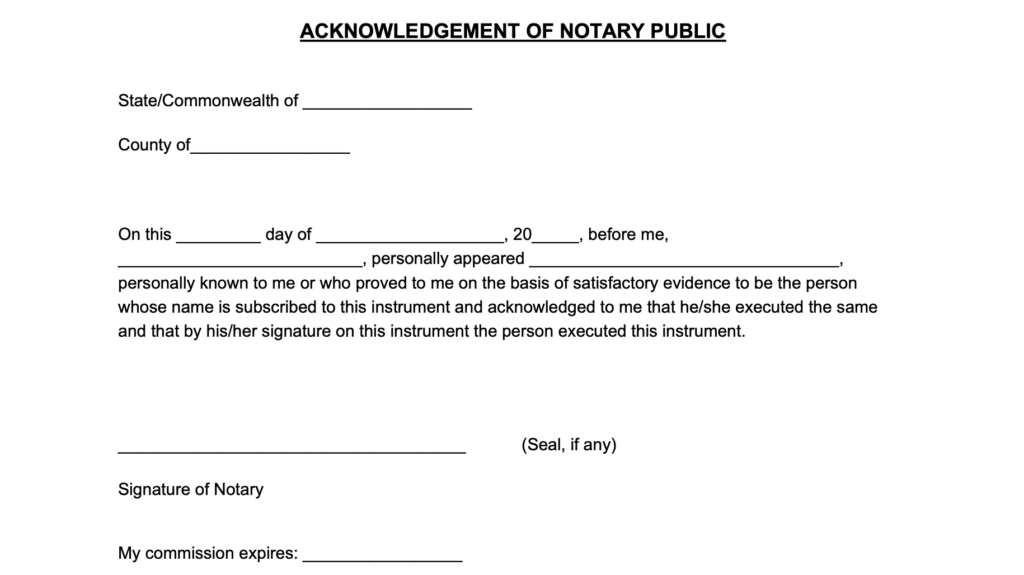 Employment Verification Letter Sample
Here is what a typical Employment Verification Letter template looks like. With our document builder, you can create a customized letter in minutes.
EMPLOYMENT VERIFICATION LETTER
---
From
____________________________
____________________________
____________________________
Date: __________

To
____________________________
____________________________
____________________________
Dear __________,
This letter is to certify income and employment for __________. He/She has been employed at __________ [Company] and holds the title of __________. He/She has been an employee with __________ [Company] since __________. The company is located at __________, __________ __________ __________. His/her current salary is $__________ paid  ☐ yearly  ☐ monthly  ☐ weekly  ☐ bi-weekly  ☐ hourly (  ☐  with an additional annual bonus of $__________).
The following supporting document(s) are enclosed as proof of income: (Check all that apply)
☐ Pay stub
☐ Wage and tax statement (W-2)
☐ Tax return (1040)
☐ Social security proof of income letter
☐ Workers compensation letter
☐ Bank statements
All of the information provided is correct to the best of my knowledge.
If you have any questions regarding the information provided, please don't hesitate to contact me at __________ [Phone number] or __________ [Email].
Sincerely,
Name: __________
Title: __________
ACKNOWLEDGEMENT OF NOTARY PUBLIC
State/Commonwealth of __________________
County of_________________
On this _________ day of ____________________, 20_____, before me, __________________________, personally appeared _________________________________, personally known to me or who proved to me on the basis of satisfactory evidence to be the person whose name is subscribed to this instrument and acknowledged to me that he/she executed the same and that by his/her signature on this instrument the person executed this instrument.
_____________________________________            (Seal, if any)
Signature of Notary
My commission expires: _________________