A room rental agreement is a legally binding contract between a tenant and a sub-tenant, the person the original tenant wants to rent a room to.
This document clearly outlines the expectations and responsibilities of both parties, the original and sub-renter. Upon execution, this agreement imposes specific duties and obligations on both parties.
What is a Room Rental Agreement?
A room rental agreement incorporates elements and terms of the original lease agreement and serves as a detailed and comprehensive guide for tenant responsibilities and rights.
A room rental agreement outlines the responsibilities of a principal tenant subleasing a room in a rental property, not the entire rental.
Unlike oral agreements, the law usually honors written agreements. These agreements carry more weight when a tenant needs to enforce financial responsibilities and obligations on a sub-tenant.
Therefore, a room rental agreement is essential for protecting tenant rights when entering a situation where the principal tenant subleases a room in a property to secondary tenants.
Differences Between Room Rental and Roommate Agreements
At first glance, there does not seem to be much difference between a room rental agreement and a roommate agreement. However, there are several notable differences you should acquaint yourself with.
When entering a housing arrangement, make sure you know the differences between the two. Otherwise, you could open yourself and your fellow tenants up to vague and undefined expectations and obligations.
| Room Rental Agreement | Roommate Agreement |
| --- | --- |
| Also known as a "sublease" | Referred to as a 'housemate agreement," or "roommate contract" |
| Used when a tenant wants to sublet their room to a third party | Used when moving in with a new roommate, or have found a new roommate |
| Usually need landlord's approval of the sublease | Doesn't usually need landlord's permission |
| Incorporates elements of the original lease agreement | Independent of the original lease agreement |
A simple room rental agreement will identify the following elements:
Date: the dates the room rental agreement begins and ends
Tenants: the contact information and identifying details of each tenant party to the agreement (the tenant leasing the premises is commonly referred to as the "Principal Tenant")
Premises: the address of the premises the sub-tenant is leasing
Rent: the amount of rent and security deposit each tenant pays
Obligations and duties: each tenant's primary responsibilities, chores, and obligations under the lease
Utilities: how the tenants will divide utilities (specifically, the name of the tenant or tenants who will be on various utility bills and how each tenant will pay)
Parking: whether tenants can park on the premises and, if so, how many vehicles and parking spots are allotted to each
Damages: each tenant's responsibility for damages they or their guests may cause, and how tenants will share damage costs when they cannot reasonably trace the damage source to a particular tenant
Renter's insurance: whether or not the tenants will purchase renters' insurance
Smoking and alcohol use: smoking rules and tenant responsibility for maintaining reasonable standards of behavior and noise when consuming alcohol
Various permissions: for example, whether pets or guests are allowed
If you are not the principal tenant on the lease and are looking for a simple roommate agreement between you and another roommate, you can create a free Roommate Agreement in minutes with our builder.
Room rental agreements are sometimes referred to as 'Room Lease Agreements" because the new tenant agrees to the terms and conditions of the original lease.
For reference, room rental agreements may also be referred to as:
Sublease Agreement
Room Lease Agreement
When Do You Need a Room Rental Agreement?
You should use a room rental agreement when you are a homeowner, principal tenant, or building manager and want to lease a private room or portion of your property to a secondary tenant.
Use a room rental agreement to clarify both parties' expectations, obligations, and responsibilities and promote a harmonious living environment.
Room rental agreements are a great tool to curb potential issues before they escalate and allow parties to open up communication channels.
Keep in mind that in the eyes of the law, room rental agreements are not all-encompassing.
Also, remember that you should do due diligence when selecting a roommate, such as requesting a Landlord Reference Letter from previous landlords.
Although courts are more likely to enforce the financial responsibilities of both tenants, they will not order a delinquent tenant to vacuum the living room or wash the dishes.
Common Uses for a Room Rental Agreement
The party you rent to has a boyfriend or girlfriend: If you are wary of your roommate or other tenants having their significant others over 24/7, a room rental agreement can help set boundaries for when they are and are not allowed. After all, having someone not covered under the lease all the time can result in increased electricity, other utility bills, and different precarious situations.
Your roommate has guests constantly staying over: A room rental agreement is essential for keeping your place private, quiet, and undisturbed, allowing you to outline days of the week when roommates cannot throw parties, cause excessive noise, or have uninvited guests.
You want to divvy household expenses and other costs: No one wants to be the only roommate washing dishes or paying for cleaning supplies while the other sits back and does nothing. Executing a room rental agreement allows parties to determine how household and other essential costs are divided.
You want to provide for respective property maintenance duties: During winter, someone will likely have to shovel the driveway, decks, and other community areas. And, in summer, someone will probably need to mow the grass and attend to other general lawn-care duties. The burden for essential maintenance duties should not fall solely on one party, so ensure you provide for these situations in your agreement.
You want to establish quiet hours: Noise complaints are among the most common causes of concern for roommates and potential tenants. Setting quiet hours is important for not only a tenant's comfort but also their sanity.
Consequences of Not Having a Room Rental Agreement
Without a room rental agreement, you risk opening yourself and other tenants to severe financial consequences and wasted time, leading to serious headaches and stress or a potential lawsuit.
Below is a non-exhaustible list of the preventable suffering a room rental agreement could help prevent and resolve.
| Consequences | Common Situations |
| --- | --- |
| Lost Money | One party may end up stuck paying more rent, forfeiting a security deposit, or paying for damage to the property, because a party moved out early without notice. |
| Lost Time | If a roommate departs early, and without notice, you could be tasked with an unexpected search for a replacement roommate. Or, maybe you and your roommate have a disagreement over noise levels after midnight, without an agreement, you risk wasting time sorting these problems out at a later, inconvenient, date. Additionally, you don't want to be cleaning up after your roommate hosts friends or a party, or from their general uncleanliness. |
| Lost Property | Without a room rental agreement, borrowed personal property could be damaged or never returned. Additionally, if community property is damaged during the course of tenancy, one party could be burdened with the bill. |
| Mental Anguish | Strained relationships are a common consequence of failing to outline a party's rights and obligations under a contract. A landlord could distrust you due to your roommate's behavior or lack of timely rental payments, or even a friendship with your roommate could deteriorate over small misunderstandings. |
Room rental agreements are effective tools for designating smoking areas and confirming whether or not alcohol is permitted on the premises.
Room Rental Agreement Sample
Below is a sample of a room rental agreement.
How to Write a Room Rental Agreement
Before filling in the details of your room rental agreement, ensure the top of your form identifies the state you are contracting in.
In addition, be clear that this room rental form is between a principal tenant and a subtenant who wishes to rent a room, not an entire property. A different version of this form exists when a landlord wants to rent a room to a tenant.
Step 1 – Fill in Room Rental Agreement Details
1. Date of Agreement. Provide the effective date of this room rental agreement form.
2. Principal Tenant Name. Write the full name of the principal tenant (the person renting the room to the subtenant).
Step 2 – Identify the Property Address
3. Property Address. Enter the street (physical) address of the room the tenant rents to the subtenant. Include any room, unit, or apartment number, if applicable.
Step 3 – Provide the Lease Details
4. Term or Length of Lease. Fill in the start date of the lease, and note either the lease's end date (if it is a standard fixed-term lease) or that the lease continues on a month-to-month basis.
5. Tenant Name. Write the full name of the subtenant renting the room. Also, enter the monthly rent amount, security deposit amount (if any), and a description of the room rental (i.e., located on top of the garage with its bathroom).
Step 4 – Fill in Any Security Deposit Amount
6. Total Security Deposit. Provide the total amount of the security deposit for the property. This should be in the original lease agreement.
Step 5 – Describe How Tenants Will Share Utilities
7. Utilities Included in Rent. State whether or not the rent includes any utilities. If yes, write a list of all utilities.
8. Utilities Not Included in Rent. For utilities not included in the rent, state whether or not the tenants will share the utility amounts. If tenants will share the utility amounts, provide the name of the person listed on the utility bill and how tenants will share the costs (evenly split, rotating, or another method).
Step 6 – Enter Parking Details
9. Parking Details. State whether or not the room rental includes parking privileges. If parking is included, provide the subtenant's name, vehicle description, and parking spot.
Step 7 – Write Any Legal Considerations
10. Renter's Insurance. State whether or not the subtenant needs to purchase renter's insurance. If yes, provide the insurance company's name, the insurance policy's monthly rate, and the name of the signer(s) on the policy.
11. Early Termination. Write the months' notice the tenant must give to terminate the room rental agreement.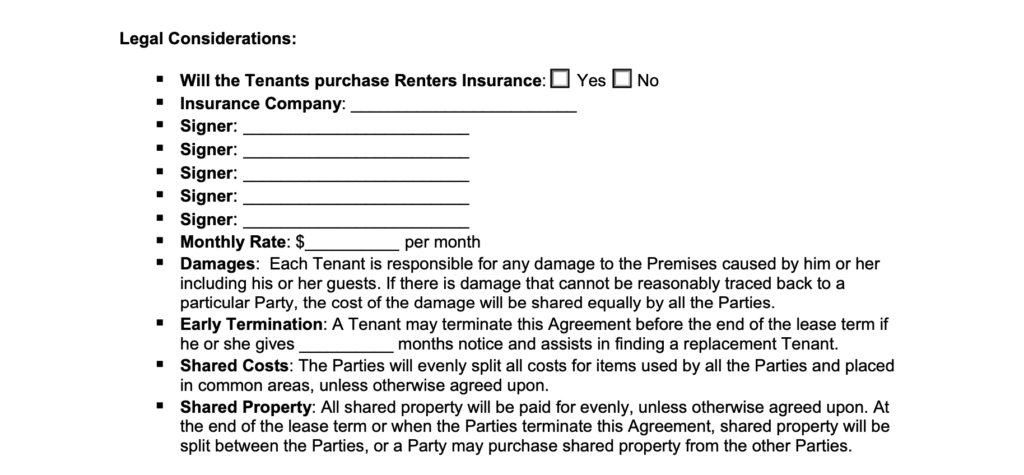 Step 8 – Fill in Behavior Stipulations
12. Pets. Specify whether or not the subtenant can have pets on the property. If the principal tenant allows pets, provide the pet's name, type of pet, and the pet owner's name.
13. Chores/Household Duties. Identify how often the tenants will discuss household duties.
14. Overnight Guests. State whether or not the subtenant can have overnight guests and if the subtenant must first discuss the guest with the principal tenant.
15. Noise Level/Quiet Hours. Write any quiet hours and the start and end times.
16. Parties/Entertaining. You can specify the maximum number of friends allowed over at a time. If a subtenant wants to invite more than the number specified here, state the number of days' notice before the event the subtenant must discuss with the principal tenant. If a tenant wants to host a large gathering, note the number of days notice before the event the subtenant must consult with the principal tenant. Also, all tenants must agree to a large gathering.
17. Smoking and Alcohol Use. State whether or not the principal tenant allows smoking or alcohol on the property. If yes, specify specific smoking areas and hours when the subtenant can drink alcohol.
Step 9 – Identify Additional Terms
18. Governing Law. Identify the state's laws that govern the construction of this room rental agreement.
Frequently Asked Questions
Does a room rental agreement cover multiple tenants?
Yes, a room rental agreement can cover multiple tenants. Be sure to include each tenant's identifying information and the specified lease dates, as some tenants and roommates may differ.
Can I execute a week-to-week or month-to-month room rental agreement?
You can execute room rental agreements week to week or month to month. When creating your document, make sure you specify the correct dates of the lease.