Invoices are sent from a seller to a buyer to request payment for itemized goods and services. Browse our free invoice templates before creating your own to get a better sense of what an invoice looks like.
Sample Invoice Templates
Our invoice template library below features four leading invoice formats — Microsoft Word, Excel, Google Docs, and PDF file formats.
Browse these free printable invoice templates—download, edit them, and start getting paid for your hard work.
Microsoft Word Invoice Templates
Google Docs Invoice Templates
Excel Invoice Templates
PDF Invoice Templates
Additional Invoice Templates by Industry
The following free invoice templates were designed by our resident small business experts and have been field-tested by contractors, freelancers, and small business owners alike.
Simply choose your industry from the list below, select your preferred file format, and download a blank invoice template you can customize. Or, just scroll down and find professional invoices in Word or Excel format that suits your unique business.
Commercial Invoice Template
This commercial invoice template has a well-defined, structured layout that's perfect for contractors and small business owners with strong organizational skills and a desire to maintain a professional demeanor. In addition to outlined fields for each billable item, it also has a place for item numbers. Ideal for those who have an extensive catalog of products and services.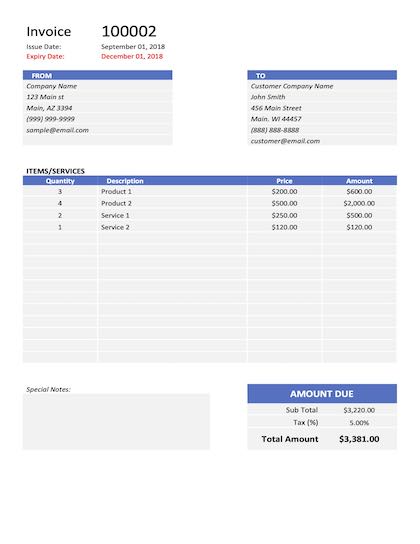 Contractor Invoice Template
For contractors, use our free printable invoice template that is designed specifically for contractors on the go. As you can see in the sample, this invoice is a clean, to-the-point, no-frills option for contractors who need a basic yet professional invoice.
Service Invoice Template
Created to suit small businesses and those working in the service industries, our service invoice template is sleek, modern, and streamlined to get payment information across as quickly as possible.
Construction Invoice Template
Straight-forward and rugged, our construction professional invoice template is suited for anyone in the construction field — be it in a freelance, independent, or corporate capacity. With its clearly defined fields and minimalist structure, this design is all about simplicity. Send a solid message to your clients with this construction invoice template.
Freelance Invoice Template
As a freelancer, it's important to set yourself apart from your competition. Our basic invoice template for freelancers is just another way to separate yourself from the rest of the field with its unique, straightforward design.
Other Invoice Templates
Below you can find more invoice templates and help with how to write one:
What Is an Invoice?
An invoice is a request for payment for itemized goods and services that is sent from a seller to a buyer. Invoices are used by a person or company (offering goods or services) to tell a buyer that payment is now due.
A basic invoice should include the following details:
Seller: person or company offering goods or services
Buyer: person or company purchasing the goods or services
Description: detail of each item sold or service provided
Due Date: when payment is expected, either in 30 days or by a certain date
Payment: whether the buyer should pay by check, money order, or other means
Purchase Order Number: a unique identifier used to keep track of orders
As a reference, this type of document may be referred to as a:
Bill
Tab
Itemized Bill
Purchase Invoice
What Is an Invoice Used For?
As a commercial document, an invoice is needed whenever a business transaction involves paying for goods or services. Invoices are used to track inventory, accounts receivables, and expenses. The seller can send one to the buyer once a transaction is completed or within 14 days of the transaction.
An invoice can be sent to the buyer immediately or within 14 days of the business transaction.
How Do Invoices Work?
Invoices work by providing those in a business relationship with a formal account of all goods and services rendered as well as a statement of the total sum owed. Once sent to the buyer, an invoice acts as an official record of the transaction.
Without a written invoice, the seller has no written proof that a business transaction occurred. After the seller provides goods or services, the buyer could simply not pay if an invoice isn't sent. Practically speaking, invoices also serve as a professional reminder that payment is still due. Legally, they're enforceable in court if the buyer continues to not pay or the seller provides bad goods or services.
Seller's Preventable Consequences
Buyer's Preventable Consequences
Loss of Money




Late payments


Unpaid for goods or services



Loss of Money




Defective goods


Poor services



Loss of Time




Time spent reminding customer to pay instead of working



Loss of Time




No proof of who provided goods or services


Once payment has been received and/or processed, the seller can issue the buyer a receipt.
A properly sent invoice will address the following basic questions:
Who are the seller and buyer
What item or service is being purchased, including a description
Where the items should be delivered or service performed
When the payment is due (i.e. 30 days from the invoice date or before a certain day)
How the payment should be made (i.e. check or money order)
Who Needs an Invoice?
If you want to get paid for goods or services provided, you should send an invoice. Freelancers, businesses, and service providers of all shapes and sizes use invoice templates or specialized apps to collect payments from clients.
Here are just a few of the professionals who may need one:
| Freelancers | Businesses | Service Providers |
| --- | --- | --- |
| Attorneys/Lawyers | Advertisers | Computer & IT Service Providers |
| Bookkeepers | Marketers | Drivers |
| Consultants | Market Researchers | Housekeepers |
| Graphic Designers | Printers | Janitors |
| Journalists | Recruiters | Jewelers |
| Photographers | Shipping and Package Providers | Landscapers |
| Technical Writers | Traders | Pet Sitters |
| Translators | Transporters | Pool Cleaners |
| Web Developers | | |
What's the Difference Between a Purchase Order and an Invoice?
An invoice is a payment request sent to a client from a vendor after the order has been fulfilled. It details the goods or services involved and the amount of money that is owed. A purchase order (PO) records a business transaction between two parties, typically large orders between a buyer and a seller.
Purchase order vs invoice – key differences:
| Invoice | Purchase Order |
| --- | --- |
| Request for payment sent from a vendor to a client | Indicates the intent for purchase to take place |
| Created by the vendor after an order is fulfilled | Issued by the buyer when large purchases are made |
| Details the confirmation of sale or service | Defines the terms of a purchase |
| Acts as a payment reminder and prevents duplicate or overpayment | Helps prevent overstocking of inventory |
How to Fill Out an Invoice?
Filling out an invoice is a fairly straightforward process, made even easier by using a template or our step-by-step builder which includes all the important details:
Step 1 – Company Name and Contract Details
Start off by including your business name so your clients can easily identify you. Follow up with the contact details of your business, including address, phone number, and email address.
Step 2 – Client Contact Details
Next, you'll want to include the client's contact details. Ensure you're billing the correct client, whether an individual or another business. Include the client's name, address, phone number, and email address.
Step 3 – Invoice Number
Use a unique invoice number so you can easily refer back to it when you're doing recordkeeping for your business or if you need to refer back to a specific invoice. If it's your first invoice you can simply label it as invoice 1 and then increase the invoice number as you create more.
Step 4 – List the Goods or Services
Provide an itemized list of the goods or services provided. If you're selling goods you need to list each specific item with the amount and the price. If it's a service, you should document the number of hours worked and the hourly rate charged (alter as necessary if charging a day or project rate). Don't forget to include the total cost.
Step 5 – Billing Information
Include details regarding your accepted payment options, such as cash, credit, or debit card, and payment terms. You could include a payment link if you have one available – if not, don't forget to include your account or bank information. If required, you can include an invoice due date at the top or bottom of the page to try and get paid faster.
Invoice FAQs
How to send an invoice?
There are multiple options when it comes to sending an invoice:
Post
Email
Online invoicing
Sending an invoice by post puts the invoice straight in the receiver's hands, but can be slow. You can send invoices by email whcih is instant and the email can be saved, forwarded, and found easily. Online invoicing allows you to send a link and you can include a pay now option to immediately request payment and get paid!.
What is an invoice number?
An invoice number is a unique identifier systematically assigned to individual invoices. Invoice numbers ensure that invoices can be easily documented and identified, making it easier to track payments. An invoice number can be automatically generated using invoicing software, or you can manually create one.
Is an invoice a receipt?
No, an invoice is not a receipt. An invoice is issued before payment and is a request for payment for goods or services that have to be rendered. A receipt on the other hand is a document issued after payment or services are made.
How to create an invoice?
You can easily create invoices by using a custom invoice template. Simply select the right customized invoices for your needs, fill in the details and send them to your clients. Creating invoices using a template ensures you have the guidelines required to create an invoice that leaves a professional impression. You'll also save time and money by using a free invoice template as all the necessary information will be included and you can start creating yours immediately!