Sample Invoice Templates
Our invoice template library below features four leading invoice formats — Microsoft Word, Excel, Google Docs, and PDF file formats.
Browse these invoice templates, download, edit them, and start getting paid for your hard work.
Microsoft Word Invoice Templates
Google Docs Invoice Templates
Excel Invoice Templates
PDF Invoice Templates
Additional Invoice Templates by Industry
The following invoice templates were designed by our resident small business experts and have been field-tested by contractors, freelancers, and small business owners alike.
Simply choose your industry from the list below, select your preferred file format, and download a blank invoice template you can customize. Or, just scroll down and find a Microsoft Word or Excel template that suits your unique business.
Commercial Invoice Template
This commercial invoice template has a well-defined, structured layout that's perfect for contractors and small business owners with strong organizational skills and a desire to maintain a professional demeanor. In addition to outlined fields for each billable item, it also has a place for item numbers. Ideal for those who have an extensive catalogue of products and services.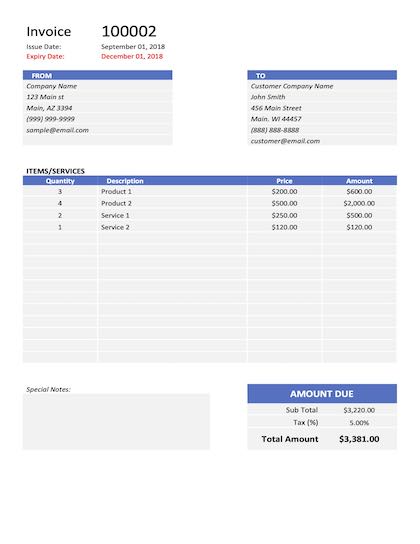 Contractor Invoice Template
Our contractor invoice template designed specifically for contractors on the go. As you can see in the sample, this invoice is a clean, to-the-point, no-frills option for contractors who need a basic yet professional invoice.
Service Invoice Template
Created to suit small businesses and those working in the service industries, our service invoice template is sleek, modern, and streamlined to get payment information across as quickly as possible.
Construction Invoice Template
Straight-forward and rugged, our construction invoice template is suited for anyone in the construction field — be it in a freelance, independent, or corporate capacity. With its clearly defined fields and minimalist structure, this design is all about simplicity. Send a strong message to your clients with this construction invoice template.
Freelance Invoice Template
As a freelancer, it's important to set yourself apart from your competition. Our freelance invoice template is just another way to separate yourself from the rest of the field with its unique, straight-forward design.
Make sure you fully understand exactly what an invoice is before you make your decision to create an online invoice.