Table of Contents
1. Download a Colorado Medical Power of Attorney Sample
Your Free Colorado Medical Power of Attorney Download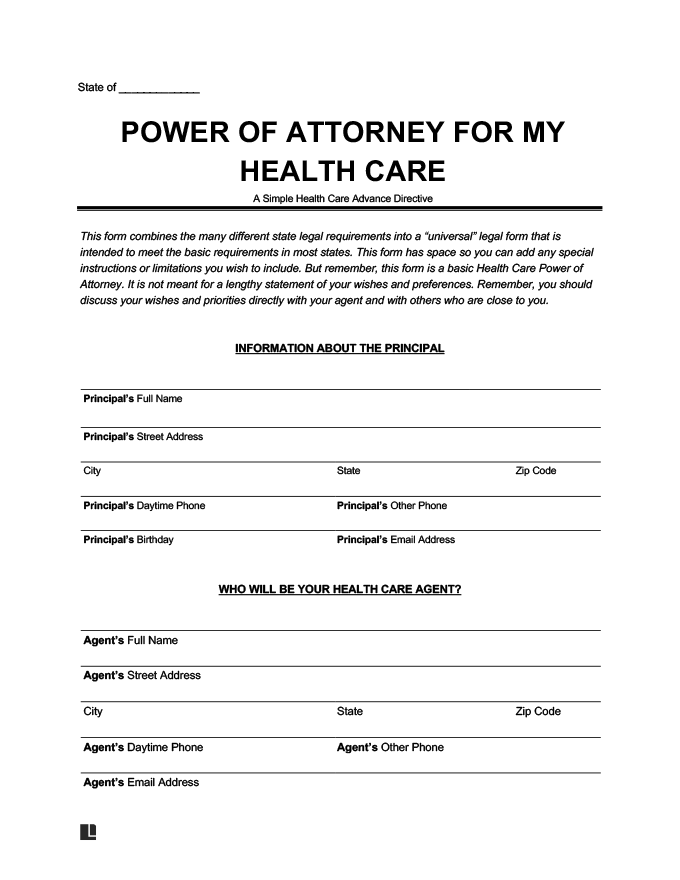 2. What is a Colorado Medical Power of Attorney?
A Colorado Medical Power of Attorney form, as laid out in C.R.S. § 15-14-506, allows you to appoint an agent to make healthcare and end-of-life decision on your behalf–in the event you lose the ability to make such decisions on your own.
Your healthcare agent will ensure that any medical treatment instructions you've provided are followed. If unpredicted circumstances arise, your agent is required to make decisions in accordance with their knowledge of your personal beliefs, values, and desires.
A completed medical durable power of attorney will answer these vital questions:
Who will communicate my medical wishes, in the event that I'm unable to communicate them to my doctor or other health care provider?
What type of treatment am I comfortable receiving?
What treatment am I not comfortable receiving?
Will any treatment I receive conform to my religious beliefs and moral convictions?
The following are key terms, as defined in C.R.S. § 15-14-505, to keep in mind as you create your Colorado Medical Power of Attorney document:
Advance Medical Directive: Any written directions concerning the making of medical treatment decisions on behalf of the person who has provided the instructions.
Health Care Provider: A physician or other individual licensed, certified, or otherwise authorized by law to administer medical treatment to persons. In Colorado, this includes health maintenance organization licensed and conducting business in the state.
Adult: Any person 18+ years of age.
Decisional Capacity: Your ability to provide informed consent to or refusal of medical treatment or your ability to make an informed decision regarding health care benefits.
Artificial Nourishment and Hydration: Any medical procedure in which you're receiving nourishment or hydration via a tube inserted in your nose, mouth, stomach, or intestines or nutrients and/or fluids are injected intravenously into your bloodstream.
It's important to note that a medical power of attorney document can be referred to by other names, such as:
Health Care Power of Attorney
Medical Durable Power of Attorney
Health Care Directive
3. Who Should Have a Medical Power of Attorney?
If you're young and healthy, you might be under the impression that you don't need a medical power of attorney. However, a situation in which you lose the ability to communicate your medical care wishes can occur at any time. Such predicaments could include:
Falling into a prolonged state of unconsciousness where you're unresponsive–also known as a coma
Developing a form of dementia, such as Alzheimer's, leading to memory loss and a decline in mental ability
Being in an indefinite vegetative state
Experiencing an unexpected complication while under general anesthesia
Becoming seriously incapacitated after a severe injury
As unfortunate as it may be, situations such as those described above can and do happen. Having a completed Colorado Medical Power of Attorney form will protect you and your loved ones from uncertainty regarding difficult medical treatment decisions.
4. How to Choose Your Agent(s)
Deciding who to appoint as your healthcare agent is a difficult decision.
The person you choose–whether they be a spouse, relative, friend, fiduciary or other individual–should understand your personal beliefs as well as have your best interests in mind. It's paramount that your agent understand their duties, as defined by C.R.S. § 15-14-506, and is willing to accept this immense responsibility.
Who can you select as your agent?
The state of Colorado does not place any restrictions on who you're able to appoint as your agent.
Can you have more than one agent?
According to C.R.S. § 15-14-711, you are able to designate two or more persons to act as coagents. Unless stated otherwise, each coagent may exercise their authority independently.
In addition to coagents, you may designate one or more successor agents to act if your primary agent resigns, dies, becomes incapacitated, declines, or is unable to serve.
5. Decision Making Power of Your Agent(s)
What Decisions Can Your Agent Make on Your Behalf?
Other than the limitations stated in your medical power of attorney document, your agent can make all necessary healthcare decisions on your behalf.
Such decisions can include consenting to or refusing medical treatment, including artificial nourishment and hydration (C.R.S. § 15-14-506). Your agent is required to confer with your attending physician regarding your medical condition before making decisions.
What Healthcare Decisions is Your Agent Unable to Make on Your Behalf?
According to, C.R.S. § 15-14-506 your agent's decision making power is restricted only by the terms, directives, and limitations listed in your medical power of attorney document. If you haven't provided instruction regarding a medical decision and your wishes are unknown, your agent is obligated to act in accordance with their determination of your best interests.
If you wish for your agent to make non-medical decisions, you should use a Colorado general power of attorney form.
When is Your Agent Able to Begin Making Decisions on Your Behalf?
According to C.R.S. § 15-14-709, unless otherwise stated, your medical power of attorney will take effect immediately upon execution of the document. Alternatively, you can specify that the document will only take effect upon the occurrence of a future event or contingency. You're able to authorize one or more individuals to determine in writing, or another record, that the event of contingency specified in your document has occurred.
If your power of attorney is set to become effective upon your incapacitation with no further instruction, the determination must be made in writing, or other record, by one of the following authorities:
A physician or licensed psychologist
An attorney-at-law, a judge, or an appropriate governmental official
6. What to Do if You Change Your Mind
How Long is Your Medical Power of Attorney Effective?
Your medical power of attorney is valid and enforceable as long as you're living, unless you choose to revoke your existing document or complete a new document.
How to Revoke a Colorado Medical Power of Attorney
One way to revoke your power of attorney is to notify your agent in writing that their appointment has been revoked. You should also provide copies of the letter to anyone else who received the original document.
Divorce, annulment, or legal separation from a spouse will automatically revoke your spouse's status as your agent, unless you've indicated otherwise in the document (C.R.S. § 15-14-506-C).
Furthermore, if your appointed agent is unable or unwilling to serve, their appointment as agent shall be revoked (C.R.S. § 15-14-506-D).
7. Completing Your Colorado Medical Power of Attorney Form
The Colorado Medical Durable Power of Attorney is part of a larger set of legal forms, referred to as the Colorado Advance Health Care Directives (AHCD). These include the Advance Directive for Medical/Surgical Treatment (otherwise known as a Living Will), and a Cardiopulmonary Resuscitation Directive. It's important that you coordinate your medical power of attorney form with these other documents to avoid confusion or contradictory statements.
Do You Need a Witness / Notary Public Signature?
No. In Colorado, there are no witnesses or notarization requirements–all you need to do is sign the document. However, you may wish to authenticate the document with witness or notary signatures in order to avoid potential complications.
Please note that while a Colorado Medical Power of Attorney does not require witnesses or notary, the other documents in the Colorado Advance Health Care Directives have their own specific requirements.
What to do with Your Completed Form
Once you've completed your medical durable power of attorney form, the next step is to deliver a copy of the document to the appropriate parties. For example,
Agent(s)
Primary Physician
Other healthcare providers
Attorney
Friends
Family Members
Coworkers
Additionally, consider keeping a physical copy of the document on your person at all times–for example, in your wallet or purse. If you're admitted to the hospital for any reason, make sure to bring a copy of the form with you.