Table of Contents
1. Download a Florida Medical Power of Attorney Sample
Your Free Florida Power of Attorney Download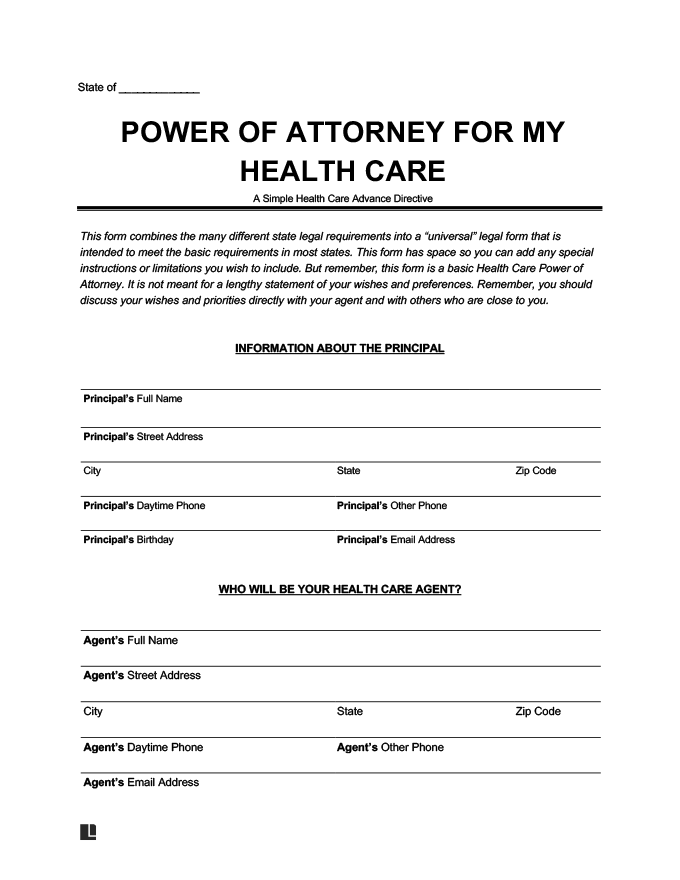 2. What is a Florida Medical Power of Attorney Form?
Often referred to in Florida as a designation of health care surrogate, a medical power of attorney is a written document that grants a surrogate the power to make medical decisions on your behalf–if you become incapacitated and unable to do so. This person is responsible for ensuring that you consistently receive the level of care you desire.
Although medical power of attorney documents may vary by provider, they typically include the following:
Designation of an agent (also known as a surrogate), who is responsible for making healthcare decisions should the need arise
Alternate agents who can take over if the original agent is unavailable or otherwise incapable of directing healthcare matters on your behalf
Contact information for both the agent and any alternate agents
A Description of the agent's powers These may include pursuing various treatment options, withdrawing consent on your behalf, or applying for benefits so as to defray the cost of healthcare.
Your affirmation indicating that the designation of healthcare power of attorney has not been made as a condition of your treatment at a particular facility
Keep the following terms, as defined by Section 765.101 of the Florida Statutes, in mind as you designate your healthcare surrogate:
Surrogate: Any competent adult you designate to make healthcare decisions.
End-stage condition: Any irreversible condition prompted by illness or injury that has caused severe deterioration and for which treatment will likely prove ineffective.
Informed consent: Voluntary consent granted following a sufficient explanation of the subject. To give informed consent, the person should generally understand the proposed treatment and any accompanying risks.
Life-prolonging procedure: Any medical measure that sustains an ordinarily spontaneous, yet vital function. This does not include the use of medications to alleviate pain.
Principal: A competent adult completing a designation of healthcare surrogate or advance directive. In other words: you.
For your reference, in Florida a Medical Power of Attorney is also often referred to as:
Health Care Surrogate Form
Health Care Power of Attorney
Health Care Proxy
3. Who Should Have a Medical Power of Attorney?
Any adult residing in Florida can benefit from obtaining a Florida Health Care Power of Attorney. Risk is all around, regardless of your current age or health status. Completing a power of attorney can help you mitigate healthcare related risks. This document is especially essential if you hold specific wishes regarding end-of-life care that you fear might not be carried out if the wrong person acts on your behalf.
While a health care power of attorney can be beneficial at any point in adulthood, many people choose to create one after experiencing a life-changing circumstances such as:
Military deployment
Launching a career in a high-risk field
Extended travel abroad
Marriage
Divorce
Starting a family
Diagnosis of a chronic or life-threatening condition
4. How to Select Your Surrogate
Discernment is key as you select your healthcare surrogate. Not everybody is willing, or capable of taking on this huge responsibility. Key qualities to look for when selecting your surrogate include:
Age: Your surrogate should be at least 18 years old. While any adult who currently possesses full mental capacity will do, age may factor into your decision. You want your surrogate to be mature, but also capable of demonstrating competence by the time the document actually comes into play.
Closeness of the relationship: Many Floridians prefer to select close friends or family members to act as their surrogate.
Trust: Above all else, you should trust that your agent will carry out your wishes.
5. Decision Making Power of Your Surrogate
While section 765.205 of the Florida Statutes states that your healthcare surrogate holds authority over all of your healthcare decisions, you're welcome to add more specific instructions in your medical power of attorney document. Depending on your situation, you may specify that, should you become incapacitated, your agent will hold the power to:
Obtain and review relevant medical records
Approve the use of medications
Place you in an assisted living facility or nursing home
Apply for public benefits such as Medicare or Medicaid
Obtain access to the income and asset information necessary to apply for public benefits
What Decisions Is Your Surrogate Barred From Making?
Although your surrogate holds broad discretion over your care as soon as you are declared incapacitated, some treatments and procedures remain off-limits. Section 765.113 of the Florida Statutes specifies that unless you provide explicit consent in writing or your surrogate obtains court approval, he or she cannot subject you to the following:
Abortion
Electroshock therapy
Sterilization
Experimental treatments not approved by federally approved review boards
Withholding life-prolonging procedures if you're pregnant and have not yet reached viability
When Can Your Surrogate Begin Making Decision on Your Behalf?
According to section 765.204 of the Florida statutes, certain procedures must be followed in order for you to be declared incapacitated—and before your surrogate can begin fulfilling his or her rights and responsibilities as specified in your medical power of attorney. You will not be deemed in need of a surrogate until a licensed physician determines that you are no longer capable of making your own healthcare decisions. However, your Florida Health Care Power of Attorney can designate your surrogate's ability to receive relevant healthcare information immediately.
6. What Happens if You Change Your Mind?
It is possible to modify your Florida Medical Power of Attorney if you hold full mental capacity. You may choose to change specific elements of the previous document–or even start fresh with a new surrogate.
How to Revoke Your Florida Medical Power of Attorney
In Florida, unless otherwise stated, a medical power of attorney is valid indefinitely—unless it is explicitly revoked. Ideally, this process will involve a revocation of medical power of attorney form that declares your intentions. This document must be signed and dated. According to section 765.104 of the Florida Statutes, other valid means of revoking a Florida Health Care Power of Attorney include:
Physically destroying the original document or instructing somebody else to do so
Completing a document that is significantly different from the original
Declaring your intention to amend or revoke the document orally
7. How to Complete Your Form
In Florida, medical power of attorneys tend to be simple and to the point. The state offers little direction as to what, exactly, should be included in your document, but rather, mandates circumstances under which it can become valid.
Do You Need a Witness?
According to Section 765.202 of the Florida Statutes, at least two witnesses must be present when you complete your health care power of attorney. Additionally, at least one of these individuals cannot be your blood relative or spouse. The person designated as your surrogate cannot also act as your witness.
What Happens with the Signed Document?
Retain the document's original copy for your personal records. You'll want to send a copy of the document to both designated surrogates and alternates.
Your Florida medical power of attorney is a valuable tool for expressing your end-of-life wishes. This essential document could grant both you and your loved ones valuable peace of mind during difficult times.