With holes blown into the wall, damaged appliances, losses of hundreds of dollars, unanswered phone calls, and nasty odors that fill up the entire house, one can only wonder, what kind of nightmare is this?
Well, it might be the case of having a horrible tenant.
Once you and your tenant sign the lease agreement and exchange keys, you probably hope to go your way.
Unfortunately, it's not always a walk in the park when dealing with bumpy situations regarding unpleasant tenants.
Landlord beware! Here are the most common types of bad tenants to avoid (or avoid being!).
Bad Tenant #1: The Non-Payer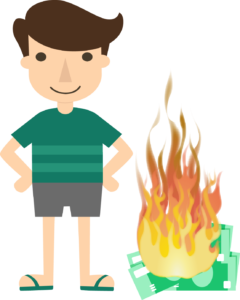 Here you have your classic lousy tenant.
The one who ceases to abide by the lease agreement fails to perform his monthly duty of writing out that rent check.
After missed phone calls and ignored knocks on the door, the landlord devotes himself restlessly to acquiring that rent check.
Of course, there could be many explanations for why a tenant cannot pay rent.
Nonetheless, they are liable for these payments if they agree to your lease agreement's conditions.
Unfortunately for the landlord, these missed payments can add up as sunk costs.
Non-Payer Tenant Issues
Hit a rough patch in life, lost their job, had a terrible injury with a high medical bill, and poor management of money.
Temporarily absent on an extended vacation
Preparing to skip out on you or move out soon on their own accord
Forgetful or simply irresponsible
How to Handle the Non-Payer Tenant Problems Politely

Get in contact with them
Find every method possible to get in contact with them. Try to find their workplace phone, relatives, or even friends.
Find out what their situation is and why they are not paying rent. Send a text message, email, or call them first to arrange a meetup.
If you are a landlord that lives close by, approach them for a face-to-face confrontation.
You'll need to give "reasonable notice" at least 24 hours before your in-person meeting to discuss the matter. Allow plenty of extra time to be safe, however.
Go in and check the premises, but don't be rude. Does it seem like they've been gone for a long time? Have they cleared out entirely?
Discuss the Matter
If it has been a long time and the tenant has not made any rental payments, including late fees incurred, it is advisable to have a face-to-face discussion with the tenant.
You should discuss the legal consequences if they continue to default on rental payments. Let it be clear that one of these consequences could be having them evicted.
Once the problem of not paying rent is realistic, they will be more likely to take action for their responsibilities.
Discuss their financial situation:
Are you financially capable of paying rent?
What is your current monthly income?
Depending on the conditions of the agreement, if you are evicting the tenant and they haven't paid last month's rent, then you have the right to keep the security deposit as monetary compensation for the loss.
Bad Tenant #2: The Tardy Payer
Next, you have a slightly better version of the Non-Paying Tenant.
Sure, the Tardy Payer might not pay his rent on time, and he might not even answer the landlord's messages. But at the end of the day, he delivers what's most important: their rent.
Sometimes these delayed payments could affect the landlord's impression of the tenant.
Your lease agreement should state the monthly deadline or the days the tenant has until to make their rental payments.
The tenant is legally bound to abide by these guidelines as a legal contract. Your lease agreement might have stated any possible fees for paying late. However, your tenant may not have even bothered paying the rent or the late fees.
The lack of punctuality makes it difficult for the landlord to balance budgets and positions the tenant as untrustworthy.
Though the tenant is still paying rent, their delay is a good enough reason for the landlord to acquire an eviction notice form or even a late rent notice.
Tardy Payer Tenant Issues

Forgetful and irresponsible
An accident occurred, causing a delay in payment
They are struggling to acquire money through loans
How to Handle the Tardy Payer Tenant Problems Politely
Have a conversation with them
You could start this by writing an email dictating how it is essential for a tenant to abide by the lease agreement and that if they don't, serious consequences could follow, such as being evicted.
Request a face-to-face meeting with the tenant to best convey the vital issue.
Ask the following questions:
What is the cause of the delayed payment?
Do you understand that, as outlined in the lease agreement, your rental repayments are due on a specific date each month?
Are you financially capable of making rent payments on time?
After clarifying these points with your tenant, review the lease agreement with them again. Whether it was a one-time occurrence or a persistent ongoing issue, use your discretion to give your tenant another chance to pay on time or be merciful with your late rent fees.
Bad Tenant #3: The Rule-Breaker
There are always guidelines to follow as a tenant, whether abiding by the lease agreement or set of rules given by the property manager.
You'd think that tenants would think twice about breaking the rules once both parties sign legally binding documents.
However, sometimes tenants may feel they have little leeway to discreetly break the rules without letting anyone know.
For example, the landlord may have a strict "no pets" policy, but who else is to stop the tenant from fulfilling their pet-owning dream?
The landlord may not even realize the tenant is violating the policies of the property until perhaps weeks later when the apartment smells of cats.
Another scenario can be that the landlord forbids subleasing, yet the tenant still sublets the unit to another person. This can result in legal consequences for the landlord and the tenant, which is not a situation anyone wants to be in.
Rule-Breaker Tenant Issues
Didn't review the lease agreement carefully
Careless, irresponsible, negligent
Varies by case, but perhaps under straining circumstances, they have no choice (e.g., maybe a family member needs them to look after a pet)
How to Handle the Rule-Breaker Tenant Problems Politely
As a landlord, it is usually difficult to ascertain if the rules are broken within the property unless you occasionally check out the property.
However, if you discover they're breaking the rules, you must address the situation accordingly.
Have an in-person meeting
Confronting these issues with your tenant is the first step to resolution.
Discuss:
Is there an alternative solution for what the tenant is doing?
Is it necessary to create another addendum to the lease, such as a pet addendum or a smoking addendum?
For any property destroyed, ensure the tenant is held liable and pays for it.
Review the lease agreement and enforce the rules and responsibilities. Make any necessary clarifications.
If the tenant resides with other roommates, talk to them to see if they could help with the residential lifestyle and enforce the rules.
You can suggest a roommate agreement to see if that would help the process.
Bad Tenant #4: The Destroyer
This tenant damages and destroys property, whether intentionally or unintentionally.
There are several accounts where the tenant deliberately damages property regularly, bringing horrors to the people in real estate.
This type of tenant can cost the landlord hundreds of dollars to fix and repair the property damages.
Destroyer Tenant Issues
Mental instability
Careless, immature, or irresponsible, leading to accidents
How to Handle the Destroyer Tenant Problems Politely
First, calculate the damages and ascertain if the tenant is liable for all costs.
Set up a meeting with your tenant and discuss the following points:
Is the tenant able to pay for and repair the damages?
Explore the possible ways to prevent such occurrences from happening. What was the reason for the damage? Did the tenant set the house on fire again? Do they always leave the stove on? Did they burn the garden down after a BBQ party? Why are they breaking the window glasses? Why is this occurring, and how can you prevent it from happening again?
While you can't evict a tenant without a legally valid reason, the lease agreement serves as a key legally binding document outlining the tenancy rules for both the landlord and the tenant.
How to Protect Yourself from Bad Tenants
Conduct a background check on the prospective tenant. You can do so by using a rental application for prospective tenants to screen prospective tenants and weed out the bad ones.
Ensure the tenant signs a lease agreement to enforce written guidelines and expectations for both parties.
Meet with them in person to enforce the expectations and responsibilities required of both parties.
Be prepared to have an exit strategy. If dealing with a problematic tenant, there is much in your control as the landlord to evict them if they have violated the lease or possibly use a lease termination to end it if required.
As a landlord, you may not always know what kind of tenants you will deal with until later in the leasing process.
Always clearly state the tenancy's expectations and outline the consequences of breaking the rules in the lease agreement.
As it is a legally binding document, it can guide and protect any situation you are dealing with.
As a Tenant, Please Consider Those!
Be sure to look over your lease agreement and abide by the stated guidelines and rules.
You can incur legal consequences and hefty fees should you decide to be a Non-Payer, Tardy Payer, Rule-Breaker, or Destroyer type of tenant. So be responsible and prudent.
The rental property is your home but not yours to destroy or take advantage of. If you have any doubts or questions, always communicate with your landlord to prevent misunderstandings.