A Cohabitation Agreement, also known as "Common Law Partner Agreement", is a written contract used by unmarried couples who live together but choose not to be married. The agreement describes their property rights and financial obligations during and after the time they reside at the same premises.
What Is a Cohabitation Agreement?
A Cohabitation Agreement, or a living together agreement, is a written contract used by unmarried couples who live together that describes their property rights and financial obligations during the relationship and after it ends.
In particular, the agreement addresses:
What happens to property you acquired before the relationship if one of you passes away unexpectedly
How jointly owned property and property acquired during the relationship will be divided if you no longer remain a couple
How partners will share living expenses
Any other financial or general expectations you want to put in writing before moving in together
This agreement can help describe how you and your partner will handle your day-to-day finances during the relationship, including how you will divide rent, mortgage, and bill payments. A cohabitation agreement allows you to agree on how your property (including personal items, savings, and other assets) will be split if the relationship breaks down.
As a reference, this document is known by other names:
Common Law Partnership Agreement
Cohabitation Agreement for Unmarried Partners
No-Nuptial Agreement
Couples Contract
Relationship Contract
What's the Difference Between Cohabitation and Marriage?
Refer to the table below to quickly see how cohabitation agreements and marriage differ from each other.
| Cohabitation Agreement | Marriage |
| --- | --- |
| No requirements. Anyone can create a cohabitation agreement | Numerous requirements which can vary depending on your state, e.g. marriage license, age minimums, a ceremony, officiator, witnesses, etc, |
| Can be terminated informally but can have the same emotional cost as the end of a marriage. | Requires the involvement of the court, e.g. legal separation, divorce and can be of great financial and emotional cost. |
| Can divide property if outlined in the agreement but requires legal workarounds to have the same property protections as a marriage | Has stronger legal protections in place for the division of property |
| Partners can only get financial support if outlined in the agreement | Spouses have a legal right to alimony |
| Only the relative of an ill or incompetent partner has the authority to make financial or health decisions on their behalf | Spouses have the authority to make legal decisions for each other if one falls ill or incompetent |
| Partners have no inheritance rights unless specified in the deceased's partner's will | Spouses have a legal right to inherit a deceased spouse's property |
| The father in a cohabiting relationship may have to prove their paternity through blood tests and legal methods | A father in a marriage has paternity rights by default |
| There is no legal obligation for the father in a relationship to support children during cohabitation, but it becomes a requirement when paternity has been proven | The father is legally obligated to support children during the marriage |
| The non-custodial parent is not required to support the children if the cohabiting relationship ends unless paternity has been proven | Non-custodial parents is legally obligated to support children if the marriage ends |
When To Get a Cohabitation Agreement
Cohabitation Agreements are used when parties explicitly agree not to be married. They do not want to be bound by state or federal laws regarding "common law marriage," where a couple lives together long enough to be considered married by the government [1] .
Generally, the law grants no legal status to cohabitating couples who are not married or civil partners. So a cohabitation agreement is a way to determine the partners' rights and obligations during the relationship and afterward. Twelve states, however, do allow you to create an informal or common law marriage if the following three apply [2] :
You both agree to be married
You both live together as a married couple after agreeing to be married
You hold yourselves out to the public as a married couple
You can enter into informal or common-law marriages in these states:
Alabama
Colorado
Iowa
Kansas
Montana
Rhode Island
South Carolina
Texas
New Hampshire
Oklahoma
The District of Columbia
Utah
You should use a living together agreement when you and your partner know you will live together for the long term but do not want to get married. The contract allows you both to decide which property is separate and joint property and lays down the division rules for any property or income that you two will acquire in the future.
Always disclose everything in your possession or for which you are liable. If you don't, the court will not honor the agreement.
What Are the Legal Rights for Couples Living Together?
Despite the similarities with marriage, cohabitation agreements do not have the same legal protections as a married couple. You should make yourself aware of the rights of unmarried couples living together so you can be sure you're making the right choice.
Property Rights
If you're an unmarried couple thinking of getting a cohabitation agreement, the good news is you can still legally protect your property once you've moved in together. When you create the document, you can have provisions that clearly state:
What property is separate – this can be currently existing property or future property

Declaring this is crucial when one person owns the house.

What property is joint, and the percentage of joint property owned by the respective partners
How joint property will be divided during the cohabitation period.
How joint property will be divided in the event of a breakup

For unmarried couples, you can create a property settlement agreement to clarify the division of property in detail.
With these kinds of terms about property, a cohabitation agreement is similar to a roommate agreement or a prenuptial agreement. You won't have to resort to having the court settle matters about property, which can be costly and time-consuming.
Some couples would like to purchase property together. But a cohabitation agreement does not have the same property inheritance rights you'll find in a marriage. To ensure your partner can receive the property in the event of your death, both of your names must be on the property deed. This grants both of you "joint tenant with survivorship rights."
If you don't do this, the court will proceed under 'tenant in common' rules and give the ownership rights to whoever is listed in the deceased partner's will, or their blood relatives.
Financial Rights
Cohabitation agreements can also outline the financial rights and responsibilities in the relationship. Like property rights, the document can mention how financial assets will be distributed between partners. These assets can refer to either party's income and how partners will handle expenses. The agreement can also have provisions about the use of checking accounts and credit cards, which, if clarified, can help avoid arguments later down the line.
To have the same financial inheritance rights as a married couple, you can list your partner as a beneficiary of any relevant financial assets. For example, you could list your partner as beneficiaries for your bank account, retirement account, or life insurance account.
A cohabitation agreement can also include terms about financial support after separation. If the partners agree, a higher income partner may provide the other partner a form of spousal support called "palimony." However, in some states, a partner can pursue palimony in court, even if it wasn't mentioned in the agreement. The judge will have to consider the circumstances and consider certain factors, such as whether there are children involved and the financial positions of each partner.
Consequences of Not Using a Cohabitation Agreement
There can be situations that could leave either party at a disadvantage without a cohabitation agreement in place. It isn't uncommon for couples to make joint purchases together. But if both your names are listed on documents such as deeds, lease agreements, or purchase agreements, you could be forced to assume your partner's debts if the other partner cannot pay. For example, you could be responsible for paying any outstanding rent and utility payments, debts relating to household goods, and personal items.
Living together does not create a contractual relationship by itself, nor does it grant you a property settlement (or inheritance) should you break up or if one of you passes away unexpectedly.
How To Write a Cohabitation Agreement
Step 1 – Fill in the information of both parties
The first step in writing a cohabitation agreement is filling in the information of the parties involved. This includes writing down their:
Names
The address the parties are currently living in or intend to live in
Date of writing the agreement
Governing state
Step 2 – Include the current circumstances
This section typically refers to whether there are any children from previous relationships involved. You should specify if there aren't any kids. If there are, you need to write down their names and ages.
You should also clearly outline the obligations of each parent to their children. Unless a court order of adoption is obtained, the agreement assumes each person is responsible only for their own children.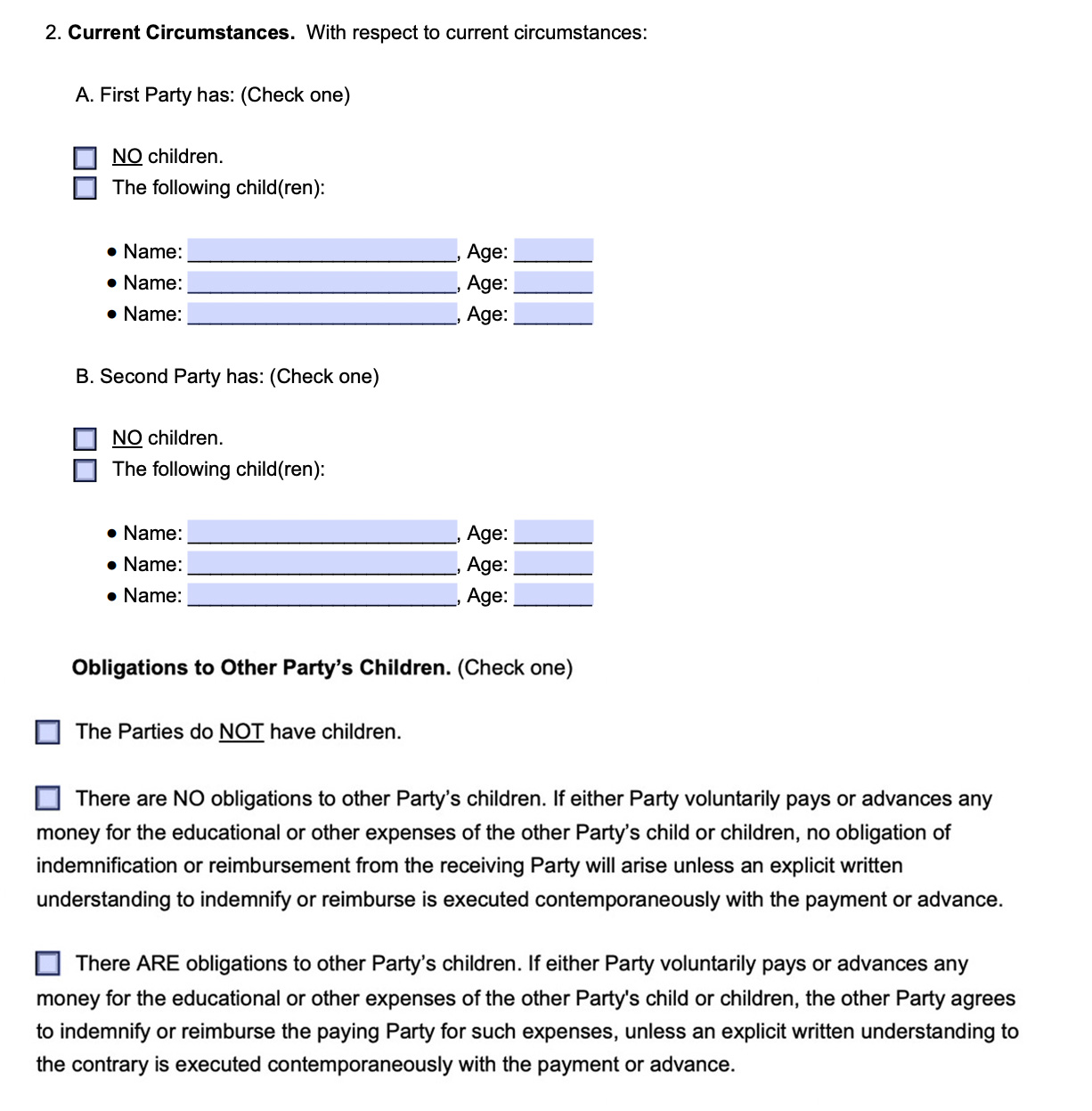 Step 3 – Establish an effective date
Discuss with partner and decide a date when the cohabitation agreement will come into effect.

Step 4 – Provide information regarding property
You can list property you acquired before becoming a couple that should be treated as separate property – including financial assets, household goods, vehicles, and other items. Any property that is listed as "separate" in the Cohabitation Agreement will not be divided with the other person if a death or separation occurs.
Your shared property, also known as joint property, is property that is jointly owned by both parties. These will be divided between both parties upon death or separation. How these property will be divided can be agreed upon by both parties before signing the agreement.
Step 5 – Include any information about debts (optional)
Although not required, listing your debts allows you to clearly detail who is responsible for which debts.
Without a Cohabitation Agreement, you could be forced to assume the debts of your partner if you split up. For example, in California, domestic partners are legally considered financially responsible for the debt of the other during the relationship and at its end, just like spouses. That means you could be on the hook for outstanding rent and utility payments, as well as debts related to your partner's household goods and personal items.
You should also specify any shared debts you andy our partner have. Typically, shared debt occurs as a result of a joint purchase that is secured by a joint loan for items like a vehicle or home.
Step 6 – Specify household contributions
Shared living expenses can be divided with each party paying different percentages or dollar amounts, depending on the situation. You can also include information about whether joint accounts will be used and the ownership interests of purchases made through that joint account.
Step 7 – Include termination terms
You should provide terms about how the agreement can be terminated.
Step 8 – Sign the agreement
Once you have filled in the other sections, both parties should sign the agreement so it becomes a legally binding contract.
What your Cohabitation Agreement Should Include
A simple agreement should generally have at least the following:
Who are two people living together and entering into the agreement
What the agreement covers, including how bills and other expenses will be split; lists of joint and separate property; and how property will be divided if the relationship ends
Where the agreement is being executed and which state laws apply
When the agreement takes effect, either when both move in or at the time of signing
Why certain properties should be considered separate or jointly owned
How the parties want to divide and dispose of any and all property in the future.
In addition to these, the cohabitation agreement should mention the following terms:
Effective Date: when does the agreement take effect
Full Disclosure: you must agree that, before signing the agreement, you both had the opportunity to examine your partner's financial situation, including net worth, assets, holdings, income, and liabilities
Independent Legal Advice: the courts will only uphold the agreement if you both had the opportunity to consult with qualified legal counsel before signing the agreement
Agreement on Payment of Expenses: before moving in together, decide how to split expenses when living together. This can include rent, mortgage payments, utilities, groceries, and other regular expenses.
Lists of Separate and Joint Property: this is where you define in the agreement to keep property separate. List property you acquired before becoming a couple and want to keep as separate property—including financial assets, household goods, vehicles, and other items. Similarly, list property owned jointly with your partner as joint property, which will be divided between the two of you upon death or separation.
Effect of Separation or Death: any property that is listed as "separate" in the living together agreement generally will not be shared with the other person if a death or separation occurs. In contrast, any property listed as "joint" will be shared with the other person. If you want your partner to have inheritance rights, you should clarify this wish in a will.
Effect of Marriage: clearly spells out whether the agreement continues in effect, ends upon marriage, or will be revised before marriage.
Cohabitation Agreement Template
Below is a sample cohabitation agreement available to download in PDF or Doc format.
Cohabitation Agreement Frequently Asked Questions
Can a cohabitation agreement be overturned?
Yes, a cohabitation agreement can be overturned. When the court reviews the agreement, they will consider the provisions mentioned in the document and check whether they are grossly unfair. This could mean the agreement favors one partner to such a degree that the other partner would be at a financial disadvantage or have their quality of life significantly reduced.
The court will also review the agreement with more scrutiny if children are involved, as they will only approve contractual agreements in the children's best interests.
Are cohabitation agreements legally binding?
Yes, cohabitation agreements are legally binding. However, this is dependent on whether the agreement has been drafted correctly. This includes filling in all required parts of the document, including provisions within the limits of the law and signatures by both parties.
You should also have your cohabitation agreement notarized, which proves to the court that neither party was coerced into signing the agreement.
How much does a cohabitation agreement cost?
How much a cohabitation agreement costs depends on the complexity of the agreement and whether you hire an attorney to help you draw up the document. On average, cohabitation agreements cost $400-500. However, this can easily turn into a few thousand dollars if a legal professional is involved.
You can create the document for free using our template or use our template builder to help you customize the agreement to your needs. But it's recommended to have the agreement checked by an attorney to make sure it covers everything.