A do not resuscitate order, or DNR form, is used by people who do not want to be revived if their heart stops. This means if you have a completed and signed DNR form, medical professionals will not save your life if you go into cardiac arrest or stop breathing.
DNR forms usually must be signed by your doctor, witnesses, and a notary public. In addition, you should familiarize yourself with your state's do not resuscitate laws before you complete your form.
1. What is a DNR Form?
A Do Not Resuscitate Form, or DNR Form, is an end-of-life medical directive which instructs health care professionals to withhold life-sustaining treatment at the behest of the patient.
Patients who choose to obtain a DNR order are assured that no resuscitation methods will be performed in the event of a medical emergency — it's important to understand what a DNR is before signing.
A DNR form is a specific document governing distinct forms of treatment and as a result there are essentially no differences between the multiple types of DNRs.
DNR forms may be known by the following names, depending on your location:
DNAR (Do Not Attempt Resuscitation)
AND (Allow Natural Death)
POLST (Physician Orders for Life-Sustaining Treatment)
MOLST (Medical Orders for Life-Sustaining Treatment)
In addition to a DNR form, the following are important estate and end-of-life planning documents:
What Does DNR Mean?
The definition of DNR in a DNR order simply stands for "do not resuscitate".
If your heart stops beating or you stop breathing, a DNR form restricts emergency medical technicians or hospital personnel from attempting to revive you.
What Does Resuscitate Mean?
In medical terms, "resuscitate" simply refers to the various procedures used by healthcare professionals in an emergency situation to revive a person from unconsciousness or the brink of death.
In the case of a DNR order, however, "resuscitate" specifically refers to the use of cardiopulmonary resuscitation — commonly referred to as CPR.
Basic CPR techniques involve a series of chest compressions and occasional mouth-to-mouth breathing.
Advanced cardiopulmonary resuscitation (typically performed by EMS responders or trained medical personnel) involves a device known as a defibrillator, or AED. An AED delivers an electrical shock to the patient in order to reestablish a steady rhythm to their heart beat.
As a reference, resuscitation methods may include:
Cardiac compression (or chest compressions)
Defibrillation (electrical shock)
Artificial ventilation (mouth-to-mouth breathing)
Intubation (advanced airway management involving a breathing tube)
A do not resuscitate form instructs medical professionals not to use any form of CPR (basic or advanced), should you become incapacitated and require a life-sustaining procedure.
2. When is a DNR Form Appropriate?
End-of-life planning can be a difficult subject to address, let alone navigate. But the fact of the matter is, we all must deal with this issue at some stage of our lives. Obtaining your own DNR document should not be taken lightly — as it truly addresses life and death matters.
Scenario #1: Patients / Individuals Diagnosed with a Terminal Condition
For anyone diagnosed with a painful or terminal condition, a DNR form can help avoid prolonged suffering. Making the choice to withdraw resuscitation in the event of a cardiac or respiratory arrest does not preclude that palliative care will be withheld. That is to say, the administration of pain-relieving medication and comfort care will still be offered, should you desire.
Scenario #2: Elderly Individuals
Age is another factor that's important to keep in mind when debating whether a DNR form is right for you. Resuscitation is an intense and oftentimes traumatic medical procedure which elderly patients may have trouble recovering from should it be successful.
Chest compressions must be applied with extreme force in order to get blood pumping through the heart. Broken ribs, bruised lungs, or even damage to the heart itself are all potential ramifications of successful CPR.
Intubation may also be used if a patient stops breathing. This invasive technique requires a tube to be rapidly inserted into the windpipe of a patient in order to manage airflow. This can lead to minor or severe complications such as damage to the esophagus and other tissue in the throat.
Scenario #3: Religious Values
Contrary to what some may think, signing a do not resuscitate order is not prohibited in the eyes of many religious institutions. With that said, each patient must consider their own personal ethics and religious values before authorizing any end-of-life planning documentation.
What Happens if a DNR is Not Followed?
In 2016, a woman in Santa Fe, New Mexico was admitted to the emergency room of a local hospital. Hospital staff attempted to resuscitate her twice — in direct violation of her do not resuscitate order.
This particular patient suffers from a rare condition which causes her immense pain and requires costly medication. As a result of this condition, she preemptively drafted a DNR form in order to avoid further expense and suffering. The hospital staff ignored her DNR form, and she filed a lawsuit shortly after the ordeal.
Signing a DNR is the same as any other legally-binding document. Once your DNR papers have been approved and filed into your medical records, they must be recognized and followed by any physician that treats you.
Additionally, your family can not override your DNR form against your will. Unless you have authorized someone to act on your behalf as your health care representative (either within the DNR itself or through a medical power of attorney), only you may choose to revoke your DNR form.
Free DNR Form Sample (PDF & Word)
You can use our free DNR template as an example for creating your own:
DNR Form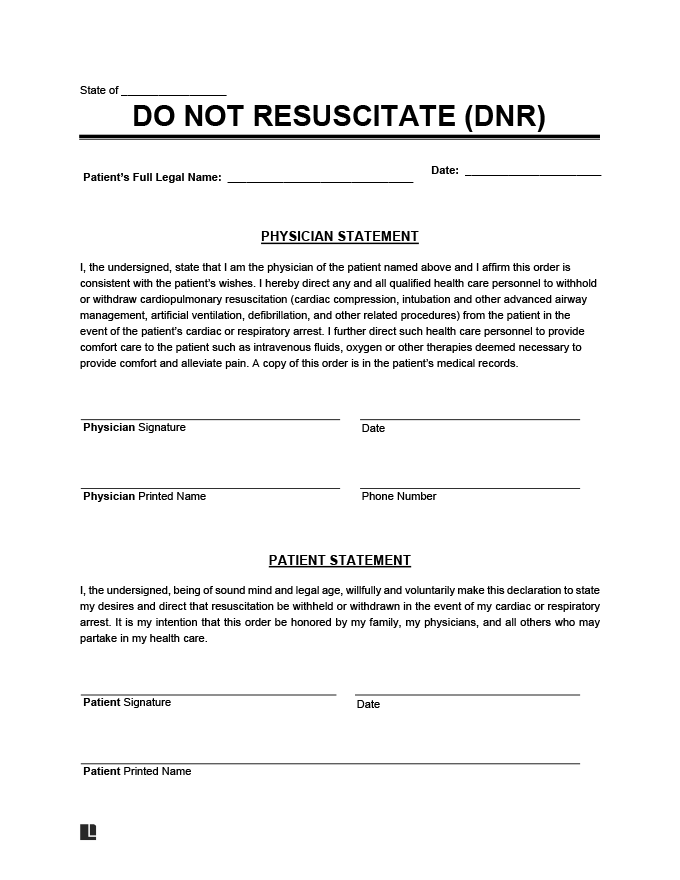 3. How to Get a DNR Form
Once you've decided to create your own document, there are plenty of ways for you to get a DNR form.
Our DNR form builder handles all of the necessary DNR paperwork for you. Upon completion, take your DNR medical form to your physician and have them sign it. Your doctor should then file it with the rest of your medical records.
In some instances, EMTs arriving on the scene of a medical emergency may not immediately be able to identify you or have access to your medical records on hand. Ask your doctor where you can find an official DNR bracelet which can be on your person at all times — instructing first responders how to proceed.
4. Do Not Resuscitate Laws by State
Nearly every state in America has guidelines governing do not resuscitate orders. These laws ensure patients retain a sense of control over their end-of-life planning.
The following table shows which states require signatures from patients, physicians, witnesses, a notary public, or some combination of each, in order for a DNR form to be legally valid.
State
Who Needs to Sign?
Legal Code
Alabama
Patient and Physician
AL Code § 420-5-19-.02
Alaska
Patient and either a Witness, Notary Public, or Physician
AK Stat 13.52.150
Arizona
Patient, Physician, and Witness
AZ Rev Stat § 36-3251
Arkansas
Patient and either a Notary Public or 2 Witnesses
AR Code § 20-13-901
California
Patient and Primary Physician
CA Prob Code § 4780
Colorado
Patient and Attending Physician
CO Rev Stat § 15-18.6-103
Connecticut
Patient and Physician
CT Gen Stat § 19a-580d
Delaware
Patient and 2 Witnesses
16 DE Code § 2505
Florida
Patient and Primary Physician
FL Stat § 401.45
Georgia
Patient and Attending Physician
GA Code § 31-39.6.1
Hawaii
Patient and Attending Physician
HI Rev Stat § 327K-2
Idaho
Patient and Physician
ID Code § 39-4514
Illinois
Patient and Witness
755 ILCS 40/65
Indiana
Patient, Physician, and 2 Witnesses
IN Code § 16-36-5
Iowa
Physician
IA Code § 144A.7A
Kansas
Patient and Witness
KS Stat § 65-4943
Kentucky
Patient and Primary Physician
KY Rev Stat § 311.6225
Louisiana
Patient and 2 Witnesses
LA Rev Stat § 40:1151.2
Maine
Patient and 2 Witnesses
ME Rev Stat § 5-805
Maryland
Patient and Physician
MD Health-Gen Code § 5-608.1
Massachusetts
Patient and Physician
None
Michigan
Patient, Attending Physician, and 2 Witnesses
MI Comp Laws § 333.1053
Minnesota
Patient and either a Notary Public or 2 Witnesses
MN Stat Chapter 145C
Mississippi
Patient and Physician
MS Code § 41-41-302
Missouri
Patient and Attending Physician
MO Rev Stat § 190.600
Montana
Patient and 2 Witnesses
MT Code § 50-9-103
Nebraska
Patient and either a Notary Public or 2 Witnesses
NE Code § 20-404
Nevada
Patient and Attending Physician
NV Rev Stat § 450B.520
New Hampshire
Patient and Attending Physician
NH Rev Stat § 137-J:26
New Jersey
Patient and Attending Physician
NJ Admin Code § 10:48B
New Mexico
Patient and Physician
NM Stat § 7.27.6.8
New York
Patient and Physician
NY Public Health Article 29-B
North Carolina
Patient, a Notary Public, and 2 Witnesses
NC Gen Stat § 90-321
North Dakota
Patient and either a Notary Public or 2 Witnesses
ND Cent Code § 23-06.5
Ohio
Patient and Physician
OH Admin Code § 3701-62
Oklahoma
Patient, Physician, and 2 Witnesses
OK Stat § 63-3131.5
Oregon
Patient and 2 Witnesses
OR Rev Stat § 127.810
Pennsylvania
Patient and Attending Physician
PA Con Stat Title 20 § 5484
Rhode Island
Patient and 2 Witnesses
RI Gen Laws § 23-4.11
South Carolina
Patient and Physician
SC Code § 44-78-10
South Dakota
Patient and Attending Physician
SD Admin Rules § 44:05:06
Tennessee
Patient and Physician
TN Code § 68-11-224
Texas
Patient and either a Notary Public or 2 Witnesses
TX HSC Chapter 166
Utah
Patient and Physician
UT Admin Code § R432-31
Vermont
Patient and Physician
VT Stat Title 18 Chapter 231
Virginia
Patient and Physician
VA Code § 54.1-2987.1
Washington
Patient and 2 Witnesses
WA Rev Code § 70.245
West Virginia
Patient and Physician
WV Code § 16-30
Wisconsin
Patient and Physician
WI Stat § 154.17
Wyoming
Patient and Physician
WY Stat § 35-22-501