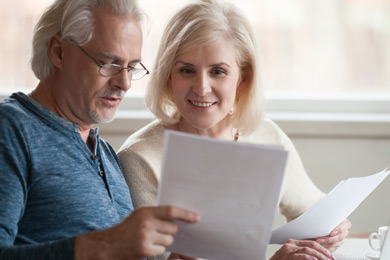 Many of us have considered writing a will, but you need several other legal documents to cover all aspects of your end-of-life care and wishes. Without them, your family members will have to make tough decisions on your behalf, not knowing what you would have wanted.
This illustrated guide explains the nine most important end-of-life documents. Plan for yourself and your loved ones and create these essential end-of-life planning documents today:
The nine legal documents covered in this infographic complement each other to form a comprehensive end-of-life plan. Let's take a closer look at each.
#1 DNR (Do Not Resuscitate) Order
A DNR form — also referred to as "allow natural death" or "no-code" — communicates that you don't want to receive life-sustaining treatment in the event of cardiac or respiratory arrest.
In other words, if you want medical professionals to allow for a natural death instead of restarting your heart or performing CPR, you and your physician should sign a DNR order.
► READ MORE: What is a DNR?
#2 Living Will
Complexity level: Intermediate
A living will indicates your wishes for end-of-life medical decisions if you have been diagnosed with a terminal illness and cannot communicate. Having this document in place alleviates the emotional burden your loved ones may have from making tough decisions on your behalf.
Your living will should state your preferences regarding end-of-life medical care, such as:
Tube feeding;
Dialysis;
Resuscitation;
Comfort care and pain management;
Mechanical ventilation;
Antibiotics and other medications;
Organ and tissue donation.
Even if you're a registered organ donor with a DNR form, repeating these preferences in your living will is still a good idea.
Some states require an advance directive combining a living will and medical power of attorney.
#3 Last Will and Testament
Complexity level: Intermediate to Advanced
A last will and testament outlines how you want to distribute your assets after death. Also called a "will" or "last will," this document should not be confused with a living will, which is used to document medical care preferences.
In this document, you name an executor (and successor executors) to manage your estate based on your wishes and assign beneficiaries to inherit assets.
You can also use your last will and testament to indicate funeral preferences, especially if you want to set aside funds for service.
#4 Living Trust
Complexity level: Advanced
A living trust is a legal document that places your assets into a trust and designates how the assets will be distributed after your death. Different types of trusts allow you to manage your estate according to your preferences.
On top of the different types, trusts can also be revocable or irrevocable. Generally speaking, most people choose to create a revocable living trust, as it allows amendment while they are still living and competent. An irrevocable living trust, on the other hand, cannot be altered without a court order or the unanimous consent of all beneficiaries.
Unlike a last will, a trust avoids the probate process, saving your beneficiaries time and money.
#5 Financial Power of Attorney
Complexity level: Basic to Intermediate
A financial power of attorney (financial POA) gives a person of your choosing (called an agent, attorney-in-fact, or proxy) the legal ability to act on your behalf and help manage your financial affairs.
With this highly customizable document, you can empower your agent with a range of financial decisions — from specialized tasks such as property sales to the comprehensive oversight of your entire scope of financial assets should you become incapacitated.
#6 Medical Power of Attorney
A medical power of attorney lets you appoint a healthcare proxy (or healthcare agent) to make medical decisions on your behalf if you cannot communicate your wishes regarding medical treatments and care. Unlike a financial POA, this type of POA doesn't give your agent access to your finances.
Some states require an advance directive combining a medical power of attorney with a living will.
#7 Organ and Tissue Donation
You must register as an organ donor to donate your organs and tissues to someone in need after death.
Take a moment to ensure you are registered if this is part of your final wishes.
#8 Funeral Plan and Obituary
Planning your funeral can seem daunting, but it's a tremendous gift to your loved ones to indicate your funeral preferences and set aside funds so they don't have to plan while grieving.
Creating a funeral plan also allows you to consider how you'd like to be remembered — through a service, obituary, epitaph, or any other form you choose.
#9 Personal and Financial Records
Organize your papers so that the right people can access them if you have a medical emergency. In addition to your personal and financial records, instructions for important matters, such as your medications, how and when bills are paid, and debts you're owed.
What's Next?
With these documents in place, you can ensure your family and medical professionals know how to fulfill your wishes in case you can't express them yourself. Take steps today to ensure you have all the necessary estate planning documents to create a comprehensive estate plan and give yourself peace of mind.