Table of Contents
1. Download a Free Codicil to Will
Download: MS Word (.docx) or Adobe PDF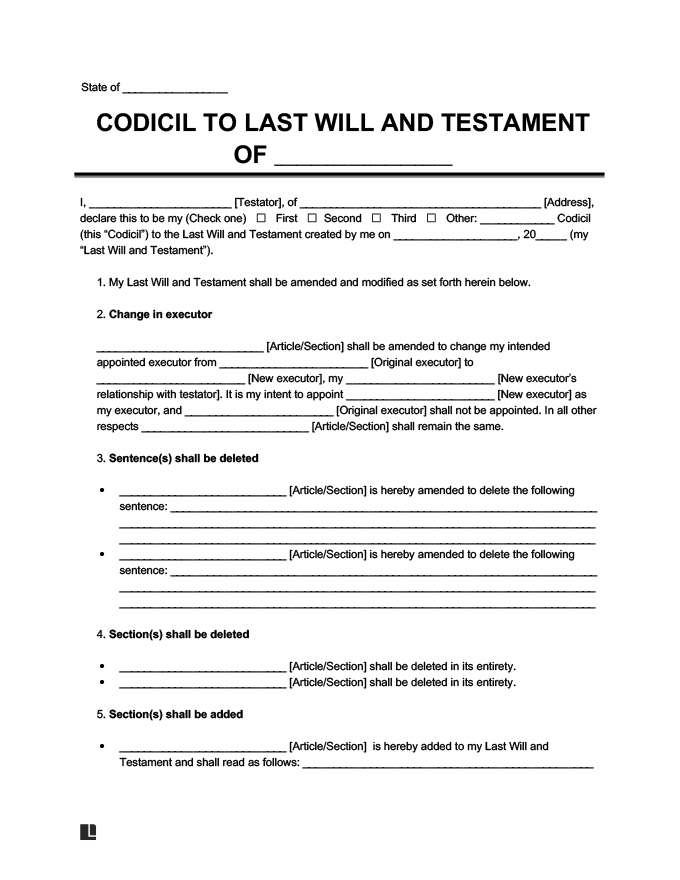 2. What is a Codicil to Will?
A Codicil to Will, or Codicil, is a written document altering, amending, explaining, revoking, or adding to a previously executed Last Will and Testament, or Last Will. A Codicil is needed to reflect any important changes in your life and the impact they have on the dispositions and arrangements after your death you had previously made in a properly executed Last Will.
Here are some common terms:
Testator: the person making the Codicil, who must be the same person that made the Last Will that is being amended.
Additions: Any sentences or sections being added to the original will.
Subtractions: Any sentences or sections removed from the original will.
Modifications: Any additional changes made to the original will.
Effective Date: The date the new changes will be taken into effect.
Signatures: The testator must sign the Codicil in front of two or three witnesses.
Witnesses: The witnesses must attest to the authenticity of the will.
Self-Proving Affidavit: An attestation attached to the Codicil, signed by the testator and the witnesses and notarized by a notary public, that "proves" your Codicil is authentic in probate court.
Here are some other names:
Amendment to Last Will and Testament
Addendum to Last Wast Will and Testament
Last Will and Testament Modification
Codicil to Will PDF Sample
The sample codicil to will below details changes to the last will and testament of 'Jarvis B Jones'. In this codicil, Jarvis B Jones states that he would like a passage of his will to be deleted in its entirety, and otherwise agrees to reaffirm and republish the other parts of the will.
Codicil to Last Will and Testament

3. When Do I Need a Codicil to Will?
A Codicil should be used for minor changes and alterations to your original will. It should not substantially change the meaning of the original will or affect the overall purpose of the original will.
Here are some ways it can be used:
Change the Executor: The executor is the person you appoint to handle the distribution of your estate and make sure the directions in your Last Will are followed. If for whatever reason you want to change the executor named in your original will, you have the right to do so.
Appoint a Guardian: If you get a dog after you executed your Last Will, you can update it by appointing a guardian to take responsibility of your four-legged friend after you pass.
Redistribute Assets: If you become invested in a new charity, or if a named beneficiary dies or otherwise leaves your life, you can change the original distribution of assets in your Last Will.
Distribute New Assets: If you have purchased new property, you can update your Last Will by detailing how the new assets will be distributed.
Plan Your Funeral: Perhaps you recently decided that you don't want to have a traditional burial and want your ashes scattered across the Pacific Ocean. You can change just that part of you original will, rather than rewriting the entire thing.
Correct Mistakes: If you discover one of your beneficiaries' name is misspelled or one of your personal items is improperly described, it is important to correct that mistake to avoid confusion later.
You should keep in mind that if you are substantially altering your Last Will, you are better off revoking it and drafting a new will rather than using a Codicil. The more complicated a Codicil, the higher likelihood of future disputes and unenforceability. The original will and each Codicil needs to be proven to be true and authentic statements of your wishes during the probate process, which can create unnecessary confusion and aggravation for your loved ones.
A Codicil should not be used when (1) the changes are inherently different from the heart or nature of the distributions of the original will (2) all or most of the gifts have been destroyed or sold, (3) the testator divorces, marries, or has a falling out with a beneficiary (4) a new child is born or adopted, (5) the testator undergoes a large change in financial status, or (5) it will create any uncertainty or ambiguities.
A Codicil also requires that the testator abide by the same formal execution requirements as a will, so the process is not any simpler than creating a new will. Therefore, unless you are making very minor changes, creating a new will may be advisable in most situations.
4. Consequences of Not Using a Codicil to Will
Life is ever changing and unpredictable, and sometimes the circumstances in your life change enough to warrant a revision to your Last Will. However, if you want to make a change, you can't simply just cross out the unwanted provisions and write in new ones. Without a Codicil, you will be unable to have your Last Will reflect the changes in your life, thus leaving nothing or the wrong items to loved ones or even the wrong people.
Ademption
Sometimes, certain gifts left to beneficiaries are no longer in the state or are substantially changed and therefore fail or are adeemed. In general, ademption occurs in two forms: ademption by extinction and ademption by satisfaction.
Ademption by extinction occurs when the property bequeathed is no longer in the testator's estate or is substantially changed and therefore cannot be given to the beneficiary. For example, if you leave your farm to your niece, but at the time of your death you no longer own the farm or the farm is now a luxury hotel, the gift can no longer be given to your niece and is adeemed by extinction.
Ademption by satisfaction occurs when the testator gives the bequest in the will to the beneficiary while the testator is still alive. For example, if in your will you leave your Rolex to your grandson, but decide to give the watch to him for his high school graduation, the gift can no longer be given once you pass and is adeemed by satisfaction.
Circumstances such as ademption or other mistakes may leave openings for family members to contest other parts of your Last Will. A Codicil allows you to make minor changes or correct small mistakes, without the time and expense of having to draft a whole new will.
Here is a chart of possible consequences a Codicil could help prevent for a testator and beneficiaries of the will:
| Testator | Beneficiaries |
| --- | --- |
| Your recent ex-spouse administering your estate and assets | An incompetent or prejudiced executor improperly carry out the testator's wishes |
| Having a guardian who is deceased still be the named guardian for your children or loved ones | Living with a guardian who the testator did not appoint to care for you |
| Gifting an asset(s) that no longer exists at the time of your death | Not receiving a gift because the gift doesn't exist at the time of the testator's death |
| Gifting an asset(s) that can be interpreted to have different meanings | Not receiving a gift because the testator didn't specify the asset and their charitable intent |
| Failing to have your will reflect the changing circumstances of your life and charitable intent | Not being provided for because the testator's charitable intent could not be ascertained |
| Confusion and fighting amongst family members as to who receives what | Confusion and aggravation from having a court interpret the will |