1. Last Will and Testament: The Basics
A Last Will and Testament is often called simply a "Last Will." It is a document delineating your wishes for how your property and affairs are to be handled after you pass away. It tells the court in a probate hearing – the legal process that validates a Last Will or distributes assets after a person dies – what to do with your property and other affairs. This includes not only who gets your valuables, but also how to address your debts and expenses, as well as any charitable contributions or other bequests.
As a reference, this document is known by other names:
Last Will
Will and Testament
Will
Common terms:
Do I really need one?
Yes, you really do. If you don't have one, you put yourself and loved ones at risk for a number of problems:
No control over who gets your property – the state decides, meaning your spouse, children, parents, or siblings (in that order)
Children may not receive their inheritance, which goes to a second spouse instead
Children could dispute who receives exactly what, causing rifts in your family
You get no say over your funeral, including what happens with your remains or amount of money spent
Courts appoint an unwanted guardian for children, elderly parents, or pets
Digital property and online accounts could come under the control of an unwanted person
2. How to Write Your Last Will
To write your Will, be sure to include each of the following features:
Appoint an Executor
The executor is the person you designate to settle your affairs and ensure the stipulations in your Last Will are carried out. You should also designate a backup executor in case your appointed person pre-deceases you or is otherwise unable to serve. The executor can be paid a fee as you see fit. The compensation can be a percentage of your total estate, a flat fee, or an hourly fee.
An executor bond protects heirs from any possible mismanagement or fraud, and helps ensure that the executor follows the wishes in your Last Will or the state intestacy law.
Designate Guardians
A guardian takes responsibility for any dependent minors or elders if you and your spouse are deceased or unable. You can further appoint a pet caretaker and set aside money for the care of the animal.
Identify Assets and Beneficiaries
Your assets are your money and property. They can be either real assets, e.g., tangible personal property, land, houses, etc., or digital assets, e.g., online accounts including social media accounts, domain names, etc., or money in various online accounts. Your Last Will should identify all of your assets and what is to be done with them.
Beneficiaries are the people or organizations who are to receive your assets. These can obviously be family and friends, but oftentimes can be individuals or organizations you're indebted to, charitable organizations, or other institutions you wish to bequest with your valuable assets, e.g., a university or church.
Keep in mind that before your assets are distributed to beneficiaries, debtors collect what is owed. The remainder is your residuary estate. In other words, it's anything left in your estate after all debts have been paid.
Remember that only assets owned solely by you at the time of your death are included in your estate. For example, a joint bank account in the name of you and your spouse will not be part of your estate, as it becomes the property of the other owner (e.g., your spouse). This can apply to homes, automobiles, land, life insurance, or any asset that includes more than one owner on the title or designates in the title who any beneficiaries will be.
Plan Your Funeral and Allocate Funds for it and Other Postmortem Affairs
By making a Last Will form, you ensure that your funeral wishes are fulfilled. As such, you should plan for your funeral, including how and where it is to be conducted, and allocate money for it.
Also, if you accrue significant medical expenses in the days before your death, you can put aside funds to cover those expenses.
Name a Witness and Sign
To make the document official, and it must be signed by both you and at least two witnesses. State laws vary on who can be a witness, but typically he or she must be a disinterested party, of legal age, and of "sound mind."
Everyone should strongly consider having a Last Will as part of their estate plan to take care of property and other assets owned at the time of their death. According to the American Bar Association, you do not have to use a lawyer to write one.
Instead, it is legally valid if it meets your state's legal requirements. If, however, you have extensive wealth or complicated concerns, a lawyer can help you navigate the legal or tax implications of your bequests and preferences.
3. When Do I Need One?
You generally need a Last Will when you expect to own property at the time of your death. Consider creating one if any of the following applies to your current situation:
Traveling or living abroad for an extensive period of time

Changed residences or purchased a new home

Serving in the military or armed forces

Came into new wealth, assets, or property

Recently married or divorced

A parent or grandparent

A concerned pet owner
4. Distribution of Assets
The most common distribution scheme is to leave all of the assets owned at the death of the testator to the surviving spouse. If the spouse passes away first, then all of the assets would instead go to the children equally. The distribution to the children would be "per stirpes", meaning that the assets in the estate are divided into equal shares among each branch of the family. In other words, there are as many shares as there are people on that family level.
For example, if the testator has two children and no surviving spouse, his or her estate would be divided in half, with one half going to each child. If one of the children has already died, but leaves behind three children (grandchildren of the testator), then that deceased child's half is further divided into three parts, with one part going to each of the deceased's child children (i.e. testator's grandchildren). In this way, you can prepare a document that takes into account various contingencies in the future and not have to update your will.
Of course, the testator can also allocate different percentages to different family members, or allocate any portion of his assets to a specific person or entity, leaving the balance for distribution to his family.
5. Download a Free Template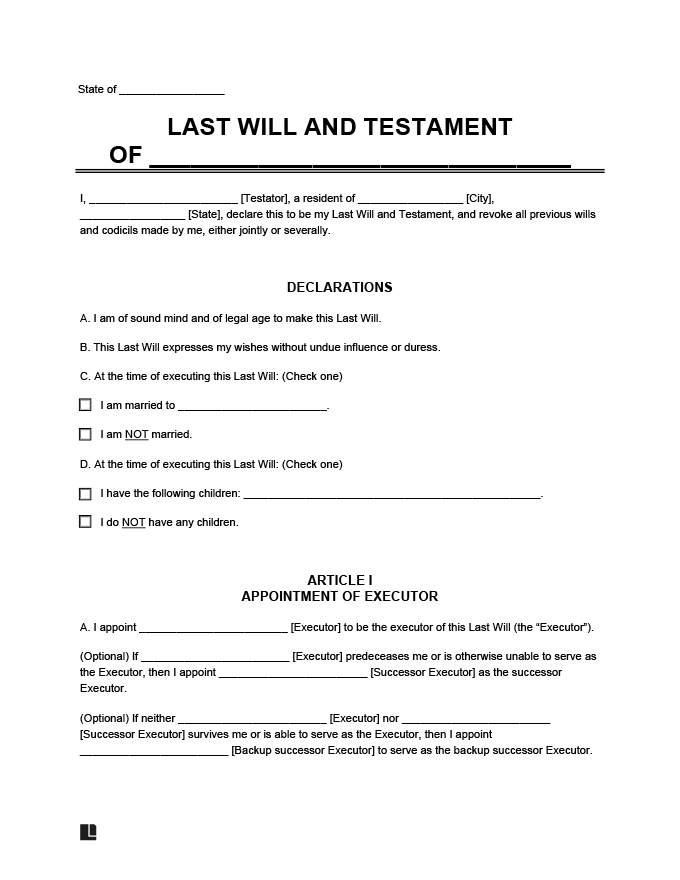 Our free Last Will and Testament template helps you to designate your executor, name beneficiaries, and ensure that your instructions for your assets and posthumous concerns are followed, with the weight of law behind them.
Be sure to be as detailed as possible, including conditions for property bequests, exact monetary amounts, and descriptions of art, jewelry, or other valuable assets you are leaving to loved ones or various organizations.