Table of Contents
1. Download a Virginia Medical Power of Attorney Sample
Your Free Virginia Medical Power of Attorney Download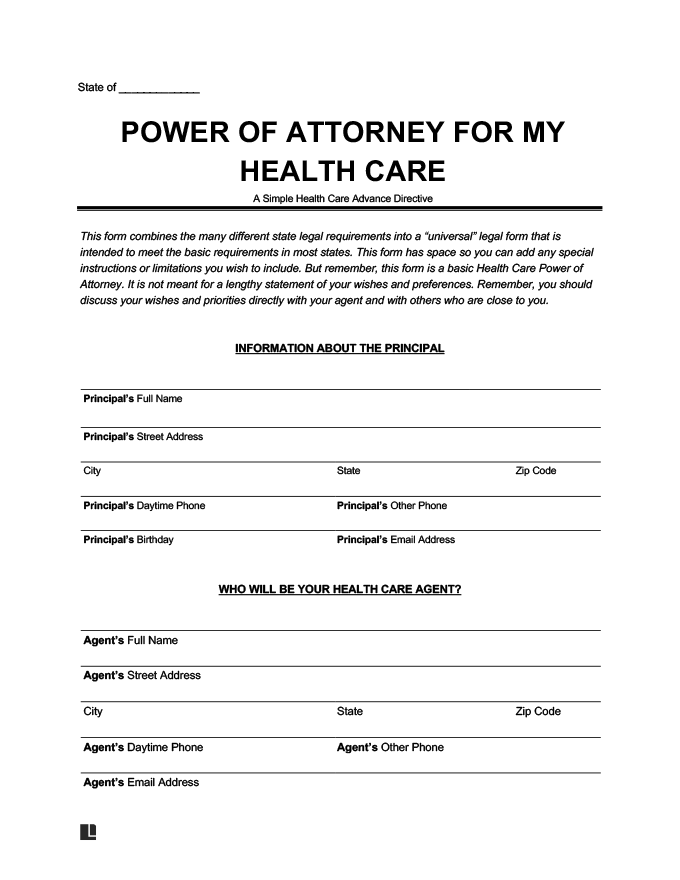 2. What is a Virginia Medical Power of Attorney?
A Virginia Medical Power of Attorney is a document that allows you to specify how you wish to be cared for as well as who will be in charge of critical healthcare decisions–in the event you become incapacitated.
Often referred to as a Virginia Health Care Power of Attorney, this document grants you a greater feeling of control as you plan for your future.
As you complete your Virginia Medical Power of Attorney form, you may encounter a variety of unfamiliar terms. These key terms outlined in Chapter 29, Section 54.1-2982 of the Virginia Health Care Decision Act, are especially important:
Attending physician: The doctor who holds primary responsibility over your healthcare.
Capacity reviewer: A licensed physician or clinical psychologist who possesses the necessary qualifications to assess your ability to make informed decisions.
Declarant: An adult who creates an advance directive, while they are still capable of making and communicating informed decisions.  In this case, the declarant is you.
Patient care consulting committee: A committee of five duly organized by a facility licensed to provide healthcare, or a hospital or nursing home as defined in § 32.1-123. The committee shall include at least one physician, one individual with multistate licensure privilege for professional nursing, and one person charged with providing social services to patients of a given facility.
Persistent vegetative state: A patient in a persistent vegetative state has suffered a loss of consciousness and exhibits no signs of self-awareness or awareness of his or her surroundings–other than reflect activity of muscles and nerves for low level conditioned response.
3. Who Should Have a Virginia Medical Power of Attorney?
Regardless of your current age, health status, or financial concerns, it behooves you to plan for your medical future. Equipped with a Virginia Health Care Power of Attorney, you can take solace knowing that your future rests in capable hands. While you're encouraged to draft this document as soon as possible, you may find that the following circumstances spur you to take action:
Moving out of state
Changing professions
Retiring
Pregnancy or adoption
Having grandchildren
Caring for an incapacitated friend or family member
Loss of a loved one
4. How to Select Your Agent
A key element of your medical power of attorney is selecting an agent. This individual will be charged with making critical decisions when you can no longer do so yourself. While you can technically choose any adult, who does not serve as witness when you sign your power of attorney, some people are better suited to this important role than others. Keep these considerations in mind as you make this difficult decision:
Age: According to Chapter 29, Section 54.1-2982 of the Virginia Health Care Decisions Act, your agent must be an adult. However, beyond your agent's age, it's important to consider whether he or she is mature enough to handle this difficult decision. Conversely, you'll want your agent to be in good health and able to execute his or her duties if you become incapacitated far in the future.
Willingness to abide by your wishes: Do you and your agent share moral or religious convictions? While this is by no means required, it can make difficult decisions a lot easier for agents, who may otherwise struggle to abide by your wishes.
Emotional impact: Some people simply cannot handle the emotional burden of making critical decisions on behalf of incapacitated individuals—particularly loved ones they've seen at their prime. Discuss your power of attorney with your agent well in advance to ensure he or she can handle the emotional challenges of this responsibility.
4. Which Decisions Can Your Agent Make on Your Behalf
When you become incapacitated, your agent will receive broad authority over to make health care decisions on your behalf, as defined in § 54.1-2986.1 of the Virginia Health Care Decisions Act. These decisions include, but are not limited to, the following:
Granting the release of medical records
Authority over who is allowed to visit you when you're incapacitated
Approval or refusal of the use of specific medical treatments
Approval or refusal of your participation in a healthcare study § 54.1 0 2983.1.
Which Decisions is Your Agent Barred From Making?
While the Virginia Health Care Decisions Act places minimal restrictions on your agent, Chapter 29, Section 54.1-2983.3 barres your agent from making the following decisions on your behalf:
Abortion
Non-Therapeutic sterilization
Psychosurgery
Your agent is also barred from making any decisions you have explicitly labelled as out of their control in your medical power of attorney document.
If you did not provide instructions or identify the type of care you desire in specific situations, your agent will hold broad discretion.
5. What if You Change Your Mind?
No matter how confident you currently feel in your selected agent, circumstances can change.
It's possible that you may be compelled to change the agent listed in your health care power of attorney due to unforeseen circumstances such as divorce, separation, or a falling out with a loved one.
Luckily, it's not difficult to make changes to your Virginia Medical Power of Attorney. Chapter 29, Section 54.1-2985 of the Virginia Health Care Decisions Act outlines several valid ways for you to revoke or alter your decisions, including:
A signed and dated document declaring your intention to revoke
Oral expression of your decision to revoke
The physical destruction of the original document
6. How to Complete Your Virginia Medical Power of Attorney
In order to authenticate your Virginia Health Care Power of Attorney, you're required to sign the document in the presence of two subscribing witnesses. According to Chapter 29, Section 54.1-2982 of the Code of Virginia, your witnesses must be at least 18 years old. Spouses and blood relatives are permitted to act as witnesses, as are healthcare facility employees acting in good faith.
If your attending physician has diagnosed you with a terminal illness or condition, but you're still capable of making informed decisions, you may complete an oral advance directive outlining the types of medical care you wish to receive or not receive. As with the written version, your oral advance directive should also designate an agent who will handle healthcare decisions when you lack capacity. This oral directive must be completed in the presence of not only two witnesses, but also your attending physician.
If you've completed a written medical power of attorney form, it is your responsibility to notify your attending physician. Likewise, if you've submitted your document  to the Advance Health Care Directive Registry as outlined in Chapter 29, Section 54.1-2994 of the Health Care Decisions Act, you are responsible for notifying your physician so he or she can gain access.
Your Virginia Medical Power of Attorney could play a huge role not only in your healthcare future, but also the future of your close friends and family members. This may not be an easy document to complete, but it's well worth the effort.