A tenant Notice to Vacate Letter is a legal document a tenant sends to a landlord to inform of a plan to move out of an apartment, condo, house, or another rental residence.
What is a Letter to Vacate?
If you need to break your lease early, you can use a notice to vacate letter to inform your landlord, but be advised that additional fees may apply or you may not get your security deposit back (check your state's rental laws).
Other names for a notice to vacate letter include:
Letter to Vacate Premises
Notice of Intent to Vacate
Move-Out Notice
‌There is no specific format required for creating a notice to vacate letter, but legally there are some elements it must have:
Date the tenant will vacate the property: It's important the tenant checks the lease before choosing a move-out date. The lease may require the tenant send a notice a certain number of days before the lease term expires, so the contract doesn't automatically renew.
Date the letter is sent: You must include the date to prove you delivered your notice to vacate letter within any time noted on your Lease Agreement.
Landlord's address/property address: Check your lease carefully for the landlord's address. Often, it's not the same address where you send rent checks, especially if the landlord owns multiple properties or uses a property management company.
Final walkthrough request: Typically, your landlord will require a final walkthrough after you've removed all your belongings from the property. You should schedule this with your landlord so they can return your security deposit promptly.
Relevant lease clauses: You may want to reference one or more clauses from the lease agreement that indicate the amount of notice you're required to give before terminating the lease, and whether or not a walkthrough is needed.
Forwarding address: This is where you will receive your security deposit check and any other mail that needs to be sent to you.
How to Send a Notice to Vacate
You should send a notice to vacate letter to your landlord so the property owner understands your plans to vacate the premises soon.
Tenants typically send this letter 30, 60, or 90 days before the intended move-out date, depending on the requirements of the lease.
‌When writing a letter to vacate premises, include the date you (the tenant) will leave the property, where the landlord should send the security deposit, and any relevant details from the original lease agreement.
At a minimum, you should send your notice to vacate letter with a tracking number and keep your receipt as proof of delivery. However, the safest way to ensure proof of delivery is to send it via certified mail and keep the receipt and the signed proof of receipt.
Do I Need to Write a Notice to Vacate Letter? What Happens if I Don't?
You do not need to write a notice to vacate unless your lease requires one. However, we always recommend putting this notice in writing because it ensures you and your landlord are on the same page about your plans.
It is a good idea to write a notice to vacate letter if:
Your lease is up for renewal: If your lease automatically renews or rolls over to a month-to-month at the end of the lease term, then you should send in a notice of intent to vacate so you don't end up paying rent for an apartment you no longer live in.
You plan to leave early: Especially if it's for cause or your landlord was initially okay with you leaving, breaking the lease may subject you to other fees or penalties based on the lease terms. Having your agreement in writing will be essential if you go to court.
You have had a contentious or litigious relationship with the landlord: If your relationship with your landlord is already precarious, it is essential to get everything documented in case your landlord tries to claim you did not give them proper notice before moving out.
Ensure you are following all the guidelines in your lease agreement and documenting each part of the process.
What do you write in a notice to vacate?
Your notice to vacate letter should include the following:
The date your letter is sent
The date of your planned move-out
The landlord's correct address
The rental property address
A final walkthrough request
Your new forwarding address
Ensure you and other tenants sign the letter before sending it to your landlord.
The Pros and Cons of a Notice to Vacate Letter
The main benefit of a notice to vacate letter is that it ensures you have followed proper procedures and you are on the same page with your landlord when moving out of your apartment. Even if notice is not required, the extra step can go a long way in preventing a dispute.
The only downside to writing a notice to vacate is that it requires a little time and planning to do it right. Considering the long-term benefits, though, it is worth your effort to take a few minutes to write and deliver a notice to vacate letter.
Notice to Vacate Sample
Below, you can find what a notice to vacate typically looks like:
Notice to Vacate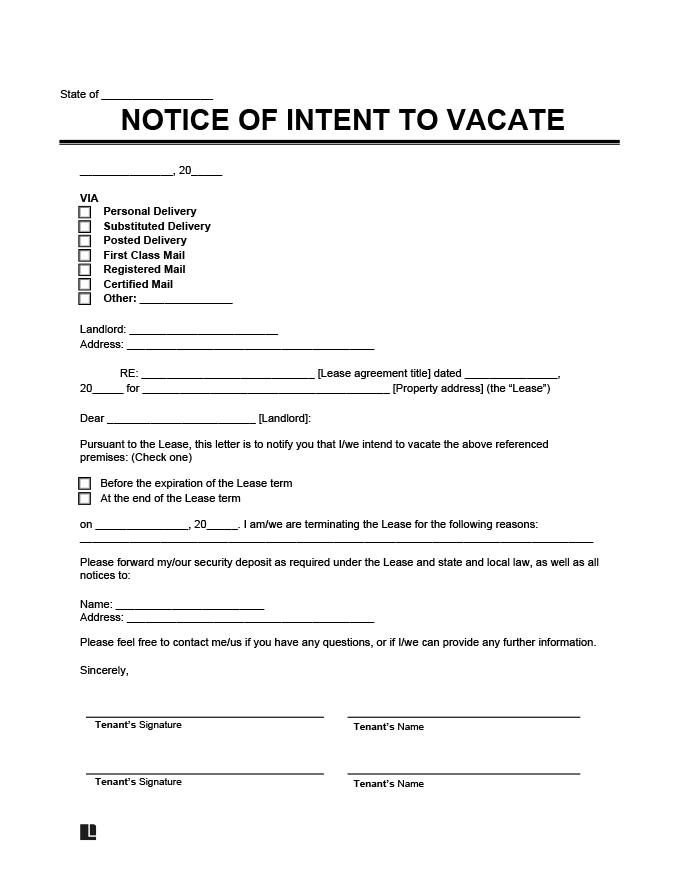 Notice to Vacate Example Letter
Below is an example of a notice to vacate letter:
In this case, the tenant (Ella Baker) informs her landlord (Justine King) of her intention to vacate the property at the end of the rental period so the lease doesn't automatically renew.
Use our step-by-step document builder to easily and quickly create a customized notice to vacate letter that you can send to your landlord.
How to Write a Notice to Vacate Letter
Before filling out a notice to vacate letter, ensure you write the state you are in at the top of your form. Additionally, date the document with the month, day, and year you fill out the form.
Step 1 – Provide Delivery Method
1. Method of Delivery. Choose the method of delivery of this notice to the landlord. Personal delivery is when you give (personally hand) the notice directly to the landlord. Substituted delivery is when you give the notice to someone other than the landlord at the landlord's office or home. Posted delivery is when you post (nail, tape, attach) the notice to the landlord's front door. Registered and certified mail is delivery you can use through the U.S. postal service.
Step 2 – Fill in Landlord Details
2. Landlord Name. Write the full name of the landlord. This is the party who owns the property you are renting or leasing.
3. Landlord Address. Enter the landlord's current mailing address.
Step 3 – Identify Lease Agreement Details
4. Lease Agreement Title. Provide the full name/title of the original lease or rental agreement you entered into with the landlord.
5. Lease Agreement Date. Fill in the date you entered into the original lease or rental agreement. In most cases, this is the date you and the landlord signed the agreement.
6. Property Address. Write the street (physical) address of the property you are leasing or renting. Include any unit or apartment number, if applicable.
Step 4 – Enter Vacate Details
7. Vacate Date. Enter the date you plan to vacate or leave the property, and indicate whether that date is before or at the end of the lease term.
8. Vacate Reason. This is optional, but you can provide the reason for terming the lease or rental agreement. Providing a reason is helpful if the tenant wants to terminate the lease before the end of the lease term.
Step 5 – Write Security Deposit and Notices Information
9. Where to Forward Security Deposit. Provide the full name and address of where the landlord should forward any security deposit and notices.
You can find more information about writing a notice to vacate in our notice to vacate guide.
Notice to Vacate Letter FAQs
Can a 30-day notice be handwritten?
You can hand-write a 30-day notice to vacate letter, but we recommend typing or printing it because it looks more professional. The most important thing is that your notice to vacate letter contains all the details noted above.
How Much Does it Cost to Produce a Notice to Vacate Letter?
Writing your letter costs nothing, and our downloadable templates are free. You will only be out the cost of mailing your notice to vacate letter.
The best way to lower moving costs is to make sure you deliver your notice to vacate letter in plenty of time so your lease doesn't automatically renew.
Can I state my complaints about building management in the notice to vacate property letter?
‌
No, you shouldn't include any complaints about the building management in a notice to vacate letter since it's a formal document that serves as a record of your leaving the property. If needed, you can contact your landlord or building manager about your concerns separately.