A tenant notice to vacate letter is a legal document you (the tenant) send to your landlord/landlady to inform them that you're planning to move out of your apartment, condo, house, or other rental residence.
A notice to vacate letter is sometimes referred to by other names:
Letter to Vacate Premises
Notice of Intent to Vacate
Move Out Notice
How to Write a Notice to Vacate Letter
You should send a notice to vacate letter to your landlord so they understand your plans to vacate the premises in the near future. It's typically sent 30, 60, or 90 days before the intended move-out date, depending on the requirements of the lease.
‌When writing a letter to vacate premises, include the date you (the tenant) will leave the property, where the security deposit and invoice should be sent, and any relevant details from the original lease agreement.
If you're unsure how to write it, you can use our notice to vacate template. Simply fill in the necessary details and send the letter to your landlord.
You can also find more information about writing one in our notice to vacate guide.
Notice to Vacate Example Letter
Below is an example of a notice to vacate letter:
In this case, the tenant (Ella Baker) is informing her landlord (Justine King) of her intention to vacate the property at the end of the rental period so the lease doesn't automatically renew.
Tips for Writing a Letter to Vacate
‌There's no specific format required for creating a notice to vacate letter, but legally there are some elements it must have:
Date you will vacate the property: It's important to check your lease before choosing your move-out date. Your lease may need you to send a notice a certain number of days before the lease expires so the lease doesn't automatically renew.
Date the letter is sent: You must include the date to prove your letter to vacate was delivered in a timely manner.
Landlord's address/property address: Check your lease carefully for the landlord's address — often, it's not the same address where you send rent checks, especially if the landlord owns multiple properties or uses a property management company.
Final walkthrough request: Typically, your landlord will require a final walkthrough after you've removed all your belongings from the property. You should schedule this with your landlord so they can return your security deposit in a timely manner.
Relevant lease clauses: You may want to reference one or more clauses from the lease agreement that indicate the amount of notice you're required to give before terminating the lease, and whether or not a walkthrough is needed.
Forwarding address: This is where you will receive your security deposit check and any other mail that needs to be sent to you.
Since many of these processes (like security deposit delivery) can be done electronically, check with your landlord to see what they prefer. ‌
If you need to break your lease early, you can use a notice to vacate letter to inform your landlord, but be advised that additional fees may apply or you may not get your security deposit back.
Notice to Vacate Sample
Below you can find what a Notice to Vacate typically looks like:
Notice to Vacate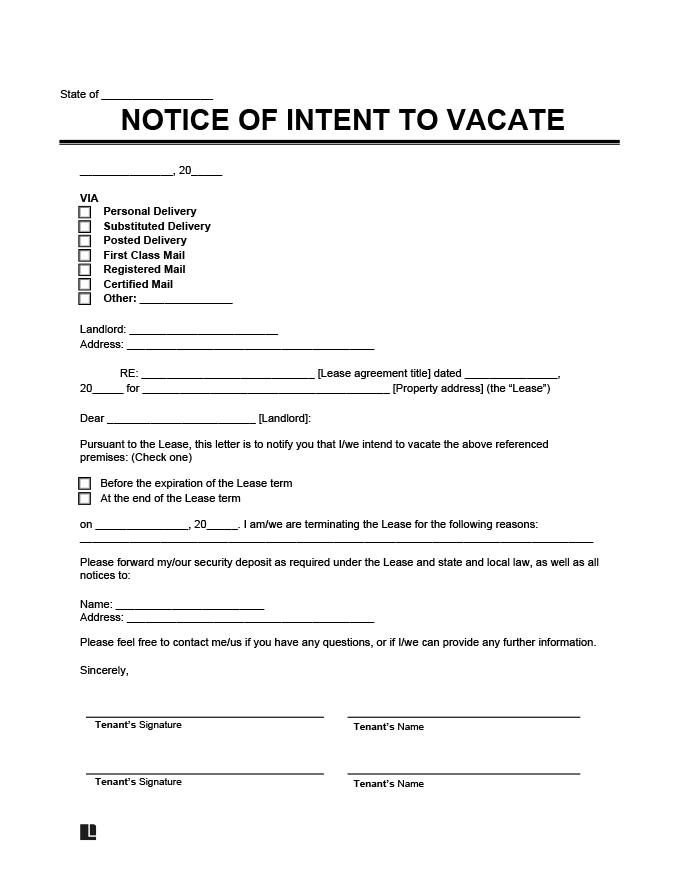 FAQs/Related questions
Let's discuss some common questions about writing a notice to vacate letter:
Can a 30-day notice be handwritten?
A 30-day notice can be handwritten, but we recommend typing it because it looks much more professional. The most important thing is that your notice to vacate letter contains all the details noted above.
How do I send my notice to vacate letter?
At minimum, you should send your notice to vacate letter with a tracking number and keep your receipt as proof of delivery. The safest way to ensure proof of delivery, however, is to send it via certified mail and keep both the receipt and the signed proof of receipt.
Can I state my complaints about building management in the notice to vacate property letter?
‌No, you shouldn't include any complaints about the building management in a notice to vacate letter since it's a formal document that serves as a record of your leaving the property. If needed, you can contact your landlord or building manager about your concerns separately.