Use a resignation letter if you're looking to leave your current role with your employer. Following the writing tips below will smooth out the process of leaving. You can also download a free resignation template in PDF or Word format.
What is a Resignation Letter?
A resignation letter is written to formally state your intention to leave the company you're currently working for and the reasons why you're quitting. The letter can be written as a printed letter or sent in an email.
A professional resignation letter details information about your departure from employment, including what will be your final day with the company.
Why Should You Write a Resignation Letter?
A resignation letter is an efficient way to send the same document to numerous departments keeping all relevant parties well-informed of your departure.
If the letter is polite and straightforward, your manager will be impressed with the gesture and quite thankful for this information. So long as it is constructive, the letter may even bring intangible benefits to your career down the road, such as potential letters of recommendation, positive appraisals via word of mouth, and may even help you return to the company.
When Should You Send a Letter of Resignation?
If you are certain you will be leaving your company, let them know at most two months and at least two weeks before with a formal letter of resignation.
How Should You Submit Your Resignation Letter?
You can have a private meeting with your manager where you share your plans, followed by a formal letter to make it official. In the end, do what you feel comfortable with.
If you don't submit a resignation letter make sure that your exit is approved by all parties, including your manager, HR, and other stakeholders. You need to take the initiative to communicate to each department, don't assume everyone will be on the same page.
How to Write a Resignation Letter
We recommend that you write a civil, succinct letter that contains the following:
1. Date
Include the date when you submit the letter in the top left line above the address.
2. Address
The address should follow a formal business letter template. Use the company name on the first line, followed by the street address, city and zip code.
3. Addressee
The addressee is usually your manager – you can use their first name. If the situation calls for it, you can address a larger audience such as unit, team, department, or the whole company.
4. Resignation Declaration
You must make it clear that you are resigning from the first sentence.
5. Date of Departure
Clear departure date is necessary as it lets your manager strategize the path forward. This will probably be in line with the company policy on what your notice period should be.
6. Reasons for Leaving (Optional)
In this section, employ your diplomatic chops and provide a reason for your departure. Acceptable reasons can range from general health concerns, spending more time with family, relocation, career change, and much more.
Keep in mind that this letter is usually not the best method to express dissatisfaction with your company. You can metaphorically nail 95 grievances to your boss's desk by crafting a letter that details areas of urgent reform but think hard about the pros and cons of delivering such a letter.
7. Thank You Section
Make sure to end the letter by thanking your manager and if you feel grateful, acknowledge the opportunity they gave you.
8. Signature
If you submit a hard copy of the letter, sign above your typed name. A typed name suffices as an online resignation letter.
Free Resignation Letter Template ( with Example )
Below you can download a free resignation letter template in PDF or Word:
Resignation Letter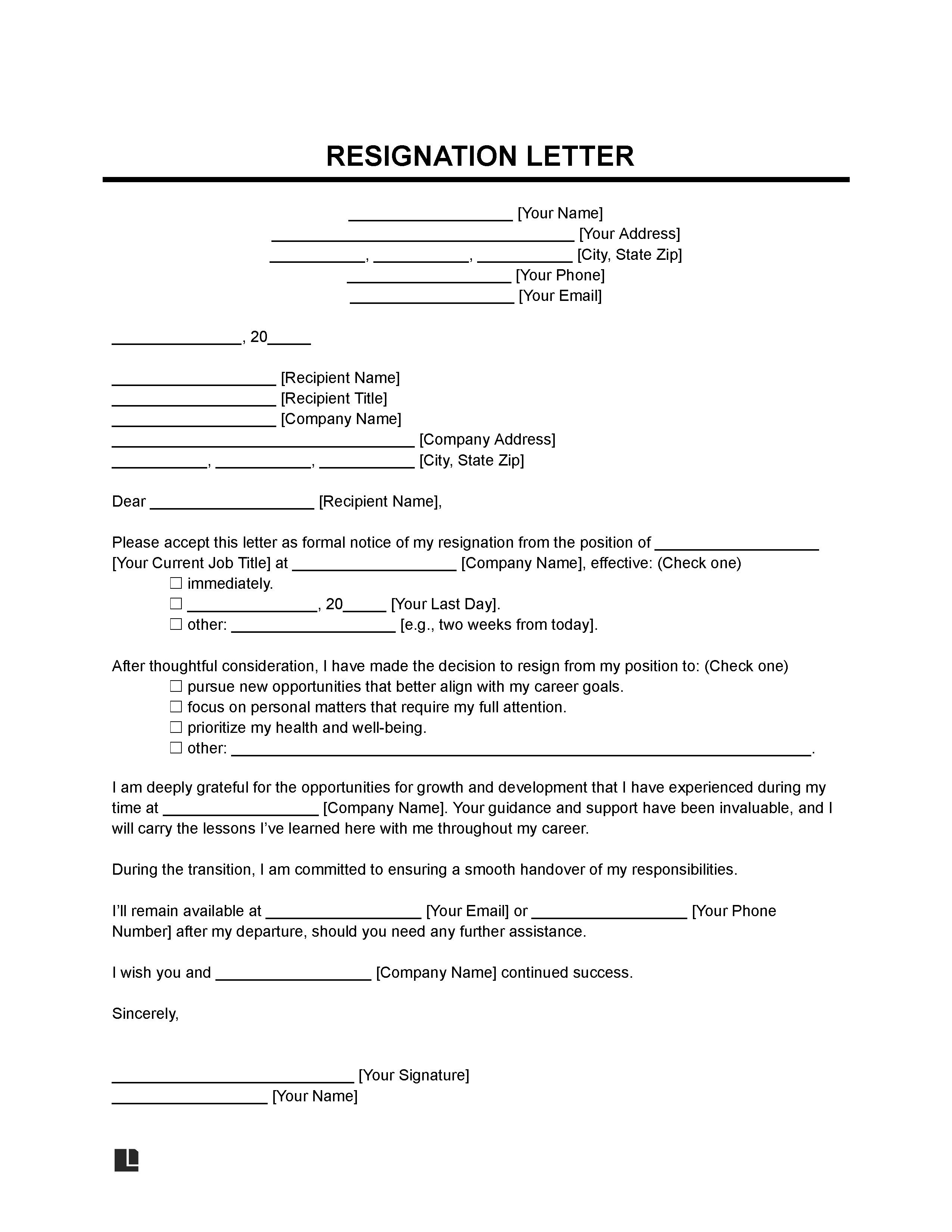 Resignation Letter Example
The resignation letter example below demonstrates a formal notice of departure from an employee, 'Patrick Marlin' from 'ABC, Inc'. Patrick Marlin details the date he will leave the company and lets the company know that he appreciated his time there and will assist in the upcoming transition.
What Should You Not Include in a Letter of Resignation?
When it comes to writing a professional resignation letter, alongside the essentials you need to include, there are also several items you should leave out:
Negative comments – A resignation letter is not the right setting to make negative comments about your manager or colleagues, you need to remain professional throughout. You could end up damaging your chances of getting a solid reference to help you gain future employment.
Being overly positive – Again, you need to keep it professional and if you are known not to be happy in the role you're resigning from, using overly positive language could come across as sarcastic or even negative. Keep a neutral tone.
An immediate departure date – Unless it's because of emergency circumstances, or previously discussed with your manager, you should not be resigning with immediate effect. You could eliminate any possibility of rehiring or damage your chance of a good reference in the future. Give a proper notice period and check the company's policy on resignations.
Resignation Letter FAQs
How do I write a short letter of resignation?
To write a short letter of resignation you should include the following points:
Date and personal details
Clearly resign from your job, making it clear from the initial sentence and stick to the point
Notice period
Express gratitude
Signature
You can use our template to help you write your short letter of resignation.
How do I write a simple resignation letter?
To write a simple resignation letter, you should be straightforward and clearly state that you are resigning from your role, include a departure date, and express gratitude. You can use our resignation letter template to make it easier to create your simple resignation letter.
How do I write a good resignation letter?
To write a good resignation letter, you just need to stick to the point, express gratitude and keep your resignation on one page. A good resignation letter will include::
Date and personal details
Resignation declaration, stating your resignation in the first line
Date of departure
Reasons for leaving (optional)
Express gratitude
Signature
To make sure your resignation letter is as good as it can be, it is best to use a template.
How long should a resignation letter be?
A resignation letter should be no longer than one page. You want to keep it short and to the point, including only necessary information.