1. Business Plan Sample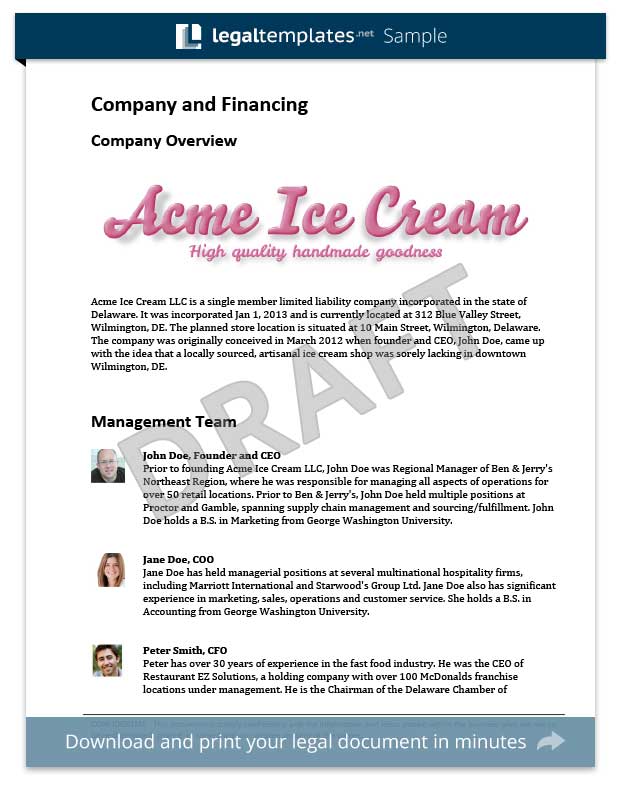 Are you an entrepreneur looking to download a free business plan? If so, you have come to the right place. Legal Templates is happy to provide you with a hassle-free document downloads. Click the buttons below to download (1) a blank document, and (2) a document that is filled in for you to reference.
Click here to download a blank business plan template
Click here to download a plan with sample text
What's included in the blank template:
In the first download, you will find documents with all of the chapters, section titles, and section subtitles that you will need to successfully complete your plan. Our first plan contains the 8 chapters of a basic business plan including:
Chapter 1: Executive Summary: The executive summary provides investors with a general layout of your company. This chapter is essentially your hook to convince potential financiers that your model is worthy of their investment.
Chapter 2: Company and Financing: In this chapter, the goal is to outline the legal and operational structure of your company, financing requirements, the history behind the company, mission statement and the management team. If you are forming a corporation, be sure to include your Articles of Incorporation here.
Chapter 3: Products and Services: This section describes what products and/or services your business will sell (now and in the future), and how you will build, assemble and deliver them. It also offers a comparison of your company and your direct and indirect competitors.
Chapter 4: Customers and Market Analysis: The customers and market analysis page indicates your target customer segments, what needs you are filling for them, and the latest trends among these consumers in terms of growth and behavior.
Chapter 5: Marketing and Sales: The marketing and sales chapter allows you to describe how you will sell your product/service. Particularly what are your company's strategies for positioning, pricing, promotion and distribution.
Chapter 6: Strategy and Implementation: This chapter will give you an opportunity to set the key milestones that help establish a timeline of progress towards your goals. Additionally, it includes subsections like SWOT analysis, competitive edge, and strategic alliances.
Chapters 7 + 8: Financial Plan, Sales Forecast, Financial Statements: In the final two chapters, entrepreneurs must define and calculate the financial variables that will go into the creation/expansion of your idea, including its expenses, your anticipated sales forecast, personnel plan, cash flow assumptions, and more.
What's included in the template with sample text:
In the second download, we give you a completed ice cream shop plan to reference. Each section gives an example of what you should write. Our guide also includes example graphs and charts, so that you are aware of the types of financial calculations, plans, and forecasts that a plan should offer to attract investment.
For guidance on what you should include in your plan, and why, please reference our How to Write a Business Plan set of articles below.
Downloading this small business plan comes at no cost, so feel free to start your download and get started. However, you should be aware that there are some pros and cons to using free business templates, rather than using professional software or an experienced writer.
2. How to Write a Business Plan
Writing a business plan is a prerequisite to your company's success. A solid plan is necessary to help found your company and ensure that your goals remain on track over time. Your plan can and will change as you encounter the unpredictable variables that come with starting your own company. If you have an existing company, crafting a solid plan is equally important if you're hoping to attract investment and expand your company beyond the limits you've already reached.
Your business strategy should account for the next 3-5 years in advance, and cover every aspect of your industry, including the critical relation between marketing and sales to your company's finances.
Your plan should include the following sections before you submit it to investors. Click each accordion to read a how-to guide for each chapter:
"How to Write a Business Plan" Table of Contents:
3. The Pros and Cons of Downloading a Business Plan Template
3 Pros – Why you should use one
1. Write with confidence — you won't be forgetting any important information
Using this free template can help you write your own plan, without the hassle of figuring out how to order your chapters, or the worry of feeling like you might be missing a section. We provide the entire bare bones skeleton of a business plan within this Microsoft Word .doc download. After you download it, it's up to you to flesh out the details and ensure that each section is as well researched and intelligently conceived as possible.
2. Step-by-step writing guide and writing samples included
Our plans come with a complete how-to guide with examples from our professional business plan samples to help steer you through your writing.
3. Completely free – no hidden costs, just download and start writing
This plan is completely free. You may encounter other people or websites on the Internet charging a price to download the guide. Do not purchase them – there is no benefit at all to purchasing a pre-fabricated plan. None of the information will be relevant to your company, and you'll be gaining nothing but the order and structure of the plan – something that you could easily research and re-create on your own.
Sound good? Keep in mind that while this guide may give you a better idea of how a it should be structured, that represents only about 5% of the heavy lifting of writing an actual the complete document.
Don't forget that every plan needs well structured elevator pitch.
3 Cons – Why you shouldn't use one
1. You'll have to do complicated business planning math and calculations yourself — or pay an expensive rate for someone else to do them
You're going to have to do the financial calculations, plans, and forecasts that a plan should offer to attract investment — all by yourself. Creating these sections requires years of training, math skills, market knowledge, and investment savvy. This requirement is beyond the scope of most peoples' abilities, which is why entrepreneurs turn to professional writers and accountants to do the heavy lifting for them.
Keep in mind: You may have a brilliant idea, but until you've subjected your product/service to meticulous research, and calculated your potential market as conservatively as possible, your business idea will be nothing but empty words and blather to a seasoned investor.
2. You'll need to manually create visual graphs and charts to make the calculations easily understandable
You'll need to take the numbers you calculated and create attractive graphs, charts, and tables for your plan. Making your data attractive and easy to comprehend is no easy task. Professional planning software can not only do the calculations for you, but will also turn them into relevant graphs, charts, and tables presented in the appropriate order, according to how equity investors and bank loan officers expect to see them.
3. A basic template won't allow you to track your business' progress
You won't be able to keep your company's information up to date easily. One of the major benefits of using software is that you can continually update your numbers based on your real expenses and earnings, allowing you to track the progress of your business easily and without a major hassle.
Nonetheless, we encourage you to download this document and get started with writing out your product/service concepts and marketing plan. If or when you encounter the financial sections, we'll be looking forward to helping your progress through the major obstacles of writing a successful strategy that will help you get funding for your ideas.