Many businesses are moving more employees to "work from home" status. Not only has COVID-19 changed the landscape of how business gets done, but increased digital and remote ability has also made it easier to work outside of a traditional office.
A work-from-home policy can help you create the policy you need.
If your business allows employees to work from home, you should have policies to govern their actions and protect your business. In this article, you will learn how to make a work-from-home policy for your employees and give you the tools to create your own guidelines.
What is a Work From Home Policy?
A work-from-home policy is a binding policy between you and your employees that governs their responsibilities and expectations while working from home.
It may define who is permitted to work from home, a process for requesting work at home, and set forth the approval process.
Whether working from home is optional or mandatory, it gives your business the power to ensure employees are successful while working at home. It protects their health, productivity, and businesses' rights. The policy clarifies expectations and documents your procedures if an employee violates them.
Work-from-home policies are also referred to as:
Telework policy
Remote work policy
Telecommuting policy
Remote employment agreement
When to Use a Work-From-Home Policy
You should use a work-from-home policy whenever you want employees to work from home. These agreements set clear expectations and employee requirements while they work for you.
They protect your business as well as your employees.
If you have any employees working remotely, you should utilize an agreement. You can modify a work-from-home template to meet your company's unique needs without starting an agreement from scratch.
What to Include in a Work-From-Home Policy
A smartly crafted work-from-home policy establishes expectations and limits. The details can clarify questions and the organization's reasons for specific guidelines. These are items to consider:
Eligibility: Articulate which positions are fully or partly remote and those that require employees to commute to a physical location.
Process: Provide details regarding the approval process to transition to remote work and who makes these decisions.
Compensation: Include how much the company pays for personal internet service and phone bills.
Benefits: Include details about vacations, personal time, family leaves, retirement packages, and other perks.
Schedule: Establishing acceptable shifts in your work-from-home policy is prudent.
Productivity: Set productivity standards to ensure workers maintain the same focus they would with onsite supervision.
Dress Code: Remote workers have face time during virtual meetings with leadership and clients. It's essential to establish dress code criteria for virtual interactions.
Communication: Without the ability to make informal face-to-face contact, communication methods and virtual meeting times should be included in the policy.
IT Requirements: Off-site workers must have electronic devices and Wi-Fi capabilities to perform tasks without technological setbacks.
Cybersecurity: To prevent hackers from breaching the business network, limit endpoint devices to only those vetted by the IT department or managed services provider.
Signature: A work-from-home policy is a binding policy requiring all parties' signatures. That's why it's essential to provide a space for an e-signature.
How to Write a Work-from-Home Policy
Writing a work-from-home policy yourself saves you money and time. You can use our document builder, or work-from-home template, to help you create and modify a policy suited to your needs.
Follow these steps when writing a work-from-home policy:
Step 1 – Outline the Objectives
Your work-from-home policy should clearly outline what it's setting out to accomplish. In most cases, this will provide guidelines and procedures for remote employees.
Step 2 – Scope
Detail the scope of the policy, whether it's for a permanent or temporary arrangement or both, and where the employee is permitted to work.
Step 3 – Who Can Work Remotely?
You need to outline who is eligible to work from home. To suit this to your business needs and goals, things to consider when deciding who can work from home could include:
Roles and job duties – Some roles can easily be performed from home, while others may require employees to be face-to-face with customers or onsite for maintenance work.
Software/equipment requirements – Some businesses require specific software or equipment for employees to work from home; sometimes, that might not be feasible.
Tenure – Working from home could be an earned benefit or possible after a probation period if it's for new employees.
Security risks – Some jobs could be too vulnerable to cybersecurity risks when based from home.
Step 4 – Expectations
In this section, you'll want to lay out the expectations of your employees working from home. State that remote employees must perform the same duties, assignments, and other tasks when working from home as in the office.
You might also want to state that remote employees must be able to communicate and collaborate with the company and other employees during specific hours. You could also detail how many days (if not all) employees can work from home.
Your work-from-home policy should state when the employee is expected to work. This should include the days they must work and the times. If you wish to provide flexibility in hours, you can set other criteria for how and when work must be accomplished.
Step 5 – Security
Here you will want to highlight the importance of security and that remote employees are expected to protect the proprietary company and customer information accessible from their remote workspace.
Typically, this includes password management, locking filing cabinets, encryption, and other measures required to keep information secure. You can also state whether employees should use a Virtual Private Network (VPN).
Step 6 – Equipment
Will you provide equipment to your employees so they can work from home? Detail what office supplies or furnishings you may provide remote employees; you can also include whether the business will contribute to the cost of working from home, such as electricity or internet access.
You will also want to include information on how equipment should be returned if employment ends.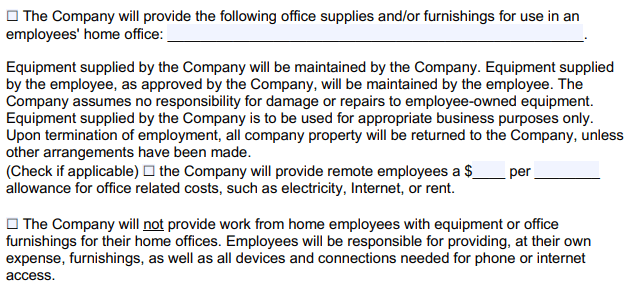 Step 7 – Procedure
Outline the company approval process for working from home. Do employees need to seek permission to work from home, or can any arrangements be made for employees on family or medical leave?
Your work-from-home policy may not cover informal arrangements.
This section could also cover hourly, non-exempt employees still required to track their hours. Since they are at home, you should create a procedure for remote workers to track their hours and submit them to a supervisor.
You can also create attendance and availability standards for their work. Instead of tracking down employees to get their input, they should be available when needed. You can dictate when remote workers are available.
Work From Home Policy Sample
This work-from-home policy sample will show how a template can help you create your agreement.
Tips to Consider When Writing a Work-From-Home Policy
When writing a work-from-home policy, you want to create a comprehensive agreement that fully outlines your expectations of remote employees. These tips can help you make an effective agreement:
Include remote monitoring: Remote monitoring software lets you track your employees that are working remotely. This includes their communications, working time, and other usage habits helpful to employee supervision. If you decide to use any, you should include any remote monitoring you will use in your policy.
Create a sick and vacation policy: Just because they are working from home, it does not mean that employees lack vacation or sick time. You should account for how to track this time off in the agreement.
Consider unique expectations: Every job is different. You should consider the individual requirements of a particular job when drafting a remote work policy. This might include provisions to attend in-person training or even utilize specific technology when working remotely.
Create enforcement mechanisms: You cannot just have policies in place; you need to be ready to enforce them. The agreement should outline the effect of a breach of the at-home work agreement.
5 Benefits of a Work-From-Home Policy
A work-from-home policy benefits companies, current employees, and potential new hires within and outside the traditional commuter range. These are reasons to institute a carefully worded work-from-home policy.
1. Reduce Expenses
Utilizing a work-from-home approach allows companies to reduce their brick-and-mortar footprint and the accompanying expenses. This may involve leasing less space or going completely virtual, eliminating rent, utilities, and other costs.
Employees also save time and money because they no longer need to travel to an office.
2. Demonstrates Trust in Employees
A work-from-home policy sets guidelines regarding remote activities. By that same token, it shows valued employees that leadership trusts them to complete tasks promptly without onsite supervision.
This can be empowering to workers who too often feel professionally undervalued. Establishing trust in this manner helps develop a positive company culture.
3. Improves Work-Life Balance
The ability to stay home and earn a living typically improves employee lifestyles. Not having to wear stuffy professional clothes, not having to wake up as early, and removing stressful commuter traffic from daily life is addition by subtraction.
4. Expand the Talent Pool
Requiring people to come to work at a physical location limits possible hires to a reasonable commuter range. But a work-from-home policy allows human resources departments to accept applications from people living virtually anywhere.
The ability to onboard highly talented people gives companies with remote policies a competitive advantage.
5. Better Employee Retention
Remote workers enjoy a lifestyle with minimal stress and enhanced freedom. These quality-of-life improvements make for a happier workforce in which people stay longer. Continuity is a crucial factor in terms of productivity and expertise.
Frequently Asked Questions
How do you ensure team productivity in a work-from-home setting?
Not every person possesses the self-discipline to work from home. Distractions and procrastination are common reasons why things go awry.
Employers can minimize these issues by establishing daily schedules, virtual meeting times, and productivity reviews. These and other expectations provide a structure that helps people succeed.
What is the best way to maintain communication with remote employees?
It's important to replicate in-person experiences as closely as possible through one-on-one virtual chats. These may involve showing compassion as well as mentorship.
Although remote flexibility is generally a live-work win, the human experience and connection still matter.
What other options can you offer employees for an improved work-life balance?
Not every position is conducive to fully remote performance. Other options that enhance the live-work balance involve flex time, four-day work weeks, alternative schedules, and integrating wellness programs into the office setting.
Employees benefit when daily experiences can be less rigid or stressful.
How do you maintain company culture with remote work?
It may sound counterintuitive, but one way to maintain workplace culture in a remote landscape is to be in the same space.
Companies can unite people by organizing after-hours gatherings, weekend barbecues, or participating in 5Ks and game nights. Having coffee, tea, or lunch virtually buoys interpersonal relationships for those outside the commuter area.
What makes a Work From Home Policy effective?
A work-from-home policy is most effective when drafted carefully and thoughtfully. A template agreement is especially helpful in getting started, but the ability to modify it for your unique needs makes it especially useful.
How do you create a Work From Home Policy?
Using a template, create a work-from-home policy with Legal Templates. We offer template agreements you can use or build your agreement with our template builder.