A limited power of attorney form (also known as a special power of attorney) lets you designate another person to act on your behalf in certain personal affairs.
This document is typically used for one specific purpose (like real estate closings) or routine business (like giving a portfolio manager access to your account).
If you want to give your agent the authority over your health care decisions or broad financial decisions, you should use our other power of attorney forms.
What Is Limited/Special Power of Attorney?
A limited power of attorney is a legal document that lets you appoint a trusted person (called your agent or attorney-in-fact) to act for you in specific personal or financial matters.
To understand what limited power of attorney is, it's helpful to compare it to a general power of attorney. A limited POA allows your agent to take only specific actions on your behalf while a general POA gives your agent broad powers over your personal or financial affairs.
The person creating and signing the power of attorney (called the principal) can limit their agent's power with any type of power of attorney by writing in specific instructions, but the scope of limited powers of attorney is much more narrow.
For instance, if you wish to purchase land in another state, you could grant a friend in that state a limited power of attorney to buy the land in your name, without you having to travel there yourself. Your friend would not have any other authority over your affairs except to perform this one task.
Limited Power of Attorney Sample
To get a limited power of attorney form, download one of our free templates (PDF & Word) and start drafting your limited power of attorney.
Limited Power of Attorney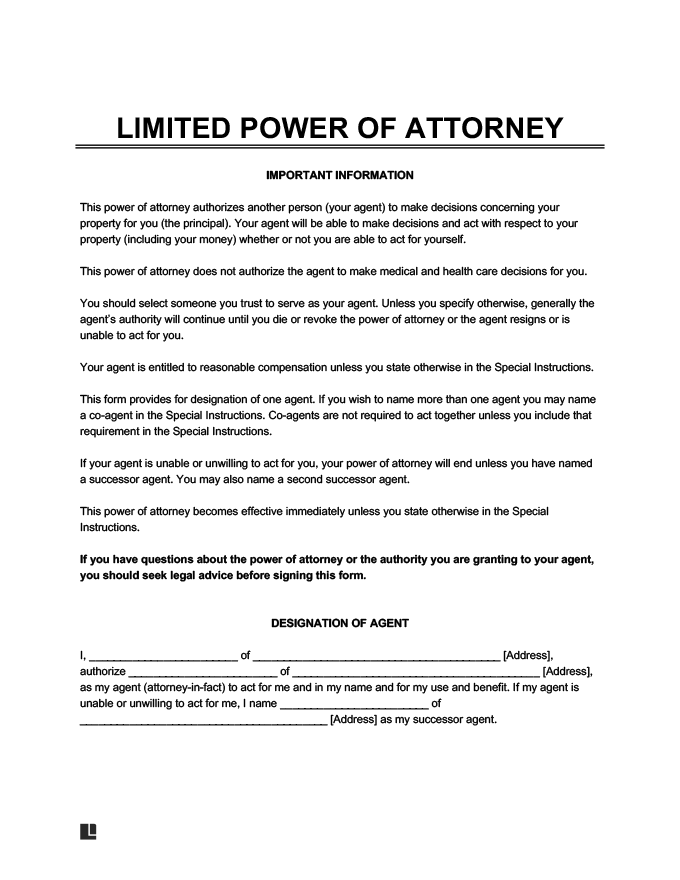 Alternatively, you can use our document builder to create a complete, custom LPOA.
How to Fill Out a Limited Power of Attorney Form
Once you've decided what specific powers you want to give your agent, you can begin filling the limited power of attorney form to legally grant those powers.
Before you begin, review the important information at the top of the form. This language describes what the form will and won't do. If you don't understand it completely, you should consult an attorney or other legal aid association.
Step 1: Designation of Agent
Write your name and address first, and then the name and address of the person you are choosing as your agent.
You can also nominate a second person to be your successor agent if the first person becomes unable or unwilling to serve as your agent.
Step 2: Grant of Authority
Here you should leave detailed instructions for what your agent may do on your behalf. Your agent will be limited to exactly what you write here and will not be able to do anything you do not list, so it is important to specify carefully.
Limitation on Agent's Authority: This is a clause included in the form that prevents the agent from using your property unless you allow them to do so.
Step 3: Special Instructions (Optional)
If you have any special instructions, separate from the instructions previously given in the Grant of Authority section, you should list them here.
Step 4: Effective Date
Select one checkbox to indicate when the agent's powers will take effect. This can be after a specific event, on a certain date, upon the principal's disability or incapacity, or immediately when the document is signed.
Step 5: Termination
You must check one and strike out the other. A durable power of attorney continues beyond any subsequent disability or incapacity; a regular (also known as non-durable) power of attorney terminates upon any subsequent disability or incapacity.
You may indicate in the Special Instructions that the power of attorney terminates upon completion of the task (for instance, if the agent is making a purchase); but you still must choose a termination for the power of attorney.
Step 6: Nomination of Guardian (Optional)
All powers of attorney provide for the nomination of a guardian to handle your affairs if you become incapacitated. Typically, this is unnecessary in a special power of attorney, but if the grant of authority is for a long term or encompasses a great deal of authority, you might wish to consider it.
Step 7: Sign the Power of Attorney
The Power of Attorney must be signed by the principal. Depending on your state's requirements, it may require one or two witness signatures and/or a notary acknowledgment.
If you're unsure about anything, you should have the document reviewed by an attorney.
Does a Limited Power of Attorney Need to be Notarized?
Depending on where you live, a limited power of attorney may or may not need to be notarized. Most states will require that someone (whether a witness, notary, or both) verifies the identity of the person signing, but you should research your state's requirements before signing the document.
The Uniform Power of Attorney Act, which has been enacted by 29 states as of 2021, requires powers of attorney to be signed by the principal and acknowledged before a notary public to be legally binding.