A power of attorney is a legal instrument used to appoint a proxy to manage the affairs of an individual, referred to as the "principal."
Table of Contents
Durable Power of Attorney – NC
A durable or enduring power of attorney survives the principal's incapacitation, whereas a non-durable power of attorney only applies while you have the capacity to act.
Download: Word (.docx) or Adobe PDF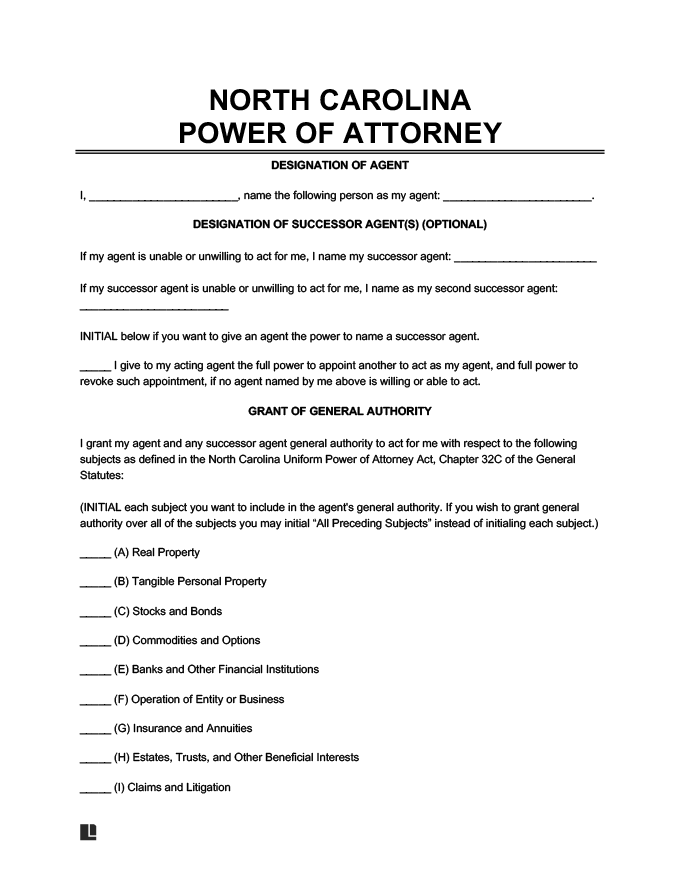 In the state of North Carolina, all powers of attorney are by default assumed to be durable. If you wish to create a non-durable power of attorney, you must explicitly state in the POA document that the agent's powers cease on your incapacitation.
Medical Power of Attorney – NC
A NC medical power of attorney gives doctors and caregivers legal guidance on how to proceed with your care if you are unable to make decisions yourself.
Download: MS Word (.docx) or Adobe PDF
NC DMV Power of Attorney
To give an agent legal authority to manage affairs relating exclusively to vehicles, you should set up a DMV power of attorney.
NC DMV Power of Attorney For a Motor Vehicle

Download: Adobe PDF
General Power of Attorney – NC
A general power of attorney grants broad powers over a principal's affairs to a trusted third party (agent).
Download: Word (.docx) or Adobe PDF
Financial Power of Attorney – NC
With financial power of attorney, a third party (agent) you choose is entitled to make financial decisions on your behalf.
Download: Word (.docx) or Adobe PDF
Tip: In the absence of a POA, the local probate court will appoint a conservator (a "financial guardian"), to look over your affairs in the event of your incapacity. A POA gives you the freedom to choose a person you trust far in advance of such a scenario.
Power of Attorney for Care of Minor Child – NC
If your child is younger than 18 years and you wish to nominate another person to assume temporary parental responsibility for matters pertaining to medical care of the child, you should use a power of attorney for the care of a minor child.
How to Get Power of Attorney in NC
In North Carolina, powers of attorney are regulated by the North Carolina Uniform Power of Attorney Act. While this act lays down the requirements for a power of attorney to be valid in NC, it does not prescribe a specific POA format or template. Every form on this page complies with NC's POA law:
Durable • Medical • DMV • General • Financial • Minor Child
For non-routine situations (such as creating non-durable powers of attorney or transferring to powers more than one agent), use our North Carolina power of attorney form builder to generate a highly customized POA in minutes.
Requirements and Notes
Here's a summary of what NC law mandates in a power of attorney:
The principal (or another individual, in the conscious presence of the principal) must sign the POA document.
The principal must acknowledge their signature in front of a notary (or other individuals empowered by the law to acknowledge signatures).
The POA document must include the date that the agent's powers go into effect. If no date is specified, the document takes effect immediately when all parties have signed the document.