Use a Letter of Intent (LOI) to negotiate the terms of a sale, outlining the terms of an agreement to be written in a future contract.
What is a Letter of Intent?
A Letter of Intent is a written document that outlines a preliminary agreement between two parties regarding the terms of a potential purchase or other transaction. Think of it as a road map for how the negotiation and deal will proceed.
The two parties can settle on specific terms while agreeing to continue negotiating the other terms and details of the transaction before signing a purchase agreement.
Is a letter of intent legally binding?
A Letter of Intent is typically not legally binding. When used in a business-to-business transaction, a provision stating that the letter is not legally binding. Even without the provision, a court would typically rule that the letter is just an expression of intent.
However, you should not rely on assumptions and ensure that the LOI uses strong, non-binding language.
What is the purpose of a letter of intent?
The purpose of a letter of intent is to declare a preliminary commitment of one party to do business with another. It outlines a prospective deal's key terms and conditions.
They are typically used in major business transactions, such as purchasing a business.
Why Should You Create a Letter of Intent?
Without this document, you might miss several purchase or sale opportunities. Sometimes banks or lenders will require proof of a deal before promising to grant financing. Or, if you are still negotiating specific terms of the agreement, either side may question the other party's commitment to getting the deal done and walk away.
Here are some of the suffering using this document might help prevent:
SELLER
PURCHASER
Loss of Time

Time spent negotiating a deal when other party wasn't serious
Loss of Time

Time spent doing due diligence on a deal when other party wasn't serious


Loss of Money

Have to sell for less money to a different buyer


Can't prove that money will be coming
Loss of Money

Can't secure financing from lender


Have to buy for more money from a different seller


Mental Anguish

Buyer buys from someone else
Mental Anguish

Seller sells to someone else
Letters of Intent – By Type (4)
Below you can find different versions of a Letter of Intent that fulfill the same purpose as a traditional LOI but for unique situations.
The LOI templates below are blank, fillable, and free to download.
How to Write a Letter of Intent
Here's how to fill out an Letter of Intent template:
Step 1 – Initial details
To start your LOI, you need to fill out the essential information regarding the seller, buyer, and the item being purchased.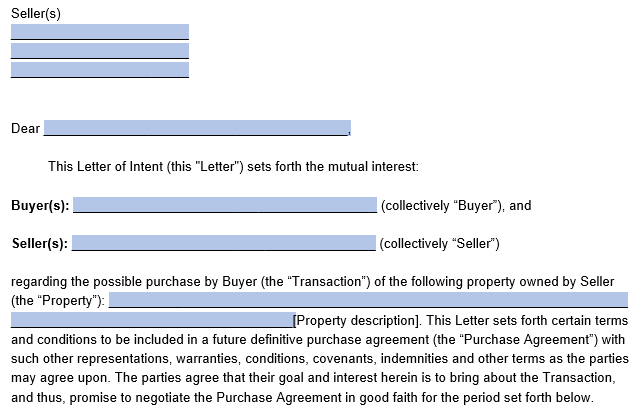 Step 2 – Purchase price
Next, you need to include details about the purchase price. If no purchase price for the transaction is decided until the completion of due diligence, you can note that here. State the purchase price of the item in question and when the money is due.
You can detail that a certain amount will be required upon signing the letter or, if you're using one, upon signing a purchase agreement.
Step 3 – Conditions and exclusivity
If the transaction will be subject to any conditions, this is the place to include them. As well as if the seller agrees to not negotiate directly or indirectly with any other party concerning the item in question.
Step 4 – Termination
In this section, state when the letter will automatically terminate. For example, it could be upon execution of a purchase agreement or a mutually written agreement between the parties.
Step 5 – Governing law and non-binding clause
You need to detail which state the Letter of Intent will be governed by and include a clause on whether the letter is binding or non-binding.
Step 6 – Signatures
Finally, finish your letter by having both parties sign.
What to Include in a Letter of Intent
When filling out a Letter of Intent, including the information below is essential. To ensure you don't miss out on crucial information, it helps to use a blank, fillable template.
Who are the Parties?
Identify who is the seller (the current owner) and the buyer (the potential new owner).
What is the Transaction?
Describe in detail what is being purchased, including any agreements on what will be included or excluded in the transaction the parties will negotiate.
What are the Terms?
Include any terms that have been agreed upon, such as purchase price or price adjustments if the seller has decided to exclusivity (i.e., not to negotiate with other parties), that should also be included.
Other Letter of Intent Terms?
The agreement should explicitly state whether it is binding or non-binding – don't leave this open for a court to determine. Also, include when it (and negotiations) will end and which state's law will govern it.
Are there any Conditions?
The parties can include certain conditions that must occur before a final agreement will be signed, such as:
the buyer securing financing
the buyer completing due diligence
the buyer successfully selling their home
an inspection of the property
regulatory or other required approvals
A Letter of Intent can be a legally binding contract between the parties or a non-binding agreement between the parties.
Here are some other terms that may also be included:
Confidentiality – the agreement and any information learned will remain confidential
Covenants – things each party must do while negotiations are taking place
Special Terms – any special terms that the parties agree will be in the purchase agreement, such as leaving certain items of furniture or hiring certain employees
When Should I Use a Letter of Intent?
This agreement is most often used in transactions involving a purchase. Sometimes two parties will know they want to do a business deal together but aren't ready to sign an agreement.
For example, they may agree that one party will sell their business for a specific price, but they do not yet agree on who will take on certain business liabilities.
The parties can sign this document to show each other a good faith intention to negotiate a deal. It can also help parties get on the same page as to what they expect from the purchase. A Letter of Intent could be used after a Request for Proposal.
Here is a list of some possible LOI relationships:
| SELLER | BUYER |
| --- | --- |
| Owner of a business | Corporation that wants to expand |
| Real estate flipper | Newly married couple |
| Pig farmer | Restaurant with an all-bacon menu |
| Car owner | Newly-licensed driver |
Letter of Intent Sample
Here's a sample of Letter of Intent for purchasing a general property. You can download the LOI template in PDF or Word format and fill it out based on our guide.