Table of Contents
1. Download a Free Rent Increase Letter Template
Download: Word (.docx) or Adobe PDF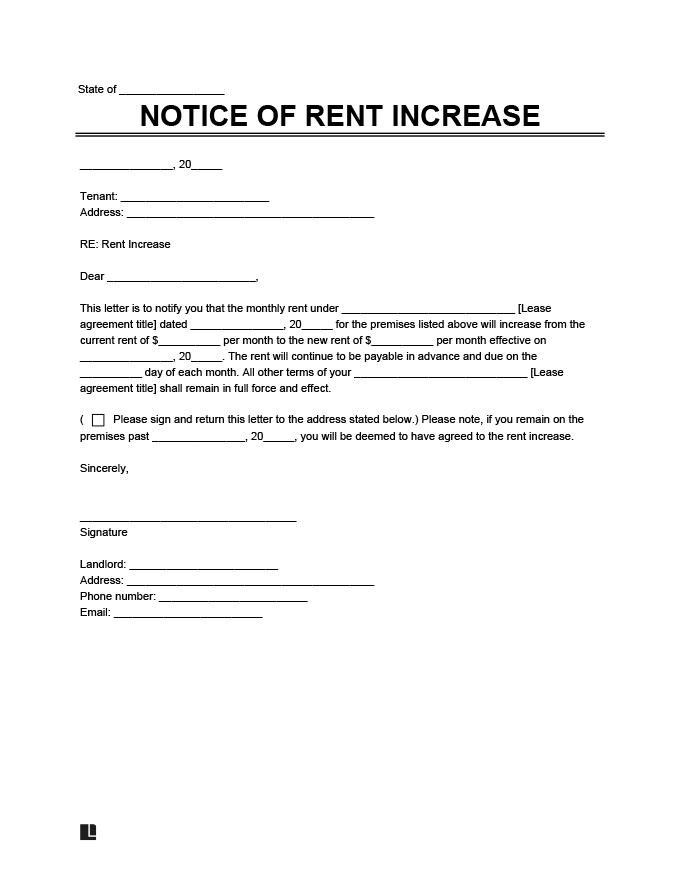 Our Rent Increase Letter Sample addresses the following details:
Where the rental property is located
What the new increased rent amount will be
When the increased rent should begin
Why the rent is being increased
Who the Landlord and Tenant are and their contact information
2. What is a Rent Increase Notice?
A Notice of Rent Increase is a written letter from the Landlord to the Tenant that officially communicates a change in the amount of money due.
A Landlord can only increase rent if the original Lease or Rental Agreement allows it and the Landlord gives proper amount of time. If there is no Lease or the Lease has expired and a new one has not been signed, the Landlord must follow state and local laws and give appropriate advanced warning.
A simple Notice of Rent Increase letter will identify the following basic elements:
Premises: address and location of rental property
Current Rent: amount of money the Tenant has been paying the Landlord
New Rent: increased amount of money the Landlord would like to be paid
Effective Date: when the Tenant must start paying the new rent amount
Tenant: name of person currently renting the Premises
Landlord: name of person who owns the Premises
As a reference, this document is also known as a Rent Increase Letter.
Rent Increase Notice Sample (PDF)
The sample non-disclosure agreement below details a request from the landlord, 'Kathy Z Guillen', to the tenant, 'Howard N Taylor.' Kathy Z Guillen notifies Howard N Taylor of the increase in rent for staying at the premises.
Notice of Rent Increase

3. When You Should Send the Rent Increase Letter
If you have a Lease Agreement and the Lease has not ended, check your Lease to see if you can increase the rent. If you cannot increase the rent, you must wait until the Lease expires. You could, however, send a letter 60 days before the Lease ends to give the Tenant advanced warning in case they want to renew the agreement under the new increased rent. If you have had good experiences with the Tenant, you could also waive the increase in rent to avoid the hassle of finding another Tenant.
If you do NOT have a Lease Agreement or the Lease already expired, a Rent Increase Letter must be sent in advance, typically 30 to 60 days, depending on state and local laws. The Seattle Times covered this issue for the State of Washington in January 2014.
For example, in a month-to-month or week-to-week rental agreement in California, landlords must give at least 30 days if the rent increase is 10% or less and 60 days notice if the rent increase is 10% or more. You can learn more about rent increases on the California Department of Consumer Affairs.
4. How You Should Send the Rent Increase Notice
The Lease Agreement may describe how letters should be sent. The free residential lease agreement sample, for example, says that Notices must be in writing and should be either:
delivered in person
sent by overnight courier service
sent via certified or registered mail
If the Landlord has been in touch with the Tenant by email, another option is to electronically send the letter and send a hard copy of the letter for good measure. Sending a text message is generally not a good way to create a reliable paper trail. Read more about the Pros and Cons of text messaging between Landlords and Tenants on Zillow.
5. Consequences of Not Using a Rent Increase Notice
Landlords prevent any confusion by putting a rent increase in writing. If you do not send a proper Notice of Rent Increase letter in advance, the following preventable consequences may occur:
| Landlord | Tenant |
| --- | --- |
| 1. Lost opportunity cost for | 1. Lost opportunity cost for |
| Increased rental income | Finding a more affordable rental place |
| A new rental agreement | 2. Expensive lawyer fees to |
| 2. Expensive lawyer fees to | Initiate a lawsuit for retaliation or discrimination |
| Dispute an alleged retaliatory action or discrimination | 3. Mental anguish |
| 3. Mental anguish | Confusion about verbal agreement to not raise rent |
| Confusion about verbal agreement to raise rent | |
6. Reasons for Increasing Rent
There are many reasons why a Landlord may need to increase rent. For example, there may be an:
Increase in property taxes
Increase in the cost-of-living
Increase in insurance premiums
Increase in homeowner association (HOA) fees or condo fees
Annual inflation (The World Bank publishes inflation rates in the U.S.)
When can you NOT increase rent?
There are several situations when rent cannot be increased:
Lease has not expired and Lease does not allow an increase
Advanced notice was not properly given according to state and local laws
Local laws on rent control or rent stabilization are violated
Retaliating against Tenant for asking for repairs or reporting a housing code violation
Discriminating against Tenant's race, religion, or sexual orientation
Rent is increased in bad faith because Landlord is trying to force the Tenant to move out
In many states, retaliation is assumed if the Landlord increases rent or sends an eviction notice 60-180 days after a Tenant files an official complaint. In California, for example, the Department of Consumer Affairs explains retaliatory rent increases. It's also illegal to raise the rent because a Tenant reported a housing code violation.
The court may be more likely to find a Landlord guilty of unlawful retaliation if the increased rent is higher than the market rate. Rentometer and Zillow provide helpful resources on comparable rental rates in your neighborhood.