Table of Contents
1. Download a Virginia Power of Attorney Template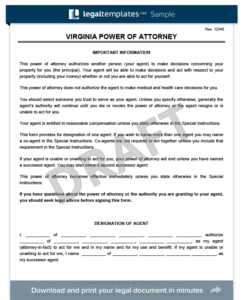 Related Documents: Click to View
2. Virginia Power of Attorney Requirements
Anyone in Virginia who wants to ensure the financial security of their families and/or to protect the handling of their businesses, property, and other assets should create a power of attorney (POA).
A POA is a written legal agreement in which a "principal" gives an "agent" the power to handle any number of duties, including banking transactions, the buying and selling of real estate, changing insurance coverage, and anything else specifically outlined in the document, in their absence. A principal may be unable to handle certain duties due to their unavailability or because an emergency left the person incapacitated.
A valid power of attorney must adhere to Virginia's Uniform Power of Attorney Act, and include:
The full name, address, and signature of the principal
The full name, address, and signature of the agent
The date of the agreement
Powers granted to the agent, as well as any limits
The beginning and end dates of the powers
The signature and date of a notary public
Additionally, both the principal and agent must be at least 18 years of age.
Why Create a Virginia Power of Attorney?
A power of attorney can be very useful if an individual becomes temporarily or permanently incapacitated and unable to handle their business and personal affairs. If this happens, an agent can step in and take care of specified duties.
Having a valid power of attorney also may avoid the need for a guardianship, which is when someone must petition the court to have a guardian or conservator appointed to handle your behaviors. Oftentimes, these court proceedings are slow, costly, and unpleasant.
Power of Attorney PDF Sample
The power of attorney (POA) sample below gives "Agent" Lucinda J Loh the authority to make financial decisions in the event that "Principal" Dawn P Bannon is incapacitated. Lucinda has the authority to handle issues dealing with Dawn's property, stocks, insurance, and business.
Virginia Power of Attorney (Financial)

3. Possible powers granted to agents
Virginia does not provide a downloadable power of attorney form. When creating their own power of attorney documents, the state advises individuals to adhere closely to the language outlined within the statute.
A principal determines the scope of an agent's authority. The agent may be authorized to handle transactions and decisions for:
Annuities
Banks and other financial institutions
Benefits from civil services, military service, or governmental programs, such as Social Security or Medicaid
Bonds
Business or entity operations
Claims and litigation
Commodities and options
Estates
Gifts
Insurance
Personal and family maintenance
Real property, such as homes and rental properties
Stocks
Taxes
Tangible personal property, such as furniture, vehicles, machines, and electronics
Special Agent Powers
For certain powers to be considered valid in a POA, they must be explicitly stated in the document. These powers include:
Designating a new beneficiary
Handing financial tasks the principal has been authorized to delegate
Creating or modifying survivorship rights
Creating, terminating, or altering a living trust in any way
Delegating any powers listed in the POA to another
Refraining from enforcing beneficiary rights in a joint or survivor annuity or retirement plan
Reimbursements for Agents
An agent may be reimbursed for expenses reasonably incurred while working on the behalf of a principal unless it is otherwise noted in the document. It is up to a principal to include language related to specific dollar figures or address any other limits within the power of attorney.
4. Types of Power of Attorney Documents
The following four types of power of attorney are used in Virginia.
Durable Power of Attorney
A durable power of attorney becomes effective immediately and remains in effect when a principal becomes mentally incapacitated.
Non-Durable Power of Attorney
A non-durable power of attorney ends when a principal loses mental capacity.
Springing Power of Attorney
A springing power of attorney becomes effective when it contains language that it will not go into effect until a specified time in the future.
Limited Power of Attorney
A limited power of attorney, also often called a special POA, gives an agent the power to do only certain specific things, such as sign a vendor agreement or sell a car, spelled out in the document.
5. Defining Incapacity
If a power of attorney is to begin once a person has become mentally incapable of handling his/her affairs, the document also must list who is authorized to make the determination about mental health. If it does not list who will make the determination, the principal's attending physician and a second physician or licensed clinical psychologist will submit a confirmation of the person' mental state after a personal examination of the principal.
When a Virginia POA Terminates
A POA comes to end in many ways. A power of attorney terminates when:
The principal dies
The principal revokes it
The document states a specific date when it is to be terminated
The purpose of the power of attorney is accomplished
To revoke an agent's powers, a principal must create a written revocation. Virginia does not provide a downloadable notice of revocation. To be valid, a revocation of power of attorney form must include the full names of the agent and principal and the date.
6. Does a VA POA permit an agent to make medical decisions?
A power of attorney does not authorize an agent to make medical and other healthcare decisions on principal's behalf. To make those types of decisions, such as to remove a person from life support or donate their organs, individuals need to create an advance directive for health care. Virginia does not provide a specific medical form, so individuals are encouraged to create their own.
When It's Time to Select an Agent
Though there are many advantages to having a power of attorney, individuals must be thoughtful when choosing agents. Since agents make very serious financial and business decisions, individuals should think about whether the people they choose can be trusted in the long term.
When selecting agents, individuals must ensure that they know that are entering into fiduciary relationships. Therefore, agents must accept responsibility and liability for their actions on the behalves of their principals.
In Virginia, agreeing to becoming an agent means that the person guarantees his/her loyalty and to take actions that positively benefit the principal. Also, an agent recognizes that he/she must conflicts that would not be for the good of a principal.