There are various kinds of powers of attorney (POAs), a legal document that allows you to nominate another person or entity to manage your affairs. Of the Virginia power of attorney templates below, choose one or more that suits your needs.
Table of Contents
Durable Power of Attorney Virginia
A non-durable power of attorney is no longer valid if you become incapacitated, but a durable power of attorney remains in place.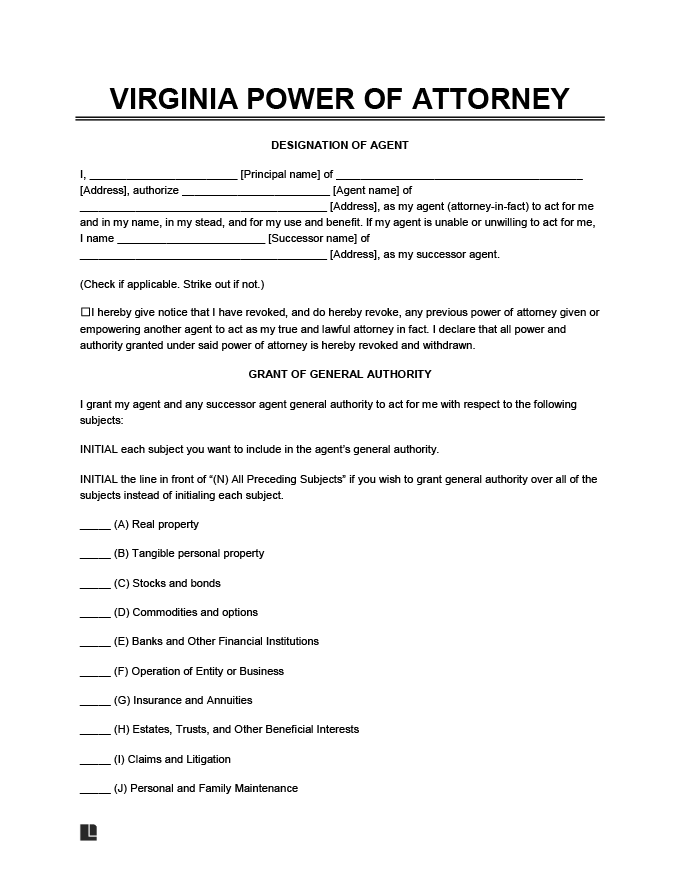 VA Durable POA Download Options:
In the Commonwealth of Virginia, all powers of attorney are durable by default. To create a non-durable POA, write in a statement that clarifies that the powers transferred are revoked should you become incapacitated.
Medical Power of Attorney Virginia
Advance directives such as living wills and medical powers of attorney are written, legal instructions on how you wish your medical care to proceed if you are unable to make such decisions for yourself.
VA Medical POA Download Options:
Virginia DMV Power of Attorney
With a DMV power of attorney, you may choose a trusted agent to handle vehicle-related transactions on your behalf.
Virginia DMV Power of Attorney For a Motor Vehicle

VA DMV POA Download Options:
General Power of Attorney Virginia
A general power of attorney is one that assigns broad powers over a principal's affairs to an agent.
VA General POA Download Options:
Virginia Financial Power of Attorney
A financial power of attorney authorizes a person or entity you appoint to manage your financial affairs.
VA Financial POA Download Options:
In the list of powers in this template, sign against only the finance-related powers you wish to transfer to your attorney-in-fact (agent). Leave the marking area next to the other powers blank.
Virginia Power of Attorney for Minor Child
A parent can use a minor child power of attorney to appoint another person to assume parental responsibility for a child younger than 18 years.
How to Obtain a Power of Attorney in Virginia
Virginia Uniform Power of Attorney Act 2010 regulates durable powers of attorney in Virginia. All the forms on this page comply with this chapter of the Code of Virginia. Use one of the following forms to get and sign as a power of attorney:
Durable • Medical • DMV • General • Financial • Minor Child
Virginia Power of Attorney Requirements
Your power of attorney must meet the following requirements in order to be valid in the Commonwealth of Virginia:
The POA document must be in writing, and include the:

signature of the principal
name and contact information of the agent(s)
date of the agreement
powers granted
when the powers begin and end
signature of a notary public
To be valid in all states, your POA must also be signed in the presence of two witnesses other than the agent or a family member; however, this is not essential within the state of Virginia.