An Idaho power of attorney is a form that lets an individual (the principal) voluntarily choose another individual (the agent) to legally act on the principal's behalf. There are multiple forms to choose from based on the principal's personal needs. You can choose from one of several types of power of attorney depending on your needs.
Table of Contents
Idaho Durable Financial Power of Attorney
A durable financial power of attorney form is used to allow the representative to continue to make financial decisions on behalf of the principal should they become incapacitated.
Download: MS Word (.docx) or Adobe PDF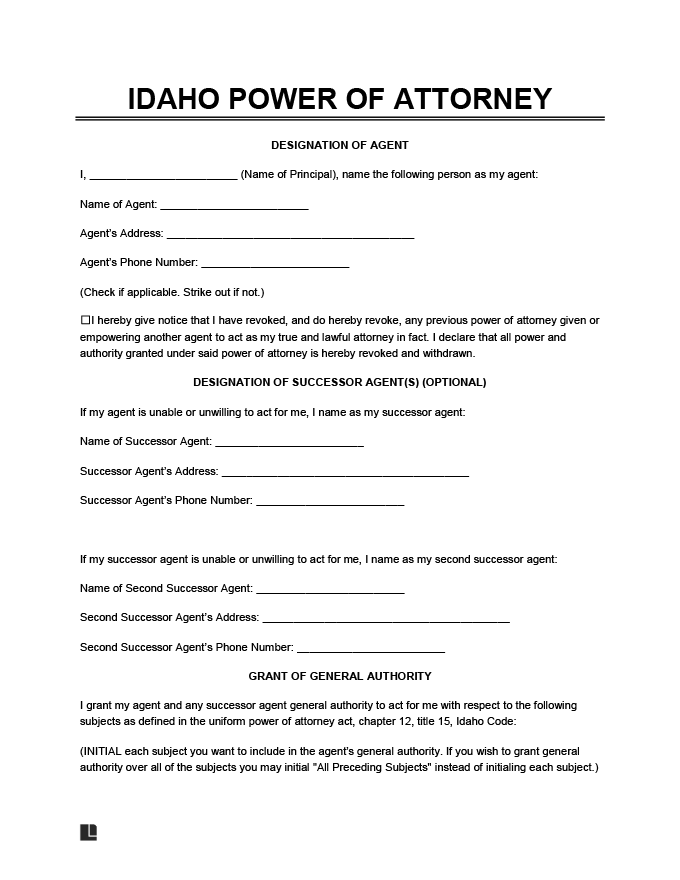 Idaho Medical Power of Attorney
A medical power of attorney document ensures the agent has the right to make medical or health care decisions on the part of the principal in the event of the principal's incapacitation. This form may also include a living will section, which gives the principal the ability to express end-of-life desires while still of sound mind.
Download: MS Word (.docx)
Idaho State Tax Commission Power of Attorney
The Idaho State Tax Commission power of attorney is a form that allows a representative to file a principal's taxes with the state tax commission. The principal must use the document to define the specific tax matters that the representative is approved to represent.
Download: Adobe PDF
How to Get Power of Attorney in Idaho
The only document available to download on official Idaho Government websites is the State Tax Commission form. You can download the other power of attorney forms from this page. All power of attorney forms on this page comply with Idaho's Uniform Power of Attorney Act and are legal to use in Idaho.
Download:
Idaho Power of Attorney Requirements
Your power of attorney documents must meet legal requirements set by Idaho law. The key requirements are as follows:
The document must be signed and dated by the principal as well as two witnesses.
The agent must be 18 years of age or older (a legal adult).
It is not required that a durable power of attorney be signed in front of a notary public when executed by the principal. It does not need to be recorded except in the case of real estate transactions.