To legally appoint somebody to manage your business, property, medical, or other affairs, you should set up a power of attorney.
Table of Contents
Pennsylvania Durable Power of Attorney
If you lose the capacity to make your own decisions, your power of attorney will become void unless it has been set up as a durable power of attorney.
Download: Word (.docx) or Adobe PDF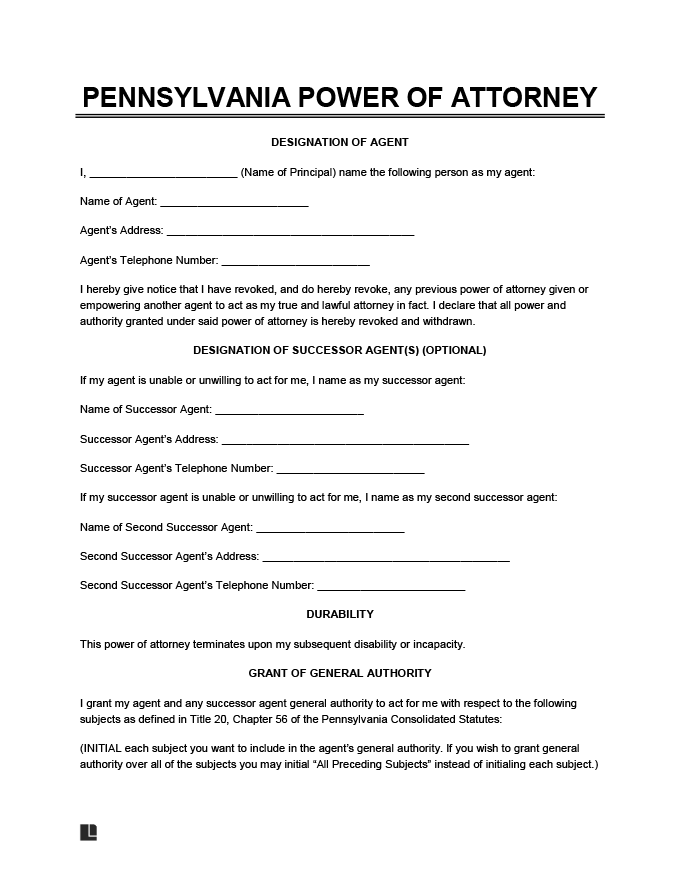 The POA template above is also called a PA financial power of attorney  or a general power of attorney . Irrespective of what they're called, all powers of attorney in Pennsylvania are assumed to be durable unless your document states otherwise.
Pennsylvania Medical Power of Attorney
Setting up a medical power of attorney or an advance directive allows you to specify what kind of medical care you wish to receive should you become unable to make the decision yourself.
Pennsylvania Medical Power of Attorney Download Options:
Pennsylvania Real Estate Power of Attorney
With a real estate power of attorney, your agent or proxy may act on your behalf for real estate affairs and no other matter.
PA Real Estate Power of Attorney Download Options:
The forms above have a list of powers. In this list, sign only against the real estate powers you wish to hand over to your agent, and leave the line beside the other powers blank.
PA Motor Vehicle Power of Attorney
A vehicle or DMV power of attorney gives a trusted third party the authorization to manage your affairs in relation to motor vehicles.
In Pennsylvania, vehicle powers of attorney are "secure" documents, meaning they have certain security features built in. PA state agencies are the sole distributors of the forms. Please contact your vehicle dealer or insurance company to obtain a legal form.
How to Get Power of Attorney in Pennsylvania
Chapter 56 of the Pennsylvania Consolidated Statutes governs power of attorney documents in the state of Pennsylvania. All forms available on this page comply with the regulations set forth by this chapter.
Obtain a power of attorney in PA  using one of the following forms:
Durable • Medical • Real Estate • Motor Vehicle
Power of Attorney Requirements in PA
Although Pennsylvania legislature does not provide a standardized form for residents to use, in order for a power attorney to be valid in Pennsylvania, it must be in writing and adhere to the following strict requirements:
The power of attorney must contain a:

Signed and dated "NOTICE" provided in 5601-C
Signed and dated by "Acknowledgment executed by agent' provided in 5601-D
Signature of the principal
Name of the principal
Name of the agent(s)
Description of the powers granted
Details of when the powers start and finish
Acknowledgment of a notary public
Signatures from two witnesses
Date the document was signed

If the principal is unable to write out their signature, they may sign using a mark (for example, the letter "X") or by directing another individual to sign on their behalf.
If the document is signed using a mark or by another individual, it must be witnessed by two individuals.
Witnesses must be 18 years or older and may not be the individual who signed the POA on behalf of the principal.
It is recommended that you use the language outlined in §5602 and §5603 to describe the powers you wish to grant your agent.
Completed documents (including electronic forms) may be filed with the clerk of the orphans' court division of the court of common pleas in which the principal resides.
If the power of attorney authorizes real estate transactions and is acknowledged by a notary public, it should be recorded in the office for the recording deeds in the county in which the principal resides and any counties in which real estate transactions may take place.