A real estate purchase agreement is a contract between a buyer who wants to purchase a home (or another piece of real property) and a seller who owns that property. It's usually proposed by a buyer and subject to the seller's acceptance of the terms.
The first step of the legal process of buying or selling a home involves creating a real estate purchase agreement. The purchase agreement outlines the terms of the sale but doesn't transfer the property itself — more steps are needed to finalize a legal transfer of property.
For additional details on the real estate purchase agreement process, view our complete guide to a real estate purchase agreement.
How to Write a Real Estate Purchase Agreement
A simple purchase agreement for real estate will identify the following basic elements:
Buyer and seller details: The full names and contact information of the parties to the contract
Property details: The address of the property and a legal description of the land to accurately identify the property's location
Purchase price: The total price to be paid for the property, including any deposits or adjustments
Personal property: Any items included in the sale of the property such as a refrigerator, washer and dryer, sofa, etc.
Representations and warranties: The seller will make certain claims about the condition of the property. In a "buyer beware" state, inspections are crucial to uncovering material defects.
Financing: Will the buyer be financing the purchase through third-party financing, seller financing, or will the buyer assume the seller's existing mortgage?
Contingencies: Any actions or conditions that must occur for the contract to happen.
Title insurance: A form of insurance that covers loss of value in the property due to future discoveries of defects in the title
Closing and possession dates: When will the legal transfer occur, and when will the buyer be entitled to take possession of the property?
Lead-based paint disclosure: A mandatory disclosure for homes built before 1978
Real Estate Purchase Agreement Example
In the following example, the buyer is agreeing to pay 1% of the purchase price in earnest money deposit at the time the agreement is signed: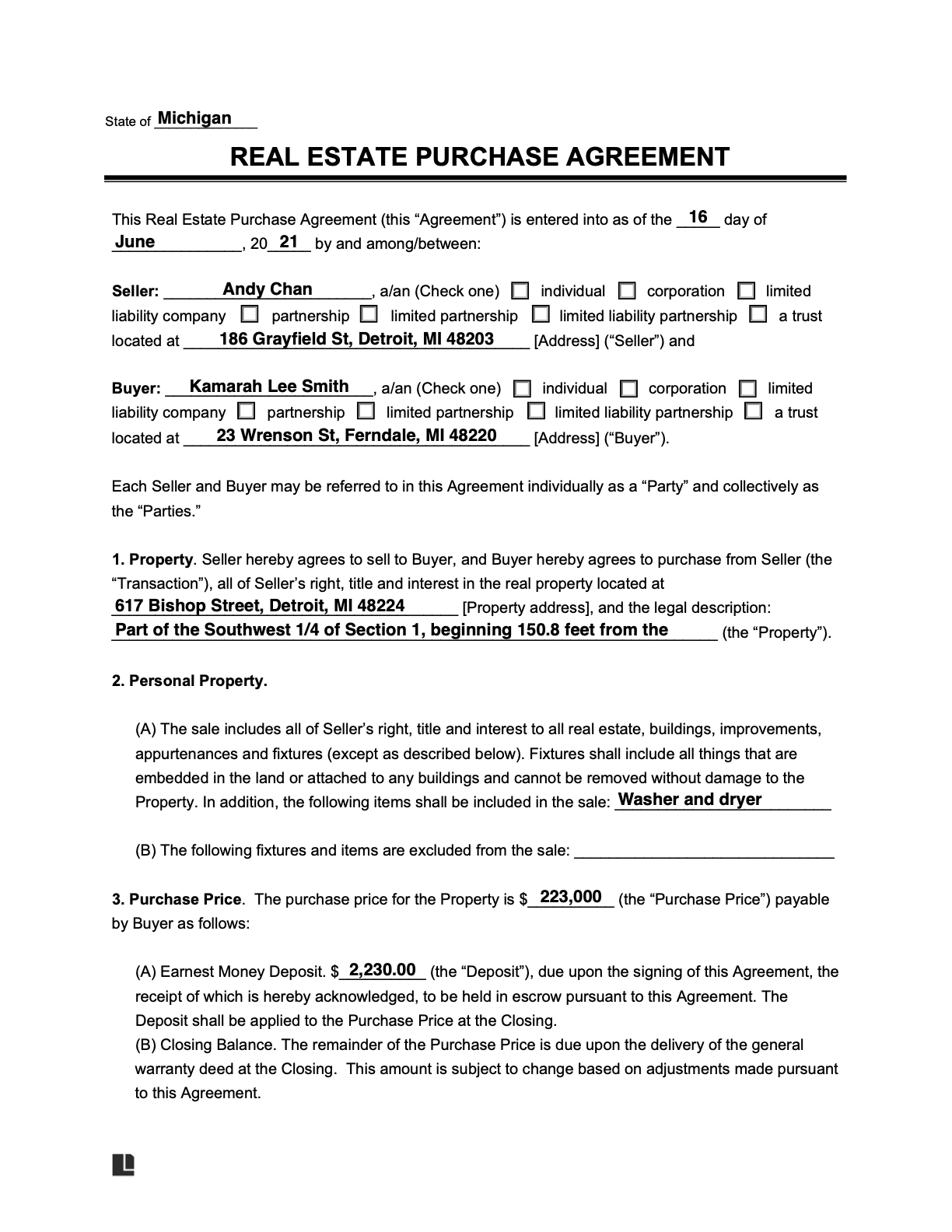 Tips for Writing a Real Estate Purchase Agreement
If you're wondering how to write a real estate purchase contract, follow these useful tips:
Include all clauses
Include all available clauses in the template, even if you think you may not need them. Attorneys have crafted these templates to minimize risks and protect the buyer and seller from a potential dispute.
Buyer beware
Buyer beware or "caveat emptor," as it's sometimes called, is especially important when the real property laws in your state don't require the seller to disclose any material defects in the real property. In a sense, the buyer is purchasing the property on an "as-is" basis.
This doesn't mean you should take your chances, though. Especially in real estate for sale by owner, pay particular attention to inspections.
Ask yourself the following questions when reviewing your purchase agreement:
Exactly what types of inspections are required?
Is the purchase contingent upon inspection?
Is there a right to terminate the sale if requested fixes are not performed?
If inspectors have found unsatisfactory conditions, is there a date set to resolve them?
Thorough inspections are always important, but they will be critical in the following buyer beware states: Alabama, Arkansas, Colorado, Florida, Indiana, Massachusetts, Missouri, Montana, New Hampshire, New Jersey, Virginia, West Virginia, and Wyoming.
Real Estate Purchase Agreement Sample
Below you can find what a Real Estate Purchase Agreement typically looks like:
Real Estate Purchase Agreement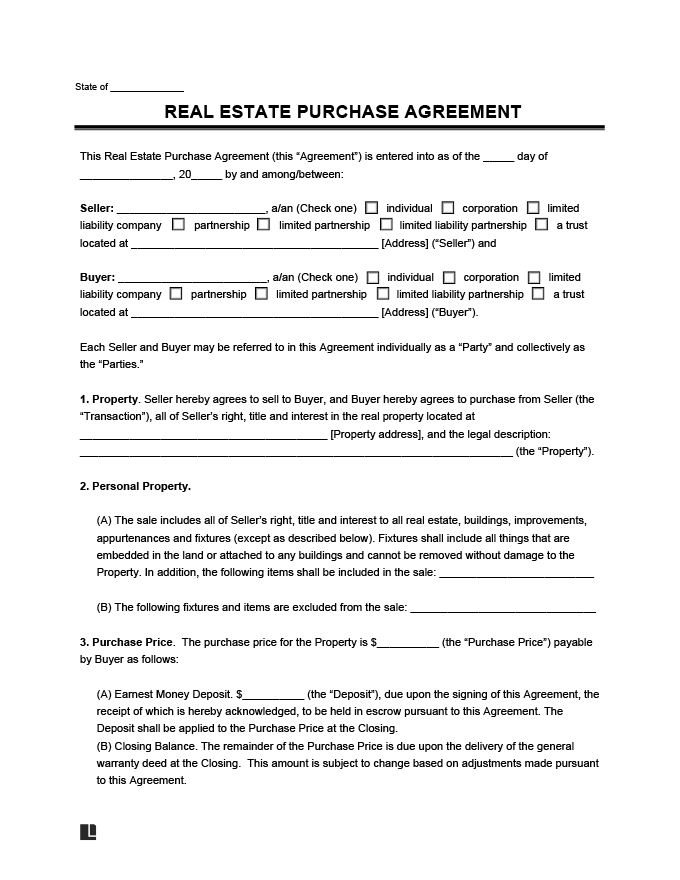 FAQs/Related questions
Let's review some of the most commonly asked questions about real estate sales contracts:
What form is used in a home purchase agreement?
You should use a real estate purchase agreement form, sometimes referred to as a home purchase agreement. You can create yours using our document builder, or download our template to get you started.
How do you structure a real estate purchase agreement?
While there's no set structure, a real estate purchase agreement must include the following elements:
Buyer
Seller
Property
Transaction
Provision details
Our real estate purchase agreement template outlines all the necessary information, plus additional clauses that may provide necessary protection for the buyer and seller.
If you're unsure of how to write the document on your own, our template and document builder will help you create your real estate purchase contract step-by-step.