A Late Rent Notice or Notice to Pay Rent is a written letter from the landlord informing the tenant that rent is past due and requesting the tenant pay the overdue rent immediately.
This notice is more informal than an Eviction Notice and can be a courteous first step to collecting rent before beginning the eviction process.
What is a Late Rent Notice?
A late rent notice is a document a landlord sends to a tenant whenever that tenant has failed to pay rent.
A late rent notice is also known as a:
Notice to Pay Rent
Failure to Pay Rent Notice
Demand Notice for Nonpayment of Rent
Demand for Payment of Rent
Demand for Past Due Rent
Notice to Cure
Notice to Demand Payment for Failure to Pay Rent
Notice to Pay Rent
Late rent notices should include the amount due and any late fees owed.
Additionally, landlords are smart to list all other expenses the tenant may owe (such as parking or storage fees) and a warning about legal action to follow unless the tenant pays the rent by the stated deadline.
If a tenant has only been late once, landlords often send this notice as a courteous and formal reminder that rent is due. When a tenant continues to be delinquent or is late on multiple occasions, the landlord may send a notice to pay rent or quit or an eviction notice to end the Lease Agreement.
Many state housing laws provide a grace period for a tenant to pay their late rent. Refer to the table below and check your state's laws before filing a formal eviction.
That said, a landlord can always give a grace period or a longer grace period even when not statutorily required.
Why Should I Use a Late Rent Notice?
A simple letter reminding the tenant to pay past due rent may be all the landlord needs to get paid.
Perhaps the tenant forgot to send a check that month and doesn't need to be threatened with an eviction notice. A notice in the form of a letter is fast and easy, and it can maintain a good relationship between the parties
Without this notice, the landlord may suffer the following preventable consequences:
Preventable Consequences
1. Lost money
to pay attorneys to start the eviction process
to pay for court fees to file an eviction lawsuit
2. Lost time
to pursue a delinquent Tenant
to research how to remove a Tenant
3. Mental anguish
of having someone live in your property for free
of continually asking for money owed
When Should I Send a Late Rent Notice?
A landlord should send a late rent notice as soon as the rent payment is past due (and out of the grace period), giving the tenant a chance to cure the breach and pay.
To begin eviction proceedings, the landlord must typically provide the tenant 3 to 5 days to pay late rent or leave (confirm with your state and local housing laws).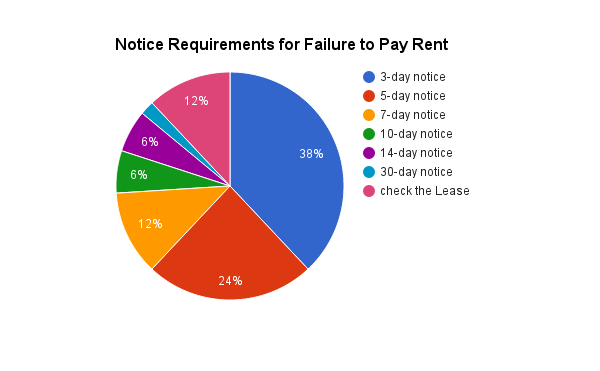 Most state housing laws agree that tenants should pay their rent on time.
Three states require a 10-day eviction notice for late rent (Indiana, North Carolina, Pennsylvania), while three require a minimum 14-day eviction notice (Massachusetts, Tennessee, Vermont).
The District of Columbia (D.C.) provides tenants with the most generous amount of time and requires a minimum 21-day eviction notice.
Of note, six states empower landlords and tenants to decide on the notice requirements and refer landlords back to the original lease or rental agreement.
The Most Common Late Rent Notice Situations
Perhaps the tenant was traveling, became ill, or lost their job. The landlord wants to give the tenant a chance to rectify the situation quickly and peacefully while maintaining a record of their communications.
In this case, a landlord might find a late rent notice acceptable.
At some point, however, the landlord and tenant must face the facts — the landlord is running a business, and there are consequences for not paying your rent. When the landlord wishes to put the tenant on notice to pay rent legally, a notice to pay rent or quit might be a better option.
How Should I Send a Late Rent Notice?
The lease agreement may describe how landlords should send late rent notices. Our Lease Agreement template, for example, says notices must be in writing and should be either be:
delivered in person
sent by overnight courier service
sent via certified or registered mail
Whenever you need to send a late rent notice, consult your lease agreement and state laws for the legal and most appropriate delivery method to your tenant.
What to Include in a Late Rent Notice
A simple late rent notice should generally identify:
The rental property address
The currently overdue rent
When the tenant should pay the late rent or leave
Who the Landlord and Tenant are and their contact information
Additionally, a simple notice of late rent letter will identify the following essential elements:
Premises: address and location of rental property
Overdue rent: the amount of money the tenant currently owes the landlord
Late Fee: the late fee, if any, due in addition to the rent
Effective Date: when the tenant must start paying the new rent amount
Tenant: name of the person currently renting the Premises
Landlord: name of the person who owns the Premises
Late Rent Notice Sample
Below you can find an example of what a late rent notice typically looks like:
Use our step-by-step document builder to easily and quickly create a customized late rent notice you can send to your tenant.
How to Write a Late Rent Notice
Before you fill out your late rent notice, write your state at the top of the document.
Step 1 – Write Tenant's Name and Address
1. Tenant Name. Provide the tenant's full name (the person renting the property). Include the names of all tenants who entered into the lease agreement.
2. Tenant Address. Provide the tenant's street address, likely the same as the rental property address.
Step 2 – Enter the Date of the Notice
3. Notice Date. Write the date you send the late rent notice.

Step 3 – Fill In Late Rent Details
4. Month. This is the month that the tenant has not paid the rent.
5. Rent Amount. This is the amount of rent overdue (the amount the tenant owes the landlord). There may be a late fee in addition to the rent.

Step 4 – Identify Payment Details and Method
6. Payment Details. Indicate how the tenant can pay the rent, whether in-person delivery (acceptable day(s) of the week and hours) by mail, or through another method.
7. Payment Method. Provide the payment methods acceptable to the landlord.
Step 5 – Write Landlord Name and Address
8. Landlord Name. Provide the full name of the landlord (the person who owns the property).
9. Landlord Address. Fill in the landlord's current street address.
Late Rent Notice FAQs
How many days late on rent should a landlord wait to send an eviction notice?
There will probably be a grace period of 3-5 days, according to the specific laws of your state and the terms of your lease agreement with the tenant, after which you may charge a penalty for late rent and send an eviction notice.
Always check your state laws before sending a legal notice.
How Do I Get Tenants to Pay Rent On Time?
Getting your rent on time is always better than having to send a late rent notice, so increase the likelihood of timely payments by:
Carefully screening and choosing tenants with a Rental Application
Providing clear rent payment instructions in your lease agreement
Including a late fee clause in your rental agreement
Making rent payment easy for tenants

What happens when you're late on rent?
When a tenant is late on rent, the landlord acquires certain legal rights. The landlord can, if he wishes, start a process known as "eviction," which allows the landlord to remove the tenant from the property.
The landlord might also be able to recover other expenses, such as damages and costs. The tenant will also suffer the loss of finding a new place to live and quickly gathering up all of his possessions, possibly from the side of the street.
How to prevent late rent payments?
Landlords can prevent late rent payments by encouraging tenants to set up automatic payment arrangements from a savings or checking account or a debit or credit card.
Such arrangements automatically move funds from the tenant's account to the landlord's account without needing a check or cash payment and a trip to the landlord's home or rental office.
An automatic deduction is more secure than a cash box or letter drop to collect payment. Some landlords also send tenants a friendly reminder by e-mail or text a few days before the rent is due, pointing out the time the rent must be paid and the means of paying it.
Many tenants are reluctant to set up an automatic deduction from an account. Before electronic transfers of funds made banking easy, tenants often put cash in an envelope from each paycheck.
Although the physical envelope is (mostly) obsolete, the idea is sound. Today, tenants can instead set aside a portion of each paycheck in a special account to hold back the rent needed.